THE OFFICIAL STORY OF LFC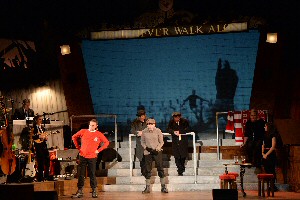 LIVERPOOL FC and Alterean Media announced the return of the smash hit stage show, The Official Story of Liverpool Football Club, which is set to have a 3 night special run at Echo2 at the Liverpool Arena from 28 August to 30 August 2014. When the show ran in March this year at Royal Court Liverpool, it attracted rave reviews from critics and audiences alike. As a result, the play that covers the Club's 120 year history has been taken to another level and is set to be staged in front of an audience of up to 3,500 people in Echo2 at the Liverpool Arena each night. The Official Story of Liverpool Football Club brings to life some of the Reds' greatest memories and glories, documenting stories from the era of Elisha Scott, Albert Stubbins and Billy Liddell to Kenny Dalglish, Steven Gerrard and Brendan Rodgers. With complete access to the LFC archive, the show's writer Nicky Allt has brought together every significant moment in the Club's history and created a show that will make fans laugh, cry and cheer out loud. Amongst the full cast, the show stars Mark Moraghan (Brookside, Holby City), Jake Abraham (Lock, Stock and 2 Smoking Barrels) and theatre favourites Lindzi Germain (Reds and Blues) and Lenny Wood (Little Shop of Horrors). The show's writer, Nicky Allt, has previously had massive success with the stage play One Night in Istanbul, which has subsequently been adapted into a film that will be released in cinemas later this year, as well as being co-writer of Liverpool's most popular play of the last 10 years, Brick Up The Mersey Tunnels. He has followed LFC all over Europe for the last 40 years.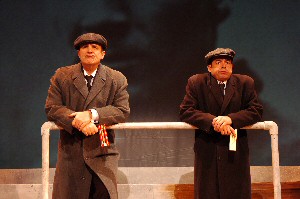 Commenting on the new runs of the show, Nicky Allt said:- "It was always my intention to take The Official Story of LFC to a bigger stage and audience, and after the rave reviews it received in March, now is the right time. I've had such positive feedback from fans, as well as many people saying that they missed the chance to see it last time around. Hopefully we can pack out each night and make these the best runs yet!"

The Official Story of Liverpool Football Club runs at EchoTwo @ Echo Arena from Thursday, 28 August 2014 to Saturday, 30 August 2014.
Tickets are on sale now! To book tickets call the Liverpool Arena Box Office on:- 0844 8000 400, or log on to:- echoarena.com. Tickets available in person from TicketQuarter at Queen Square, Liverpool. Groups of 10+ can call the Echo Arena Group Booking Department on:- 0844 561 7672.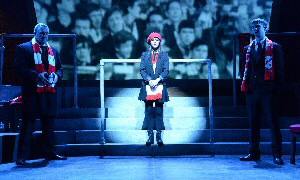 Liverpool Football Club:-
► Founded in 1892, Liverpool FC is one of the world's most historic and famous football clubs having won 18 League Titles, seven FA Cups, eight League Cups, five European Cups, three UEFA Cups, three European Super Cups and 15 Charity Shields

► As a socially responsible club, Liverpool FC is proud of its heritage and plays a proactive role in its communities through its official charity, Liverpool FC Foundation. By delivering a range of award winning programmes, the Foundation motivates and inspires children and adults, both at home and overseas, using football and the power of the Liverpool FC badge. Its contribution has been recognised by the award of a Community Mark from Business In The Community

► Liverpool FC is a global brand and works with leading edge commercial partners around the world providing unparalleled commercial opportunities.

Rhyme for a Reason
BUDDING poets have been helping to make homes safer by using rhymes to cut down on accidents. The City Council's Healthy Homes team have organised a competition in which schools composed rhymes aimed to cut down on the number of accidents affecting children in their homes.
Between April 2011 and March 2012, 6,154 children attended Alder Hey Hospital with injuries caused by accidents in the home with a further 407 going to the Royal Liverpool emergency department. Primary school age children have the highest number of accidents in the home resulting from trips, falls, burns, poisoning, cuts and choking. To help to cut these figures Healthy Homes commissioned Activate Theatre in Education Company to deliver an interactive performance across 52 schools to 1,549 pupils. They used the information from the performances to compose a rhyme for the completion. Four schools have been shortlisted for the final. They are; Our Lady of Good Help, Wavertree: Belle Vale Community Primary School: St Christopher's Catholic Primary School, Speke and Croxteth Community Primary School. Their rhymes have been recorded at Parr Street studios.

Councillor Ann O'Byrne, cabinet member for housing, said:- "Too many children are injured in their homes and this competition is an imaginative way of getting across safety messages to the group most likely to have accidents. The children have really entered into the spirit of the competition and you will be able to hear some great rhymes from our talented young people."

Radio City are the final that started on 16 June and runs on through to 22 June 2014. You can listen to the entries online and vote for the winner as well!
Winning school to be announced on breakfast show on Radio City on 23 June 2014. The winning school will have a tour of the Radio City tower and a ride on the Liverpool Wheel.
Lots of love for Lodge Lane
LOVING Lodge Lane, a 3 day community festival which embraces everything from bee keeping courses to 'human foosball' takes place next week. Now in its 4th year, Loving Lodge Lane, celebrates all that is good in the area and is based around environmental and regeneration issues. It started in 2011 in response to media coverage of the 30th Anniversary of the Toxteth riots and was aimed at making the area cleaner and greener. "This is an area which is up and coming and has a lot to be proud about. Loving Lodge Lane has been growing each year and this year's event really does have something for everyone. We want to celebrate our area and community and this festival is a great way of doing that it's going to be a lot of fun, but it is also going to help clean up the area and make it greener." said local Councillor Laura Robertson-Collins, chair of the neighbourhood select committee.

The events include:-
► Wednesday, 18 June 2014, from 2pm onwards, on the old Baths site, Lodge Lane; A climbing wall, furniture up cycling, bicycle workshop and afternoon tea.

► Thursday, 19 June 2014, from 2pm onwards, at the community gardens, Fern Grove - Plant giveaway and bee keeping courses. The Squash Nutrition "pod" will be there from 4 to 7pm when children are especially welcome to plant take away mini salad gardens, make a herby salad or make fresh summer mint tea.

► There will also be the chance to buy a bargain compost bin to boost the City's recycling composting rate. They are being sold at the subsidized rate of £5 (waged) or £2 (unwaged).

► Friday, 20 June 2014, from 2pm onwards, around Cullen Street will have the following activities:- a petting farm, wheelie bin art, community picnic and 'human foosball' the human form of table football.

► On all 3 days there will be "Go On Lodge Lane" events with support to get online available in Granby Toxteth Development Trust, from 10.30am to 12pm; and the chance to learn some digital skills, get on the internet and on email; for businesses and individuals. There will be free coffee and cake for all new learners!

Community skips will be available in the area on all three days for residents to dispose of bulky items and there will be additional 'clean and green' activities such as a distribution of free plants at Livermore Court for residents.
Loving Lodge Lane is sponsored by the Greenbank, Picton and Princes Park Councillors and is a partnership between the City Council, businesses, voluntary organisations, social landlords and residents.