HOPKINS HAILS AFFORDABLE HOUSING SUCCESS STORY
NEARLY 200,000 new affordable homes have been delivered since April 2010, new figures show. Housing Minister Kris Hopkins welcomed the news as:- "a real success story". The latest figures show there were 41,654 affordable homes started in the year to March 2014, that is 15% higher than the previous year. In addition 125,000 of the 170,000 homes planned through the Affordable Homes Programme, in which the Government is investing £19.5billion public and private funding, have now been delivered. It means that since April 2010, more than 197,000 new affordable homes have been delivered. The Government has delivered 445,000 new homes overall since April 2010. Housing Minister Kris Hopkins said:- "Our affordable housebuilding efforts are a clear success story, with nearly 200,000 new affordable homes delivered since April 2010. It means families from Liverpool to Newquay have new homes available to them, whether to rent at an affordable rate or to buy through our shared ownership schemes. And this is on top of the wider efforts we're making, which means housebuilding is now at its highest level since 2007."
The Affordable Homes programme includes social rented homes, affordable rented homes and affordable homeownership schemes, and is a key part of the Government's long term economic plan. And with every new home supporting a job this multi billion pound programme is helping get people back into work. Council areas in the North West region that have seen some of the biggest numbers of affordable homes delivered since April 2010 include:-
► Manchester, with 1,810 new affordable homes.

► Cheshire West and Chester UA, with 1,170 new affordable homes.

► Liverpool, with 1,430 new affordable homes.

► Wirral, with 910 new affordable homes.

► Salford, with 910 new affordable homes.

► Cheshire East UA, with 770 new affordable homes.

► Bolton, with 730 new affordable homes.

► Sefton, with 730 new affordable homes.

A 5th of the affordable homes built last year, and a quarter of the total since 2010, were built in London.

The success of the Affordable Homes Programme is 1 of a number of indicators that Britain is building following the end of the housing boom in 2008. Others include:-

► Planning permission was granted for 216,000 new homes in England in 2013 to 2014.

► the Help to Buy scheme has helped over 27,000 people get on the property ladder with a fraction of the deposit they would normally require; leading developers are building more as a direct result of the scheme, with private housebuilding up a third compared to last year.

► New home registrations rose by 30% in 2013 in England, the highest since 2007, and are up 60% in London; the highest for over 2 decades.

► Council housebuilding starts are at a 23 year high.

► Housing starts are at their highest since 2007.

► The numbers of empty homes are now at a 10 year low.
Woodvale Rally issue a plea for help following a theft ahead of this weekends show!
WOODVALE Rally have just told us tonight that:- "Visiting stunt rider Ken Fox, from the Wall of Death had arrived on 18 June 2014, to get ready for the weekends show. Sadly whilst visiting Southport Town Centre, they stopped at KFC on Eastbank and chained up 2 mountain bikes outside. When they came out, they found that the bikes locks had been cut off and the bikes stolen, someone must have seen them or knows who has them. A cash reward is now being offered for the return of the bikes or information leading to the arrest of the culprits, one of the bikes it a Black Sarason, Call Ken Fox on:- 07970 674824 or PM us direct. Lets all try and help, please share this post and show the Wall Of Death, Southport's not such a bad place!" Alternatively call Crimestoppers on:- 0800 555 111, if you don't want anyone to know who you are.

Police cadets showcase their work as Minister visits Lancashire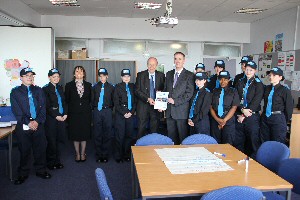 YOUNG volunteer police cadets played a key role as Lancashire's Police and Crime Commissioner welcomed Policing Minister Damian Green MP to the county. Mr Green heard from some of the Constabulary's youngest volunteers when he headed to Blackpool and the Fylde College today, as part of a day long visit to the resort to find out more about policing in Lancashire. The Minister also visited Blackpool's Bonny Street police station where he spoke to Assistant Police and Crime Commissioner Amanda Webster and Superintendent Sam Mackenzie about the benefits of the Constabulary's commitment to early intervention, and enjoyed a private lunch with Commissioner Clive Grunshaw and Chief Constable Steve Finnigan. The Commissioner said:- "I am very proud of Lancashire's Volunteer Police Cadets; being part of the developing Citizens in Policing programme is a valuable opportunity, and they have already proved themselves a real asset to the force. I want Lancashire Constabulary to embrace volunteering and give communities the chance to become involved in policing. Residents want to have more of a say in policing, and volunteering gives them the opportunity to do that. For the youngsters involved in the cadets, they have a chance to gain vital experiences of both policing and helping communities. The visit also provided the opportunity to talk about early intervention; something I am passionate about driving forward as Police and Crime Commissioner. Given the scale of Government cuts, adopting an early intervention approach to reduce future service demand is vital, and something I hope will have real benefit for Lancashire's residents. I hope the Minister has been able to see today the scale of work taking place in Lancashire to ensure we have the best possible police force, and has taken on board the fact that any further Government cuts will seriously impact on that."

Lancashire has 9 Volunteer Police Cadet schemes county-wide involving youngsters between the ages of 13 and 18, and during today's visit the Commissioner and Mr Green had the chance to speak to the Blackpool cadets about their experiences. Matt Barr, Curriculum Manager at Blackpool and The Fylde College, said:- "The police cadet scheme is a fantastic opportunity for young people, including a number of our Public Services students, to get a first hand insight into the work of the police and to gain some relevant volunteering experience for their CVs. We have a good reputation for supporting young people into careers in the public services and being involved with the programme is an important part of our outreach work with local schoolchildren and the wider community. We're proud to be a part of this successful scheme and offer use of our facilities for the benefit of everyone involved."
Southport Access For Everyone (SAFE) Update
THE voluntary group who are working with people to improve access for disabled people to premises and services in the Southport area of Merseyside are holding another free public meeting. The meeting will be held at:- Victoria Methodist Church, Sussex Road, Southport, PR8 6DG from 7pm, on Monday, 30 June 2014. Southport Access For Everyone forum is open to anyone with or without a disability. Tony Crabtree of behalf of SAFE said:- "We are pleased to announce this month's guest speaker is Jo Seddon from Southport Living Well Station; formerly Community Service Station will be giving us an update on this service. The premises are fully accessible for wheelchair users with adequate car parking facilities, and light refreshments will be served before the meeting commences. I would like to stress that anyone with an interest in disability issues are welcome. Also for more information about our group and also about meetings, we ask that your readers go to our website or call us on:- 07866531036."