An anticipated action packed Isle Of Man Steam Packet Company Southern 100 International Road Race is nearly here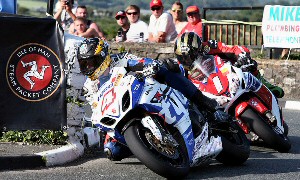 AS excitement is growing ahead of the 2014 Isle of Man Steam Packet Company Southern 100 International Road Races, the ferry company has said that it is proud to be headline sponsor. The ever popular races at the Billown course run from:- 7 July to 10 July 2014, and it will be the 15th year in a row for the Southern 100 programme, that features 13 races! Running around the 4.25 mile road course near Castletown, including the prestigious Solo and Sidecar Championship races, the event will be a must see for anyone who likes bikes.

The festival concludes with the unique open air prize presentation in Castletown Square on the Thursday evening, culminating in a firework display. TT favourite Guy Martin, the reigning Solo Champion, returns and will be competing with the likes of multiple TT winner Michael Dunlop, Solo Champion in both 2011 and 2012, and last year's Man of the Meeting Dean Harrison, who won his 1st TT race this year. Conor Cummins and Dan Kneen, who the Steam Packet Company is proud to be supporting in 2014, will also be in action, alongside impressive rising road racing stars like Ivan Lintin, Jamie Hamilton and James Cowton. The sidecar class is also packed with quality, including the return of 7 times sidecar champion Dave Molyneux, now a 17 times TT winner. He will be up against fellow TT winners Tim Reeves, Conrad Harrison, Ian Bell, John Holden and Roy Hanks, plus many more outfits.

There will be a truly international flavour to the meeting, as racers from England, Scotland, Wales, North Ireland, Eire and the Isle of Man are joined by competitors from Austria, Italy, Australia, The Netherlands and Germany.

History will be made at the 2014 Southern 100 when, for the 1st time ever, an electric bike will compete against traditional internal combustion engine motorcycles at a pure road race. Island team Darvill Racing will be running the Brammo factory supported effort.

The Steam Packet Company was delighted to assist Darvill Racing attend the International Festival of Business in Liverpool on 9 June 2014, to join a demonstration of the Isle of Man's clean technology sector alongside the Department of Economic Development. Sadly the weather meant the machines couldn't be demonstrated as planned, but Darvill was able to lend one of its bikes to former BSB racer and SuperBike magazine reviewer Chris Northover, who showed off his stunt and off road skills, as well as the bike's capabilities, trying out rolling burnouts, stoppies, wheelies and powerslides on cobblestones, in the wet! Team Principal Alex Aitchison said:- "That didn't faze Chris and also proved that these bikes are 'proper' bikes and can no longer be called a 'gimmick'." However, all eyes are now on the Southern 100. Alex added:- "This is the big one, we will be making history as we become the first team ever to compete with electric bikes against motorcycles with internal combustion engines on the roads. We will be using a stock Brammo Empulse R converted to Superstock specifications and competing in the 125cc/400cc class. We will be down on top speed against both ICE machine types, but more than make up for it in acceleration and cornering speed. We can't wait."

Steam Packet Company Chief Executive Mark Woodward added:- "The company is very proud to have such a longstanding association with the Southern 100, and as we mark our 15th year as headline sponsors, it looks like the racing will be fantastic, with full grids, star names and, of course, Darvill Racing aiming to make history. We hope all visitors and locals who go to the racing have a fantastic time."

GEARING UP FOR A GREAT SHOW
A fun filled, affordable weekend is promised for all at the Woodvale Transport Festival at Victoria Park this weekend, (21 June 2014 and 22 June 2014).

Back by popular demand is the thrilling and original 'Wall of Death' Ken Fox Troupe World Tour. This unique show 1st appeared in the UK in 1929. Today there are only 2 Walls of Death, which are one of the last great live shows travelling today. Ken Fox is recognised as the World's leading Wall of Death rider and has numerous television appearances to his credit, including Heartbeat and You Bet.

International motorcycle stunt rider Steve Colley will also thrill the crowds. The 3 times world, British and Italian champion, from the Isle of Man, will be performing 2 stunt filled shows on both days.

Show goers will enjoy a fun filled weekend with attractions including rides, giant slides, craft and food marquee, water boats for adults, car boot, flea market, martial arts displays, look-a-likes, Morris dancing, reptile marquee, land train, and numerous trade stands.

There will also be the usual classic and vintage cars (main competition on the Sunday), car clubs, model trains and boats, stationary engines, classic and vintage motorcycles and clubs. This year £250 will also be up for grabs for both the best-dressed car club and motorcycle club stands.

The festival will also offer free entertainment for children with The Crazy Bears, Punch and Judy, circus skills and balloon shaping. In addition a larger animal petting area has been included and also back this year is the popular dog display team.

Members of the Duke of Lancaster's Regiment, the infantry regiment of the North West, together with 156 The Royal Logistics Corps transport regiment, and the 75 Engineer Regiment will be on the showground and camping out on both days.

Also entertaining the crowds throughout the weekend will be a selection of bands including Mike Byrne and the Sunrockers, the Mississippi Jazz Band and in the bar marquee is The Mona Lisa Twins, Sue Raymond Band, The Skinners, Stuart James, Amiee Flannagan, Gabby Ofuyu, Tony James (singer and fire eater) and Jacqui Lewis, Laurel and Hardy look-a-likes will also be spotted around the showground performing magic tricks.

A picnic area will also be located next to the bandstand and the Rotary Club will run the bar. Dogs are admitted.

Other good news is that free parking will once again be at Princes Park, where admission tickets will also be sold.

Tickets cost £5 a day for adults, £2 for children aged 6 to 16 and the under 5s are free. Dogs can attend too.

For further information telephone:- 08447 409172, visiting:- WoodvaleRally.com or via email info@woodvalerally.com.
Put in your Diary now - Byng House, Southport's Summer Fair
SOUTHPORT'S Byng House will be opens it's doors to its Annual Summer Fair this Saturday, 21 June 2014, from 11:00am, until 3:00pm. The event will have a collection of Military Vehicles at the front of the property, on display to the public. Also the Southport Sea Cadets will be performing a drill at 12:15pm, and that will be followed by Southport 281 Squadron Air Cadets will be performing a drill at approx. 1:15pm. This fantastic event might be small, but they will have a large range of other activities on offer, along with many stalls such as:- Byng Blyng! Which is a selection of jewellery, crafts, ear rings, necklaces etc. The tradional Coconut Shy, Tombola, Hook A Duck, Roll a 10p, Find the Key, Cake Stall, Book Stall and not forgetting that Tea and Cake will be served in Byng House's Conservatory! If that was not enough, well they will also have a BBQ and a chance to play a Golf T Game! Plus lots more, including Royal British Legion Merchandise being on sale... That is not forgetting Southport's local author, Sean Connolly, who will also be doing book signing for his latest book "British Army on the Rampage." All funds raised will go to our Guest Amenity Fund! So please put this in you diary now and pop on over!