Pupils bring splash of colour to new Royal hoardings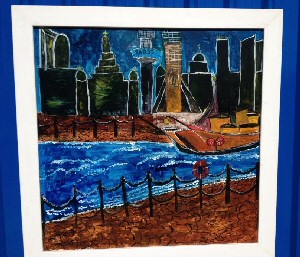 ARTISTIC youngsters have turned their talents to the hoardings around the new Royal Liverpool Hospital building site. The once plain blue surfaces facing the Linda McCartney Centre have sprung to life with colourful paintings created by school children in the City.

High school students from Broadgreen International School and Notre Dame Catholic College took part in the Ivor Goodsite competition as well as youngsters from Sacred Heart Catholic Primary School and New Park Primary School. A student from Liverpool Community College also contributed.

The Ivor Goodsite Hoarding Competition was run by the Considerate Constructors Scheme and supported by the builder of the new Royal, Carillion, and Kensington Fields Community Association.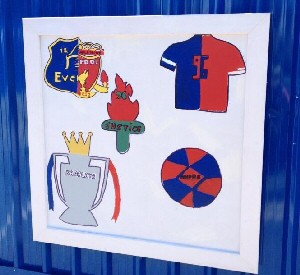 Carillion's Ron Delamere, construction director of the new Royal, said:- "At Carillion, we like to get involved in the local community and this gives us an excellent opportunity to join with the Kensington Fields Community Association to work with local kids to come up with paintings we can apply to hoardings. It just freshens up the whole area. And people are really noticing it as they go past. What the kids have achieved is really impressive."

The paintings portrayed Liverpool life, from Superlambananas to yellow submarines, and the City's 2 premier league teams were depicted with an image showing the solidarity shown over the Hillsborough disaster. Elsewhere, the skyline and Albert Dock, the Cavern club, entertainers and the Mersey ferries all appeared.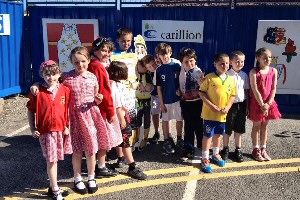 The pupils had earlier taken taking part in the Ivor Goodsite site safety course, in which mascot Ivor Goodsite warns of the dangers of playing on building sites as well as how great it is to work in construction on a project such as the new Royal. As a result, some of the children created an image about the new Royal Liverpool University Hospital.

Susan Robinson, centre co-ordinator at Kensington Fields Community Centre, said:- "The children absolutely loved Ivor Goodsite so one of the hoardings was all about Ivor himself, the Royal hospital and Carillion. We asked the children what they liked the most and what they wanted their project to be about and they all said Liverpool, so that's why the theme was 'In Our Liverpool Home'. The children feel so excited about seeing the finished products on the wall. Taking the project from the beginning to the end and being there from the design to the final product has been amazing for the children and an experience they'll never forget."

The Rock Choir Summer Ball took place at the Liverpool Yacht Club and raised £800 for Marie Curie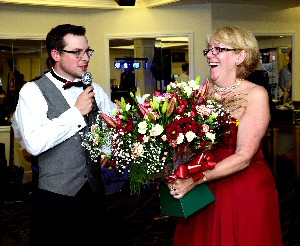 THE event, arranged by choir member, Carol Mulvey, was attended by choir members, their friends and family and gave the members a chance to meet up outside of their weekly choir sessions. They gave a very special performance of some of their favourite tracks, including:- 'Livin' On A Prayer', 'I Believe In A Thing Called Love' and 'Something Inside So Strong' to their audience as well as holding a raffle.

Choir member Colette Byrne, who is a Community Fundraiser at Marie Curie Cancer Care was thrilled that the charity had been chosen to benefit from the ball. "I 1st discovered Rock Choir last summer. Since joining, I've found so many wonderful new friends, and enjoyed performing in public. As Community Fundraiser for Marie Curie, I was delighted to be the nominated charity for the first Rock Choir Summer Ball. All money raised on the night will be used to help provide end of life care to local people with a terminal illness in Merseyside."

Rock Choir leader, Anthony Seaman, was thrilled with the success of the evening and paid special tribute to choir member, Carol. "A huge thank you goes to Carol for all her hard work and dedication. It really paid off so well and everyone had a wonderful time. It was great to support such a worthwhile charity which supports local people."

Anthony is running a one off workshop, open to choir members and members of the public, on Saturday, 9 August 2014, at the Quaker Meeting House in Liverpool, when they will have the chance to learn this year's smash hit 'Happy' by Pharrell Williams. For more information go to:- rockchoir.com.

Rock Choir is the UK's largest contemporary choir, with more than 16,000 members in over 300 local communities. There are no auditions and no requirements to read music or have any previous singing experience. Rock Choir members get together each week to attend fun, friendly rehearsals where they are taught specially arranged pop and rock songs. There are lots of exciting performances throughout the year and many of them help raise money for charity.

For a free taster session or more information about times go to:- rockchoir.com or call:- 01252 714 276.
A man who was seriously assaulted at Parklife, in Manchester, has sadly died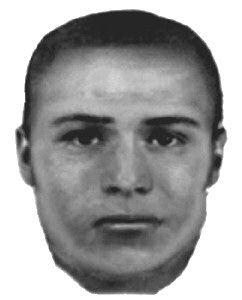 AT around 9.15pm on Saturday, 7 June 2014, 26 year old Robert Hart and his girlfriend were in front of the Festival's main stage when he was attacked by an unknown man. Robert was punched to the ground unconscious and was given CPR at the scene by 2 off-duty medical personnel. He sadly died yesterday in hospital. The offender is described as a mixed race male, aged in his late 20's and around 6ft 1 tall. He has a muscular build and short, dark hair which was shaved at the sides. He was also wearing shorts and a blue, bomber style jacket with the letter 'A' in white on the front. Police have also issued an efit.

Detective Inspector Richard Eales:- "Our immediate thoughts go out to Robert's family and loved ones. We currently have specially trained officers with them to help through this terrible time. We are still in the early stages of this investigation, however several witnesses have assisted us with vital information concerning the description of the offender. We believe a confrontation took place following an inflatable doll hitting Robert's girlfriend. We are aware other assaults took place in the park that evening, but I am specifically appealing for witnesses who recall seeing the inflatable doll and the attack on Robert immediately thereafter. I am keen for those witnesses to come forward and other persons nearby who may have mobile phone footage of the attack or captured an image of the person responsible. Finally, if you are the man responsible or were with him that evening, please come forward."

Anyone with information can contact the incident room direct on:- 0161 85 69283 or email the incident room with any relevant footage. Alternatively you can call police on 101 or independent charity Crimestoppers on:- 0800 555 111.