Homeless Merseyside runners join the race to end homelessness
THE team of homeless and vulnerably housed people from Crisis Skylight Merseyside travelled to London to join BBC Newsnight presenter Emily Maitlis and 1,500 other runners at the Crisis Square Mile Run, a fun run raising money for the national charity for single homeless people.

The 4 mile race takes in world famous landmarks including the London Eye, St Paul's Cathedral and the Tate Modern. The Crisis Square Mile Run asks people to race to end homelessness, with this year's series on track to raise more than £140,000.

Ahead of the race, the Crisis Skylight Merseyside team had been training in Liverpool's Sefton Park for the last month. Along with improving health, taking part in sporting activities can be a big boost to people's self-confidence. Crisis runs a range of health and wellbeing workshops across the country, helping homeless people to feel better in themselves through sport, relaxation and exercise.

Leslie Morphy, Chief Executive of Crisis, said:- "It's wonderful to have some of our clients down from Merseyside to join in this fantastic event. Rough sleeping across the country has risen by 37% since 2010 as people struggle with rising costs, cuts and high unemployment; everyone taking part is doing something to counter this rising tide of homelessness."

The money raised from the event will help homeless people across the UK rebuild their lives through Crisis' housing, health and employment services. Since its beginnings in 1992 the Crisis Square Mile Run has raised well over £2 million.
Liverpool ringleader jailed for 'fake kids' fraud
THE ringleader of a group of benefit fraudsters, involved in fraudulently claiming more than £55,000 in tax credits and child benefit, was jailed for 12 months. Angela Callaghan, 42, from Bootle, with 3 other Liverpool women, fraudulently claimed the tax credits and child benefit by lying about their family status and inventing children. The court heard how Callaghan lied about her real daughter still being in full-time education, added 6 fake children to her claims and helped other mums to make false tax credit claims for nonexistent offspring. She received payments of up to £700 from each mother she helped make bogus claims. HM Revenue and Customs (HMRC) investigators discovered that, from 2009 until her arrest in 2012, Callaghan had been paid by the other women to help them increase their tax credits by adding fake twins to their claims. The 3 other mums, Nicola Brown, 34, Maria McDermott, 31, and Lisa Keightley, 28, all from Liverpool, were given suspended jail sentences on 6 June 2014. Sandra Smith, Assistant Director, Criminal Investigation, HMRC, said:- "Callaghan lied on numerous occasions to receive benefits she wasn't entitled to, pocketing money needed to fund public services. She then went on to help others make fraudulent claims. All these mothers now have criminal records and have to repay the stolen money. We recognise it is only a minority that are exploiting the system but we would encourage anyone with information on tax credit fraud to call the Benefits Anti-Fraud Helpline in total confidence on 0800 854 440."
A day of learning
A SPECIAL event this week will show that you are never too old to learn. The Learning at Work Day, part of Adult Learners' Week, takes place at the World Museum, William Brown Street, on Friday, 20 June 2014, from 10am to 4pm. It will host free drop-in activities for everyone to encourage learning. Activities range from learning tai chi to trade union history and education and from first-aid demonstrations to how to create your own social media accounts. It includes plays, debates, stalls with activities, demonstrations, dance and a choir. Louise Ellman MP will present certificates to all those from the North West who were nominated in NIACE (|National Institute of Adult Continuing Education) learning Awards. Councillor Nick Small, cabinet member for employment and skills, who will open the event, said:- "This is a great event to celebrate Learning At Work Day and will showcase just how many opportunities there are for everyone of every age to learn. It's never too late. It is free event and all Merseyside residents are welcome!" It is supported by a number of organisations including the City Council, Merseytravel, National Museums Liverpool, and Unionlearn.

Choices club hosted at spinal injuries unit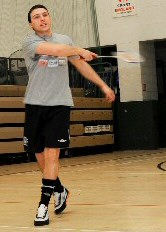 NORTH West Regional Spinal Injuries Unit at Southport hospital will be one of 6 sites hosting Choices club which was set up by Greenbank Sports College in Liverpool with funding from Sport England.

Choices club is open to people of any disability over the age of 14 years old within the community and hospital inpatients to try new sports for up to 30 minutes at a time.

Sports on offer include table tennis, football, hockey, basketball, boccia, rugby league and handball. 2 sessions cost £1.

Andrew, an inpatient at the North West Spinal Injuries Centre, said:- "Words are hard to find that explain the freedom and enjoyment we feel when people come and volunteer their time to help us feel human again, taking part in all these different games."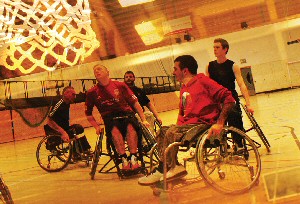 Helen Gillan, a therapy assistant at Southport hospital, said:- "It's fantastic seeing people having a go at sports they never thought would be possible to play. Everyone has such a good laugh and it is so rewarding seeing their development. Anyone who is interested really should come and give it a try."

Once the club is established, mini inter-regional games between Choices sites will be organised.

A 3 year funding package of £318,000 from Sport England will develop disability sports across Merseyside over the next 3 years.

The number of disabled people playing sport regularly is on the rise. In December 2013, Sport England's Active People Survey, an annual, in-depth measure of the nation's sporting habits, revealed that a record number of disabled people in England now play sport each week.
Blundell 'Bake Off'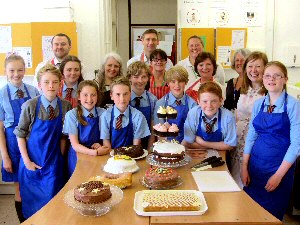 STUDENTS and staff from Blundell House at Range High school dusted off their recipe books to take part in the 'Blundell Bake Off' recently. After the judging had taken place the cakes were sold and they raised £425 for the Baby Unit at Alder Hey Hospital. Well done to all who took part!