Trust Board on the road in Ormskirk
A NHS trust Board is on the road again taking decision-making closer to the community. The directors of Southport and Ormskirk Hospital NHS Trust will meet in Room H009, West Lancashire College, Ormskirk Campus, Hants Lane, Ormskirk, L39 1PX, at 9am, on Wednesday, 25 June 2014.

Sir Ron Watson CBE, Trust chair, said:- "We know more and more people want to attend our board meetings. So, we are now holding them at venues where we can accommodate more members of the public and bring the business of the Trust closer to local people."

The agenda will be available on the Trust website in advance of the meeting. Supporting papers will be available on the day. Members of the public are welcome to attend. Anyone with a special requirement should contact the Trust in advance on 01704 704714.
Calling all outpatients! Tell us your views on our service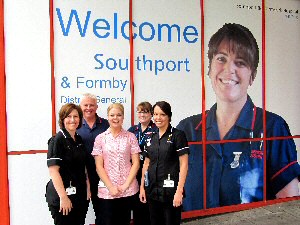 2 matrons want to know how staff can improve the experience of care at outpatient appointments. Matron Jackie Brunton and Assistant Matron Emma Jeanrenaud are leading the project to understand what improvements need making.

Jackie said:- "Our staff care deeply about the service we provide and are taking an immense interest in this work. Southport and Ormskirk hospitals see more than 247,000 outpatients each year and our teams are often the first experience patients have at a time when they are most anxious. We want to know what we can do to make their visit a better experience."

Everyone from consultants to volunteers is involved in the project which is considering changes to the appointments system, how to reduce cancelled appointments, and improving information for patients.

Patients currently attending appointments are being asked their views, but anyone, or their family, who has had a recent experience of outpatients can take part online. You can also take part via writing to Jackie Brunton at:- Southport and Ormskirk Hospital NHS Trust, Town Lane, Kew, Southport, PR8 6PN or by dropping an email to Jackie at:- soh-tr.information@nhs.net.

£3000 donated to local children's charity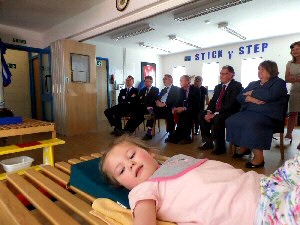 WIRRAL based charity Stick 'n' Step received a cheque for £3000 from The Duchy of Lancaster Benevolent Fund during a visit by the Trustees of the Fund to the centre in Wallasey on Friday, 13 June 2014. The Trustees include the Lord Lieutenants of Merseyside (Dame Lorna Muirhead), Greater Manchester (Mr Warren Smith) and Lancashire (Lord Shuttleworth).

During the visit the Trustees were able to see the specialist facilities at the centre, which included the sage room, sensory room and main session areas. They also spent time with the children and staff, which gave them an insight into the positive experiences and specialist activities the centre provides for the children.

The Duchy of Lancaster Benevolent Fund is a registered charity set up with consent of Her Majesty the Queen to assist good causes within the Duchy boundaries, which benefit their local communities. Stick 'n' Step was invited to apply for the grant which was then approved by the Merseyside Major Grants Committee.

The Lord-Lieutenant of Merseyside Dame Lorna Muirhead commented;- "The service Stick 'n' Step provides for children with cerebral palsy and their families is remarkable. I always enjoy visiting the centre and spending time with the children and staff. Stick 'n' Step works hard to provide such positive experiences for everyone who attends and the benefits are far reaching."

Commented Sarah Smithson, Operations Manager at Stick 'n' Step:- "We are very grateful for the grant given to us by the Duchy of Lancaster Benevolent Fund and delighted to welcome trustee members here at the centre to show how the money donated will help. The staff and children thoroughly enjoyed the visit and it is great to be recognised for the life changing work our staff are doing every day for children with cerebral palsy and their families."

Every year Stick 'n' Step provides free conductive education and support services to 70 children and their families. The charity receives no government funding and relies completely on the fundraising efforts of the community to cover its annual running cost of £350,000.

For more information about Stick 'n' Step, and how you can help, please visit sticknstep.org or alternatively contact Sarah Smithson, Operations Manager on:- 0151 638 0888.