Global City Leaders Summit - Liverpool highlights the benefits of devolution
LIVERPOOL this week is hosting leaders of some of the world's biggest Cities to discuss and share ideas on devolution and growth. All 8 of the English Core Cities are attending the BT Global City Leaders Summit that brings together more than 300 City Leaders and senior members of Local Government.

World renowned Cities such as Shanghai, Istanbul, Mexico City, Santiago and New Delhi will be exchanging ideas and visions with the Core Cities Cabinet on the key role Cities can play in promoting economic growth, rebalancing the economy and delivering for local communities.

International Cities, such as Paris, Berlin and Barcelona, have enjoyed huge amounts of economic success due to having the policy and tax freedoms to boost their local economies. Comparatively, England's Core Cities are being hindered by central Government retaining control over 95% of funds raised locally.

Birmingham Alabama for example, who are attending the Summit, retain a lot more locally raised taxes than Birmingham UK. According to the OECD, the level of taxes managed at the local or regional level is about 10 times greater in Canada, 7.5 in the US, 7 in Sweden, almost 6 in Germany, and over 5 times greater across the OECD on average.

Liverpool Mayor, Joe Anderson, on 18 June 2014, has lead a working lunch, with specially invited senior guests from major UK and overseas Cities, and Lord Heseltine, along with the former deputy Prime Minister. The discussion focused on the powers that Cities need to help drive economic growth.

Core Cities' urban areas already deliver 27% of the English economy and are home to 16 million, yet they underperform by the standards set by some of today's international visitors. This is because, currently, Cities only retain about 5% of the total tax base raised in them which is damaging their economic potential.

Greater freedom to decide how to spend the money generated in Cities, such as property taxes, would help the Core Cities meet their target of outperforming the national economy, and becoming financially self sustaining. Independent forecasts demonstrate this could mean an additional £222 billion and 1.3 million jobs for the country by 2030. That is like adding the entire economy of Denmark to the UK.

Joe Anderson, Mayor of Liverpool, speaking from the event said:- "Cities are engines of growth and they are critical to the global economic recovery. At this summit we will debate the powers and responsibilities our Cities need to deliver the best economic future for our communities. Importantly leaders from major Cities across the UK will join us in Liverpool, to exchange ideas with the international Cities attending, that could help us all in giving our Cities the freedoms they need to grow. This is very much a 2 way street with the Core Cities sharing ideas and concepts as well as hearing about ones that have worked overseas."

Sir Richard Leese, Leader, Manchester City Council and Chair, Core Cities Cabinet said:- "This Summit is a fantastic occasion and a great opportunity to highlight the success devolution can bring. You only have to look at the success a City like Barcelona has achieved by being given the freedom to make decisions based on local need and circumstance. England's Cities need to be given the powers they need to compete or we will fall behind the International Cities visiting today."

United Cities and Local Government president and Mayor of Victoria, Seychelles, Jacqueline Moustache-Belle said:- "For over a hundred years, the spirit of the municipal movement has been to promote learning and create the conditions to better serve the citizens, but also to bring the experience of local and regional leaders to the international debates. Towns and regions must have a strong presence and role in the new global governance."

Mayor of Istanbul and UCLG co-president Dr Kadir Topbas, said:- "Urbanisation is underpinned by the concentration of investment and the economies of agglomeration that Cities offer to many enterprises are well known. However, what are perhaps less recognised are the many economies of agglomeration that Cities provide for most forms of infrastructure and service. Sound management of these services is central to their capaCity to support growth, prosperity and equality."

Cities represented at the summit include:-

Istanbul, Shanghai, Paris, Barcelona, Rabat, Berlin, Vienna, Beijing, Glasgow, Surabaya, Seoul, New Delhi, Buenos Aires, Sao Paulo, Santiago, Montreal, Mexico City, Birmingham (Alabama) Johannesburg, Rabat and Dakar, as well as all English Core Cities.
Festival at Newsham Park
NEWSHAM Park in Liverpool will come alive with sport, art and music on Saturday, 21 June 2014 organised by Liverpool City Council, in partnership with St. Francis of Assisi Academy.
The event is billed as a FREE family festival of sport and arts running from 11am until 5pm, that is aimed at encouraging people to take up a more active lifestyle.

Events include:-

► Live bands
► Zip wire
► Dance displays
► Food
► BMX
► Handball
► Martial arts
► Drama performances
► Funfair

Liverpool City Council's Assistant Mayor and Cabinet member for culture, Councillor Wendy Simon, said:- "This is a great day out for all the family, whatever your age or sporting ability. It's a fantastic way to have a go at something different and learn how to keep fit and healthy at the same time. I would encourage as many people as possible to head off to Newsham Park on Saturday, take advantage of what's on offer and have a fun day out."

Trade Directors urge Businesses not to miss out on help at the HUB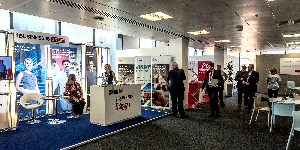 A world of opportunity is waiting at the International Festival of Business (IFB) Hub, and Clive Drinkwater, Regional Director, UK Trade and Investment (UKTI) is urging businesses not to miss out. As part of IFB, the Hub is providing a dedicated trading floor where country representatives, embassies and international delegates will be available throughout the Festival. It provides an opportunity to meet people from over 80 different countries right on the doorstep, and to help companies make sure their contacts are the right ones, a Business Brokerage service is also available so delegates can find the events and people that are right for their businesses. 250,000 people are estimated to attend IFB over the 50 days of the Festival, and the event is expected to deliver a £100m increase in trade between 2014 and 2019. UKTI is a key partner of the IFB, and is offering tailored, exclusive export offers to SMEs throughout.

Clive Drinkwater says:- "If you haven't signed up for the International Festival of Business or visited the Hub you are missing out on a world of opportunity. We are only in the second week of IFB and so far UKTI has already seen over 400 businesses attend our events, meeting nearly 40 overseas buyers. I have moved my office to Liverpool for the duration of the festival, and have visited the Hub regularly over the last week. I have seen plenty of enthusiastic delegates meeting experts from all over the world, and am sure that plenty of business is being done in this fantastic setting. I have been inspired by the companies I have met so far, and by some of the stories I'm hearing; such as Knowsley company Clarke Energy announcing a new project in Mozambique, and Liverpool's Chargepoint Technologies trebling its profits. The Hub is a brilliant resource if you are keen to grow your business, and well worth a visit. We have assembled a group of experts to help you establish your business, grow it through exporting, and work your way through the maze of logistics and legal issues. All this advice is available in one place at the Hub, and to take advantage all you need to do is sign up for free membership by registering online; or in person at the Hub from 9.00am to 6.00pm during weekdays. I look forward to seeing you there."
Time to ditch 'urban myth' that Britain manufactured more in the 80's than it does today
CONSUMERS are being urged to ditch urban myths and misconceptions about British manufacturing after research showed that 3 quarters (74%) mistakenly believe that the UK used to manufacture more goods 30 years ago (in the 80s) than it does today.

The findings, from EEF, the manufacturers' organisation, come ahead of Manufacturing, Science and Technology Week, that runs from 23 June to 27 June 2014, at the International Festival for Business. They reveal that, while consumers are supportive of British manufacturing, they are largely in the dark about the true state of the sector today.

Manufacturing is driving the economic recovery, employing 2.6 million people and accounting for 11% of GDP. The sector is on track for 3.6% growth this year. In the North West alone, manufacturing output stands at £20 billion a year with companies in the region employing over 343,000. But despite this, little over a third of consumers (36%) believe that the UK's manufacturing industry is growing.

While such urban myths are potentially damaging, UK manufacturers will however be pleased to know that they still have consumers' backing, in fact over 3 quarters (76%) would be proud to work for a manufacturing company in the UK. More importantly given the ongoing drive to encourage more women into the sector, women would be equally as proud as men to work for a British manufacturer.

Manufacturers will also be cheered to know that over 7 in 10 consumers (72%) prefer to buy goods that have been made in Britain. Women are the biggest champions, with 75% agreeing that they would prefer to buy UK manufactured goods over those made elsewhere in the world; this falls to 71% amongst men.

There is also widespread recognition of the vital role manufacturing plays in the broader economy. An overwhelming 91% of consumers agree that manufacturing is essential for the UK economy to grow, although this rises to 97% amongst the over 55s. Those aged 25 to 34 are the least convinced, although even here 80% believe manufacturing is essential for growth.

Darrell Matthews, North West Region Director at EEF, says:- "With the global spotlight on British manufacturing next week it is time to ditch the urban myth that Britain manufactured more in the 80s than it does today. The reality is that British manufacturing is a huge success story and is going from strength-to-strength, employing 2.6 million people and accounting for 11% of GDP. 'Make it Britain' is vibrant, vital and producing more today than it did 30 years ago. The good news is that manufacturers already have consumers' backing, but if we arm them with the full facts about the strength, dynamism and versatility of this essential sector we will hopefully gain their pride too. This will encourage more young people to consider a career in our sector and make it easier to attract the talented and skilled employees needed for growth to continue at a pace."

As part of its 'Make it Britain' campaign, designed to champion Britain as a manufacturing and engineering powerhouse on a global stage, EEF is joining forces with Siemens to host a free conference at the International Festival for Business. It takes place on Wednesday, 25 June 2014, at the Hilton Hotel in Liverpool. To find out more or to register, visit:- eef.org.uk/ifb.