North West schools to benefit from new food standards
HUNDREDS of schools in the North West are expected to benefit from a new set of standards for all food served in pupils. The new guidelines are designed to make it easier for school cooks to create imaginative, flexible and nutritious menus. They will be mandatory in all maintained schools, and new academies and free schools.

Although the previous standards, introduced between 2006 and 2009, did much to improve school food, they were complicated and expensive to enforce. Cooks had to use a special computer program to analyse the nutritional content of every menu. Often, they ended up following 3 week menu plans sent out by centralised catering teams who would do the analysis for them. This meant they couldn't be as flexible or creative as many would like.

In trials, the new standards proved extremely popular with school cooks, 90% of whom said they were easier to implement than the old standards. They also proved just as effective at delivering the energy and nutrients that growing children need. In fact, those secondary schools that took part in trials reported an increase in the consumption of vegetables, leading to higher fibre, folate, vitamin A and vitamin C intake.

Education Secretary Michael Gove said:- "These new food standards will ensure all children are able to eat healthy, nutritious meals at school. We now have a clear and concise set of food standards which are easier for cooks to follow and less expensive to enforce. Crucially we have achieved this without any compromise on quality or nutrition. There has been a great deal of progress in providing healthy school meals in recent years and these new standards will help deliver further improvements."

The new standards include:-
► 1 or more portions of vegetables or salad as an accompaniment every day.
► At least 3 different fruits, and three different vegetables each week.
► An emphasis on wholegrain foods in place of refined carbohydrates
► An emphasis on making water the drink of choice.
► Limiting fruit juice portions to 150mls.
► Restricting the amount of added sugars or honey in other drinks to 5%.
► No more than 2 portions a week of food that has been deep-fried, batter-coated, or breadcrumb coated.
► No more than 2 portions of food which include pastry each week.

Deputy Prime Minister Nick Clegg said:- "Every mum and dad knows that if you want your child to do well at school, and particularly to concentrate well in the classroom in the afternoon, a healthy meal at lunchtime is vital. If you speak to heads, teachers and cooks about the school meals they provide, they want to be given a little bit more freedom to make their own choices. The revised school food standards will allow schools to be more creative in their menus. They are easier for schools to understand and crucially they will continue to restrict unhealthy foods to ensure our children eat well."

Henry Dimbleby, co-author with John Vincent of The School Food Plan, said:- "The previous standards did a lot of good in removing the worst foods from children's diets. But when we were writing the School Food plan we met lots of wonderful cooks who felt restricted by them. There was a very talented Asian cook, for example, who was exasperated at having to follow the Council's three week menu plan of shepherd's pie and fish and chips, when her pupils – most of whom were also Asian; would have much preferred naan bread and a curry. Other cooks complained that having to plan menus so far in advance meant they couldn't make the most of cheap, high quality, seasonal produce. These standards will preserve the nutritional gains that have already been made in school food, while allowing greater flexibility."

Susan Jebb, Professor of Diet and Population Health, University of Oxford, led the work to create the new standards. She said:- "We know that children are continuing to eat too much saturated fat, sugar and salt. It is vital that the food children are offered in schools is nutritious and helps them to learn about the basics of a healthy diet. The pilots we ran were very encouraging and clearly enabled cooks to develop nutritionally balanced menus. We saw a real boost in the variety of vegetables offered, helping to increase intakes of fibre and essential nutrients. The new standards and supporting guidance include clear information on appropriate portion sizes to help achieve similar results and promote good practice across all schools."

Council takes the plunge and saves £60k on energy costs with ABB drives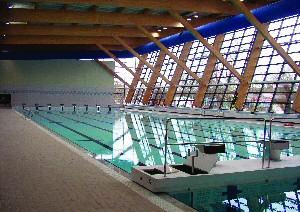 LIVERPOOL City Council is saving £60,000 a year on energy costs at 5 of its swimming pools following the installation of ABB variable speed drives on filtration pumps an air handling units. Faced with rising energy costs and the need to trim budgets, the Council approached ABB authorised value provider Central Group for help in cutting the energy use at its swimming pools. The Council's maintenance manager says:- "We had an energy conservation report done on 1 of our pools by an independent company which had recommended ABB variable speed drives."

Central Group investigated the pumping set up at the swimming pool. The 2 filtration pumps were originally run in a duty/standby configuration. Pumping rates were increased as more people entered the pool. Central suggested using the pumps in a parallel pumping scheme that would cut energy use. Gianfranco Colangeli of Central says:- "At 1st the council was sceptical of the proposed scheme. We suggested a trial to prove that it could work and they agreed. We logged the energy use of the pumps beforehand; we then installed 2 new ABB drives. Our predictions indicated a 10% to 15% saving, but logging the energy use we found that the drives made a 35 percent saving, with a payback of around 6 months. This was all with no change in the flow rate or water pressure."

Following the installation of the permanent drives, Central Group also installed low occupancy switches, which cause the drives to run the motors at even lower speeds when few people are using the pool or when the pool is closed. "We had budgeted for 45 Hz, but we can go as low as 30 Hz." says Colangeli. Since the initial installation, ABB drives have been retrofitted into four other swimming pools, for water pumps and air handling units. With a total of 20 drives over the five sites ranging from 7.5 to 18 kW, the project is saving £60,000 a year, with a payback of around 2 years.
Scrum on down for new event!
OVER the weekend of 21 June 2014 and 22 June 2014, the City will host the Wheelchair 7s Rugby Union Four Nations Tournament, a 1st for the City. Staged at Liverpool John Moores University's IM Marsh Campus, spectators will have the chance to see the finest players from England, Ireland, Wales and the Barbarians go head-to-head with each other in what is set to be a fierce competition for the title. The matches start at 10am at the Barkhill Road site, and the first game sees England V's Barbarians. Liverpool's Assistant Mayor, Councillor Wendy Simon, said:- "I'm delighted that Liverpool is hosting this event. We are dedicated to doing as much as we can to promote inclusive sport and to also help people with disabilities overcome any barriers they may face when it comes to getting active. This tournament will give spectators the chance to see some of the best players in this international field, and is set to be an exciting and competitive couple of days."

Schedule for the weekend is as follows:-
Saturday, 21 June 2014

► 10am – England v Barbarians.
► 12pm – Wales v Ireland.
► 2pm – England v Wales.
► 4pm – Barbarians v Ireland.

Sunday, 22 June 2014

► 10am – Barbarians v Wales.
► 12pm – England v Ireland.
► 2pm – Trophy presentations.

Liverpool Lions Wheelchair Rugby Club has been closely involved with planning for the tournament and it is hoped that this will become a bi-annual event staged in the City. Manager of the Liverpool Lions Wheelchair Rugby Club and England Team Manager, Martin Beddis, said:- "This is an exciting time for wheelchair rugby in Merseyside and this international event will go a long way to showcase the sport in the City. Wheelchair 7s is one of only a few sports that is fully inclusive. Weather you have a disability or not, male or female, you can play and if you're good enough, you can represent your country. It's also the ideal build up for the Six Nations competition to be held in Paris in August, so we hope as many people as possible come along and see the excitement in action."
Admission is completely free to these events and to find out more you can follow England Wheelchair 7s and Liverpool Lions Wheelchair Rugby on Facebook or the following their Twitter accounts:- @England7sWRU @LivLionsWRL @LivLionsWRC.