Wirral goes looming loopy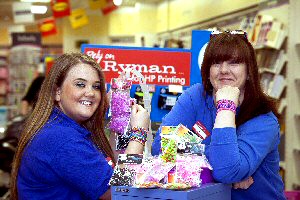 IT'S the craze that's sweeping Britain and the Wirral is going looming mad for it; it's Loop and Loom. The Loom Bands, simple, multi coloured elastic bands which can be made into bracelets, are flying out of shops and retailers at the Wirral's main shopping centre in Birkenhead can't get stocks fast enough. At top stationery store Ryman in Pyramids Shopping Centre, store manager Cheryl Dixon has been amazed at the popularity of the Loop and Loom mania.

Cheryl, a mum, who has been manager at the store since 2006, said:- "I've never seen anything like it. There have been crazes before but nothing like this. The first order we had in was all out of the door in 24 hours. We have ordered in more since then and from the last order, we have two packs left with a new order due in this morning. We mostly have the £1 bags which contain 300 bands but in the next order, we will also be getting the deluxe sets which also include the looms themselves, there are different ways of threading them and there are even YouTube videos showing how to do it. We've been stocking them since just before the last bank holiday weekend and it is proving very hard to keep with demand. They are great for business; our sales have been up by almost 5% for the last few weeks when compared with the same period last year. The bands themselves are not expensive but they bring people into the shop and then they might also pick up other items while they are here or learn about other things we might stock which they need. They have been a terrific way of driving more customers into the shop. I am now making sure that the staff are all wearing them and we have signs up round the store to say they are in stock."

Ryman isn't the only store that is under siege from Loop and Loomers, at the nearby Works store, they are also working hard to keep up with customer demand.
Colin McKenna, Manager of the Works store at Pyramids Shopping Centre, said:- "They have been extremely popular and I can't remember a craze like this since Scoobies which were a similar thing but that was more than a decade ago. We are having to work really hard on keeping up with demand and it feels a bit like you cannot get enough of them! They seem to have this universal appeal; the kids love them, boys and girls, with many of the lads coming in for colours to reflect The World Cup; the Brazil colours or other teams they might be supporting. But adults are buying them too and wearing them. I suppose they are cheap and cheerful and something to get stuck into and make so they have an entertainment element too."

Derek Millar, Commercial Director for Pyramids Shopping Centre, said:- "When something takes off there can be no obvious explanation and it's often something quite simple and inexpensive. They just need to catch the imagination and off they go and that seems to be the case with Loop and Loom. It's amazing that in these days of so many sophisticated electronic and web based toys and games something as simple as coloured elastic bands should explode like this."
Last chance to find our Poet Laureate in Southport
NOW'S your last chance to be the Southport poetry champion. One poet will represent Southport in an annual best of UK poetry book; and the closing date is almost upon us. Entry is free and, like all the other winners, the Southport winner gets a free copy of the book. One overall winner also gets £1,000. "The National Poetry Anthology is designed to encourage new writers. We picked over 250 town winners last year but we want the new edition to include a winner from every town and village in your circulation area. So far, we haven't had enough entries from the area to achieve that." said its editor, Peter Quinn.

Send 3 unpublished poems on any subject (up to 25 lines including blank lines and 160 words each) to United Press Ltd, Admail 3735, London, EC1B 1JB by the closing date of 30 June 2014. Enclose a loose stamp if you want a reply. Visit unitedpress.co.uk , should you want more details.

Becky gets on her bike to Brazil in a 5,438 mile Ride for Ryder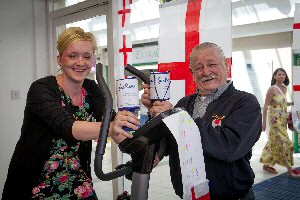 A St Helens shop manager is bidding to raise cash for charity by riding 5,438 miles on a donated exercise cycle; the same as biking to Brazil. Becky Bethom is heading to Rio in her Ride for Ryder challenge with the aim of raising at least £543.80 for the UK charity.
The 26 year old is the newly appointed manager of the Sue Ryder charity's store in Church Square Shopping Centre in St Helens. "I wanted to do something to raise funds under the Ride for Ryder challenge. Then one of our regular customers offered to donate an exercise bike she and her former husband, a karate champion, no longer use, and I decided to bike to Brazil. Though I hadn't realised just how far away it is; it will certainly help me get in shape for summer! I am determined to complete the ride and to raise £543.80 as well. I just hope that I manage to complete it while England are still part of the contest," said Becky, who admits to preferring watching rugby to football.
She is aiming to rope in all the staff and volunteers who work at the store and raise even more funds for the charity, which provides compassionate care and support for people with palliative, long term and end of life needs at home, in hospices and at respite centres.
Church Square Shopping Centre Manager Steven Brogan, who is juggling managing the shop with looking after her 18 month old son Charlie said:- "Becky has given herself a massive challenge and I will be popping down when I can, to support her.
The Sue Ryder charity does a lot of excellent work across the North West, and I hope that all our shoppers also get along to the store to offer their support to Becky as well. I know that our customers are always very generous when it comes to charity events. I love working in this store because it's lovely seeing the wide range of people who come in, whether to donate items or to have a look round. I have been surprised by the interest in recycling items from younger people, especially those who prefer not to see items thrown away in landfill sites, but given new homes. We are fortunate in that people are happy to donate good quality items, such as children's clothes from very well known brands. I know as a mum that they get through a lot of clothes in a day, but grow out of them so quickly. So it does make sense to buy nearly new; after all, who knows but you where it was last bought?"
The bike was donated by Val and her former husband Jeff Tabern from Wavertree, who regularly visit the store. Former Liverpool Bluecoat design and technology teacher Val, 66, said:- "I visit the shop in St Helens most weeks to buy broken jewellery, which is when I heard about Becky's campaign to raise money for charity. I was more than happy to donate the bike; though she has taken on a massive challenge. When I get the old jewellery I re-use the beads and other items in new pieces of jewellery, which I sell at the craft fair at the centre, under my company Precious Things. I also donate a percentage of the money from those sales back to the charity."

Retired Pilkingtons fork lift driver Jeff, 73, said:- "We got the bike because I like to keep fit - I am a black belt at karate and used to run a karate club in the town, before I retired. We mainly now use a treadmill, and this was just taking up space, so donating it to the shop for this biking challenge was an excellent way of giving it new life."
Church Square Shopping Centre is open daily and home to a range of big name stores; such as River Island, BHS, Boots and Superdrug; along with independent retailers plus the busy St Mary's Market. For information about what's happening at the Centre, log onto:- churchsquaresthelens.co.uk.