FLETCHERS SOLICITORS STRIDES FORWARD WITH GROWTH PLANS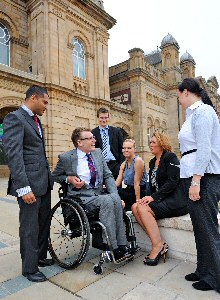 ONE of the UK's leading medical negligence and personal injury law firms, Fletchers Solicitors, has doubled its workforce and expanded its clinical negligence offering with a larger office space. Following a significant increase in the number of medical negligence cases it receives, the North West firm has invested in more office space, expanding its current office on Hoghton Street, Southport, by 9,000 square feet to meet this demand. The company now handles 1 in 10 medical negligence cases in the UK, and its larger premises will be home to a dedicated team of clinical negligence, as well as personal injury specialists. Fletchers Solicitors has increased staff numbers from 108 to 220 in the last year. The firm has recently undertaken a recruitment drive to attract the best clinical negligence talent, in plans to become the number 1 law firm for medical negligence. The new office space includes three additional meeting rooms and a brand new training room to further support staff development. The training room is kitted out with individual workstations set up to replicate the office floor to allow employees to train in a practical, hands on way. The office expansion also allows Fletchers Solicitors sister company, Ultimate Costs, a legal costs drafting company, to move into the same building.

Ed Fletcher, CEO of Fletchers Solicitors, said:- "We are in a tremendous growth period at the moment, which has seen both a number of new appointments and a significant increase in the number of medical negligence cases we are handling. This larger dedicated office will provide clients who have suffered negligent care with one place they can turn to for all of their legal needs. Our philosophy has always been to do our very best for the victims of serious injury and medical negligence, and we know that the best way to do so is to have a committed and determined team who possess a wealth of specialist experience and knowledge. Expanding our dedicated office to handle these types of cases seemed like a natural step."

Earlier this year, the firm was recognised by the London Stock Exchange as one of the 1,000 Companies to Inspire Britain, and awarded a coveted one star accreditation from The Sunday Times 'Best Companies to Work For' scheme. For more information, please visit:- fletcherssolicitors.co.uk.
Success for Year 7 Students at the Salters' Festivals of Chemistry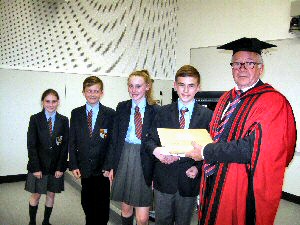 THE Salters' Festivals of Chemistry are 1 day fun events held at universities throughout the UK and Ireland.
They provide an opportunity for enthusiastic young students to spend a day in a university department and to take part in practical chemistry activities which are fun!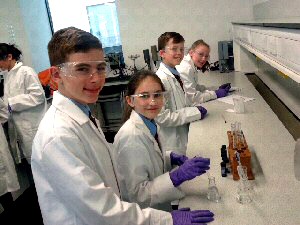 Earlier this month 3 Year 7 students:- Zac Cook, James Connaughton, Lucy Hardey and Isabella Hatch travelled to Liverpool University with their Chemistry teacher Mr Michael Murphy.
Throughout the day the students took part in practical activities and investigations, along with a lecture and a demonstration.
The day ended with a short prize giving ceremony during which are students were pleased to find out that they had come 3rd in the Salter's Challenge.
Well done to all of you who took part!

Boost for Jewel on the Hill plan
A plan to bring the landmark Everton Library back into use as an arts and cultural centre is set to move a step closer. The Grade 2 listed building; known as the Jewel on the Hill, was designed by City Surveyor Thomas Shelmerdine and opened in 1896. It was widely acknowledged as one of the most architecturally significant branch libraries in the City. It closed in 1998 and has been empty since 2002. Plans to revitalise the building on St Domingo Road began in 2009 and it is being driven by a specially formed new charity; The Jewel on the Hill Buildings Preservation Trust Limited. It involves arts organisation Hope Street Limited and Heritage Works Buildings Preservation Trust Limited, which specialises in regenerating historic buildings. The aim is to restore the building and use it as a cultural and arts hub for creative enterprise as well as engaging local people in learning about its history and the practical skills involved in restoration. On Friday, 20 June 2014, the Council's Cabinet was asked to approve a grant of up to £150,000 through the Buildings at Risk programme to help towards securing a Heritage Lottery grant for the £5 million project. Under the proposal, the Council will also grant a 125 year lease to the Jewel on the Hill Building Preservation Trust, at a peppercorn rent, if funding and planning permission is secured for the scheme. Councillor Malcolm Kennedy, Cabinet member for regeneration, said:- "This is a fantastic project which we hope will bring back into use a much loved landmark building in Everton. The scheme that has been put together by the Jewel on the Hill Building Preservation Trust is visionary, and complements all of the other work we are doing in the area such as Project Jennifer, the regeneration of Everton Park and the recent opening of the new Notre Dame Catholic College. This is a very exciting time for the Everton area as we breathe new life into an area which has been neglected for far too long." David Lowther, Vice Chair of The Jewel on the Hill Buildings Preservation Trust, said:- "This is an important milestone in this exciting project to breathe life back into this wonderful building. The Trustees are extremely grateful for all the help and support from the Council." It is hoped that if the bids for all the elements of funding are successful, work can start on site in 2015 with the building reopening in 2017. More information about the project can be found at:- jewelonthehill.co.uk.
MP dishes out honours at Adult Learners' Week Awards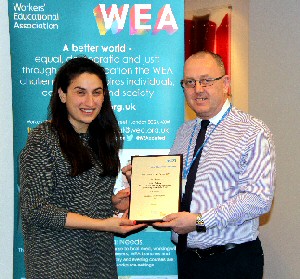 A hospital administrator who used adult learning to overcome a range of health problems has been honoured with an award.John Callery, who works in medical education at the Royal Liverpool University Hospital NHS Trust, was a joint regional winner of the Adult Learners' Week Health Education North West Award for First Steps into Employment.

He received his accolade from Luciana Berger, MP for Wavertree and Shadow Minister for Public Health, who also presented Adult Learners' Week Awards to people who have worked to engage people living with dementia in the wider community during a ceremony at the Foresight Centre, Liverpool on Friday, 20 June 2014.

At the same event, the Workers' Educational Association (WEA) presented Merseytravel with the first WEA North West Region Health and Wellbeing award in recognition of the funding they provided to kick-start their dementia work.

Last March, Merseytravel gave the WEA £5,000 to carry out a community project linked to travel and transport. They chose to link their work around people living with dementia and considered issues they faced accessing transport and connecting with the community.

Funds were used to host a consultation event with people from over 30 local organisations to look at key issues, including a session about travel and transport.
The WEA also supported dementia cafés, called:- 'Remember When' sessions, to encourage people to come into the city and use transport links.
2 cafés were set up, in the Royal Liverpool and Broadgreen University Hospital's Trust (RLBUHT) Costa Coffee branch and at Maggie May's café on Bold Street.

Dementia training was delivered to volunteers, WEA staff, those working in the memory café venues and staff in the travel and transport sector eg. Merseyside Police, British Transport Police and Arriva Buses.

The success of the initiative has prompted Maggie May's café to continue to offer memory café sessions, setting up a charity to fund this work in the future. WEA is seeking further funding to continue to run the 'Remember When' cafés in conjunction with Costa Coffee and the (RLBUHT).

The WEA also recognised the work of the lead dementia practitioner at the RLBUHT, Shaun Lever, at the ceremony, for his tireless efforts to ensure the 'Remember When' cafés are successful, which included delivering dementia awareness training to WEA and Costa Coffee staff. Ruth Spellman, Workers' Educational Association CEO, said:- "We are committed to raising awareness of this issue and believe that more can be done to ensure people living with dementia and their family carers lead healthy, happy lives. A combined effort is needed from organisations within the voluntary, private and public sector to support those affected by this debilitating illness. I'm proud of our work in Liverpool and hope that this successful model of working in partnership is replicated across the UK."