Karl crowned North West's best chef 2014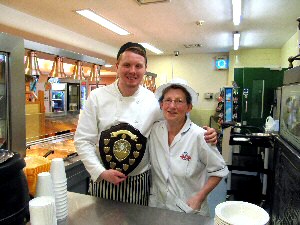 CATERING staff at Southport hospital are celebrating winning a clutch of awards. Chef Karl Watling, 24, was named North West Chef of the Year at the Hospital Caterers Association Awards held in Bury. The honour came only a week after he was named Support Worker of the Year at Southport and Ormskirk Hospital NHS Trust Pride Awards held at the resort's Floral Hall.

Karl, who with colleagues cooks meals for patients and visitors to the hospital restaurant, was nominated for the regional catering award by his manager Tracy Potter. She said:- "Karl was showing a real passion for cooking and wanted to learn more so he did a NVQ level 3 in his own time at Southport College. He has brought some amazing dishes to the restaurant. This has improved income and created a buzz throughout the Trust as customers are spreading the word about his amazing dishes."

Karl's prize was a trophy and £100 with judges looking for someone who leads by example, sets high standards, motivates the team and strives for excellence. "It was a privilege to be nominated and have my work and my colleagues' recognised." he said.

Karl started working at Southport hospital in early 2013 but 47 years earlier his colleague Renate Bengs began working in the kitchens of the former Southport General Infirmary.

The 69 year old catering assistant and former team leader was commended for her service with the title of North West Diamond Catering Assistant 2014 at the Bury awards event for her long service.

The criteria were for a catering assistant who was dependable, reliable, always willing to help and had that something special. She retired aged 60, but returned to work two months later "because I was bored."
EU COMMISSION BLOCK NEW MATERNITY RIGHTS AS PART OF REGULATORY REFORM AGENDA
GMB commented on announcement that the EU Commission has used the regulatory reform agenda to block proposals to extend maternity pay from 14 weeks to 20 weeks.

The EU pregnant workers directive is a fundamental source of maternity rights at work in the UK, and the proposals were aimed at further strengthening these rights:-

► The main point of contention in the proposals was the one to extend minimum maternity leave from 14 to 20 weeks, on full pay (based on last monthly salary or average monthly salary). The UK in particular argued this measure would be too expensive and make women less employable. The UK currently lags behind many Member States in terms of maternity leave pay.

► The proposals also looked at strengthening legal provisions for pregnant workers, for example their right not be forced to perform night work or overtime, and their right to breastfeed at work.

► The proposals recommend better dialogue between employers and trade unions to facilitate woman's reinsertion in workplace, support training, etc.

► The proposals also aimed to ensure that the working time of pregnant workers takes into account the need for medical check-ups and appointments.

Kathleen Walkershaw, GMB Brussels Officer, said:- "The Commission has used the same process to block the proposed maternity rights as they used to block the employer/union agreement on hairdressing health and safety. EU Commission claims that with REFIT; regulatory reform agenda; it is making EU legislation simpler, clearer and less costly. This is yet more proof that regulatory reform means deregulation and attacks on worker's rights and protections.... as if we needed it. This isn't better regulation this is deregulation, and it is workers who are paying the price. All of this is stacked in the interests of business and the costs are being paid by those with little means to bear them. The EU Commission seems hell bent on making people love Europe less. It should put its shoulder behind promoting health and safety and pregnant workers' rights and putting a beating heart back in to a Social Europe, not cutting off its circulation."

Chantel McGregor - Guitarist of the Year to rock The Atkinson!
Report with thanks to John Brown
THE great news for rock, live music lovers and aspiring musicians in and around Southport, is that Chantel McGregor will be playing in her band at The Atkinson, on Friday, 27 June 2014, and put simply; this will be a fantastic experience and night to remember! Winning 4 awards in the last 3 years and being the 1st female to be voted Guitarist of the Year in 2013, is something that Chantel is very proud of and is indicative of her increasing popularity in and outside of the UK. In an industry where male guitarists have been dominant and received most of the limelight on and off stage, what a refreshing change and a justifiable 1st, that a female artist was voted Guitarist of the Year and that Chantel has been nominated for this award again in 2014! Jamming on stage with Joe Bonamassa on 2 of his tours so far, Chantel is a formidable guitar player, a very talented singer songwriter and her live performances are truly captivating! A quote in Nightshift, Oxford's music magazine, reinforces this:- "Chantel McGregor deserves to be held up as a messiah of blues rock and given her own mountain, she doesn't strum or pick her guitar but almost bends and distorts it, as if she's channelling the ghost of Hendrix through her fingers" You can listen to Chantel playing 2 rocky numbers from her debut album "Like No Other" in her band online or on a quieter note, you can see and listen to a solo acoustic version of one of Chantel's original songs on YouTube and her beautiful stripped back version of Bruno Mars "Grenade" also on YouTube Don't miss out on seeing Chantel play at The Atkinson, located on Lord Street, in Southport, Merseyside (PR8 1DB). Advance tickets are £12 + bf or £14 on the door and to book, please call:- 01704 533 333 or go online. To see, hear and find out more about Chantel and where she is playing next, please visit her website. Don't be late, doors open at 8pm.
Charity on the look out for winning Sea Snap
AS families across Britain flock to the beaches this summer, 1 of the UK's oldest maritime charities has launched a competition to find the best visual portrayal of our nation's connection with the sea to mark Seafarers Awareness Week that started on 21 June and runs until 29 June 2014.

The Shipwrecked Mariners' Society, which celebrates its 175th anniversary this year and provides financial support to retired seafarers in need, or to those unable to continue working at sea as a result of injury or illness, is encouraging entries to the competition which is on the lookout for photos encapsulating the UK's love of and reliance on the sea.

The competition, which is in its 2nd year, will be judged by a panel of experts:-

► Matt Havercroft, Editor of Discover Britain Magazine.
► Kate Westaway, a marine photographer and TV producer.
► Commodore Malcolm Williams, the Charity's chief executive.

Running from the Charity's website, and across social media, participants are being encouraged to send in their photographs of what they believe best encapsulates Britain's coast, seafarers and the sea; whether in relation to the work of fishermen, merchant mariners, or wildlife, seascapes; anything which shows and celebrates our intimate connection with, and reliance on the sea and seafarers.

As an island nation the UK relies on merchant shipping for 95% of its imports and 75% of exports. The UK's sea ports handle over half a billion tonnes of goods each year, with more than 35,000 UK fishermen and merchant mariners employed in shipping.

Shipwrecked Mariners' Society Chief Executive, Malcolm Williams, said:- "Last year we had more than 200 competition entries and selecting the winner proved to be quite a task. We are looking forward to seeing the different interpretations of the brief this year which we hope will show the full scope of our continuing connection with and reliance on the sea. Through this campaign, marking Seafarers Awareness Week, we want to draw attention to all those who dedicate their lives to the seafaring professions and who may need our help during difficult times in their retirement or following accident or illness that prevents them following their chosen work."

In the last year the Shipwrecked Mariners' Society handled 650 new applications for assistance and distributed £1.4million across 2,200 cases of need.

The deadline for entry is 5pm on Friday, 8 August 2014. To enter the competition, full terms and conditions and for more information about the work of the Society visit:- shipwreckedmariners.org.uk or the society's Facebook Page or follow them on twitter pages at:- @ShipwreckedSoc.