'Make It Britain' - British Manufacturing in the spotlight at IBF2014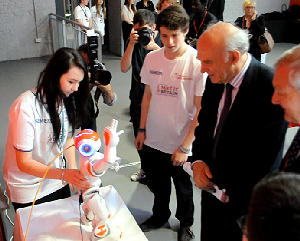 THE Engineers' Employers Federation (EEF) have held a few events in Liverpool as part of the International Festival for Business 2014. The events are part of the Manufacturing, Science and Technology Week, that started on 23 June and ends on 27 June 2014. The events started with the release of a report, accompanied by a press and schools event, at the UTC on Monday, 23 June 2014. The Liverpool Life Sciences event 'Pioneering Great British Products' had local schools attending and representatives from British manufacturing and education, along with Secretary of State for Business, Rt Hon Dr Vince Cable MP. After Vince Cable MP had opened the event and was shown around exhibits like the educational computer Raspberry Pi Foundation's display and the maritime robotics group Seafloor Production Tools, who have a world leader, cable laying machine, which is designed and manufactured in the UK. That is not forgetting the space company, Reaction Engines Ltd., who have invented the SABRE engine (Synergetic Air Breathing Rocket Engine), and an F1 and sports car development display by McLaren GT.
This inspirational event allowed school children to ask questions directly to industry representatives from those businesses and also others from the science, technology, and engineering as well as highlighting worries that we are not promoting innovation in the UK. Terry Scouler, Chief Executive of EEF, on the day, said on her blog that:- "Our ability to innovate in the future hinges on the talents of our young people. We need to inspire them and this starts with giving rightful recognition to our great inventors and giving young innovators every reason and encouragement to want to follow in their footsteps." All the groups attending that day were extremely interesting examples of pioneering products that are often overlooked by our media and business community. One of the school students commented that:- "I have been interested in computers for years and would love to go into the programming field. Sadly, it is very hard to find out what I need to do to get into the likes of robotics. This has been very helpful for me." Another who was interested in aviation said:- "This is a fantastic opportunity for me to learn and ask questions about the industry, like this 'Lighter than Air' vehicle design." The fascinating thing for us, the media and those exhibiting, was just how well thought out the questions had been. An interesting connection was also examined by students in many of their questions, relating to interconnectivity of devices and objects, like Wi-Fi being added to AIRLANDER, made by the Hybrid Air Vehicles Ltd. in Bedford, UK. This event was inspirational, but also from talking to some of the exhibitors and also the children, who attended, should be repeated more regularly, to "encourage" our next generation of young innovators and industrialists.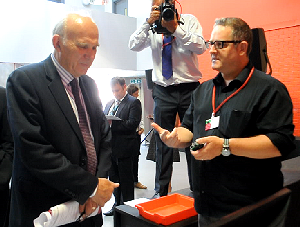 While also unveiling 5 cutting edge, British inventions, the AIRLANDER airship, Raspberry Pi, the SABRE engine (Synergetic Air Breathing Rocket Engine), and the i-limb bionic hand, the most important thing though was the report that was launched by Vince Cable, Business Secretary at the event. It looks at Britain's strong heritage in bringing ground breaking products to the world. In the report, issued by the EEF and Siemens, it warns us, in the UK, that consumers are in the dark about Britain's role in bringing cutting edge products to the world:-

► Best British inventions include the computer, the telephone, TV and jet engine, but only 54% of consumers think the jet engine is a British invention.
► In the dark:- only 25% of consumers are aware Britain gave the world ATM/cashpoints; even less (23%) know we invented the automatic kettle too.
► Living in the past:- while 69% are aware that Britain invented the steam engine, just 22% know we're behind modern day carbon fibre.
► Unimpressed:- 51% of consumers take a cutting edge gadget or tool for granted within a month of having it.
► Make it Britain:- despite our rich heritage, only 51% of consumers think that Britain is good at both inventing and manufacturing.

Sadly, this international and national lack of awareness of what British inventiveness has contributed to the world, could now hinder our future ability to innovate. More worryingly, many seem to see British inventiveness as something in the past; while 69% are aware that we invented the steam engine, only 22% are aware we gave the world modern day carbon fibre too.
To read the report please download it by clicking on here.
According to consumers interviewed in the production of this report, the main attribute of a 'great invention' is that it improves quality of life (66%). 59% say that a great invention radically changes everyday life, makes life easier (57%) or solves a problem (57%). Many of the things we use on a daily basis tick these boxes. However, familiarity doesn't breed any greater recognition for its roots. Just 25% of consumers are aware that ATM/cashpoint machines and the automatic kettle (23%) are a British 'claim to fame' as well.
Top 10 British inventions according to consumers:-
Top 10 best British inventions
People aware that they were invented by Brits
1.
Telephone
61%
2.
Television
57%
3.
Jet engine
54%
4.
Steam engine
69%
5.
Light bulb
47%
6.
Electric motor
31%
7.
Cats eyes
68%
8.
Bicycle
47%
9.
ATMs/cashpoint machines
25%
10.
Hypodermic syringe
21%

Source - EEF and Siemens.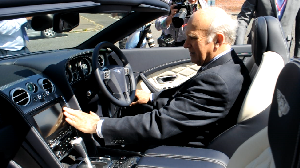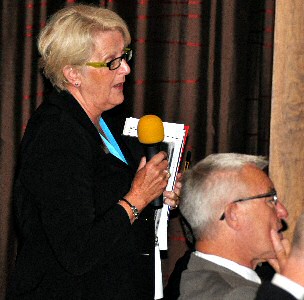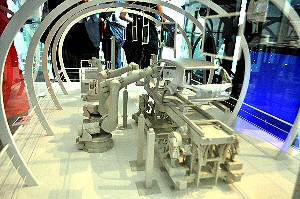 ...continued...

...continued... So what can be done to fly the flag of our inventions to the world? Well that was looked at in the next event which was held on, Wednesday, 25 June 2014, entitled:- 'Make It Britain'. This was also a fantastic conference, but this time those attending were nearly all exclusively people in the manufacturing industry.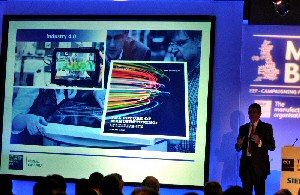 This flagship event, 'Make It Britain', was hosted at the Liverpool Hilton Hotel and included a fantastic Breakfast Buffet, tea and coffees, along with a very large lunch buffet.

The EEF's conference was put on in partnership with Siemens, who also took part in the debates that took place, which considered a very wide range of topics.

The conference agenda was split over 3 main sections, the 1st being:- "The Future of Manufacturing" that posed the question:- "Can Britain lead a new industrial revolution?" That was followed by "The 4 Sides of Make it Britain" and lastly, in the afternoon:- "World Class Skills and Talent for the UK."

The 1st event on the agenda was "The Future of Manufacturing" which posed the question:- "Do you think Britain has what it takes to be at the forefront of a new industrial revolution?" The response to this question was given in a high tech manner with delegates using remote voting controllers. the result was surprising, with 60% saying:- "yes", just 135 saying:- "no" and 27% saying:- "I am not sure!" This showed though how positive the audience was to change.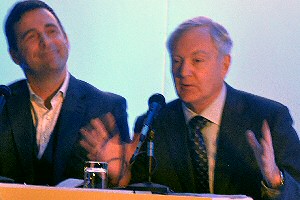 On the panel for the 1st session was Juergen Maier MD, Siemens Industry UK and Ireland, Lord Young MP, Parliamentary Under Secretary of State, Terry Scouler, CEO of EEF along with Dick Elsy, CEO HVM Catapults and Andrew Churchill MD, JJ Churchill. So unsurprisingly, having the Under Secretary of State on the panel, the next question might have been predictable. That question was:- "Do you think the UK Government is investing enough in technology to sustain manufacturing growth and make Britain at the forefront of the future of manufacturing?" 59% said:- "No", 21% responded:- "I am not sure" and 20% said:- "Yes". Too many, who we talked to in the networking session between the sessions, told us that they would have said it anyway. "The problem as some of the panel have pointed out, is that all the policies are too short term to be of any real long, lasting effect, like they are in the likes of Germany." This feeling of Britain lagging behind Germany was highlighted in the question put to delegates the question:- "Which countries do you most associate with advanced and high quality manufacturing?" Shockingly 76% said Germany, with only 9% saying UK, 8% saying China, 6% picking the USA and 25% opting for the:- "I am not sure" option.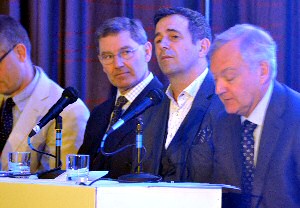 The host of the 1st session Kate Bellingham, best known by most from BBC Tomorrow's World (1990 to 1994) tells us the results arising from the session made people leave feeling very much more optimistic than they had been when entering it.
Our audio interview with Kate Bellingham, which you can play by clicking on below... is very interesting.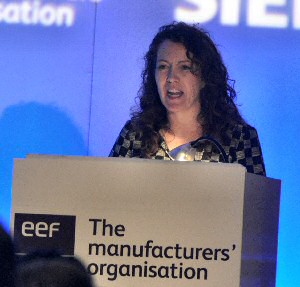 You can also hear some of the discussions as well that took place over the event via the player at the bottom of the page.
A familiar face on television to those in the North East, Wendy Gibson hosted the 2nd session which was called:- "The 4 Sides of Make it Britain." This again was a very interesting session. On the panel was:- Colin Spencer Halsey, who is the Chairman of Hymid Multi-Shot , along with Stephen Blatchford, CEO Chas. A. Blatchford and Sons, Stuart Cochrane, Manufacturing Manager at Numatic International Ltd. alongside Andrew Peters, Divisional Director, Drive Technologies Siemens IADT. This part of the event was especially interesting with groups, explaining how technology has changed the way they work and what they can sell. The delegates said that often innovative solutions developed through the drive for industrial automation and, despite fears that it would lose jobs, it has in fact created more and sustained even more. It was fascinating to hear the information about how hardware and software automation had changed the way Numatic has operated and even the way Siemens factories are being changed by it. They also stressed that educational opportunities and encouragement of employees and management is vital to the success and growth of modern businesses. Siemens also pointed out the strengths in working together, with business partnerships overcoming industry problems and creating new opportunities for all parties, within that co-operative. This was a very uplifting session, that even if you are not in the manufacturing industries, the lessons learned by these businesses and the information given by the speakers, was so comprehensive, that their solutions to many business problems could be applied to nearly all business sectors.
Over that session the audience was asked the following question which for many was probably the most important to be asked at the event. "Are there benefits to using more UK based suppliers?" The answers voted on were:- "Yes, proximity to suppliers means we can be more flexible." that received 39% of the votes. "Yes, because of reliability" gaining 21% of the votes. Gaining 17% of the votes was:- "Maybe, but it can be hard to find the right capabilities in the UK." 19% went to "No, location is irrelevant, and we use the best wherever they are." With just 4%, "No, UK suppliers are not as competitive as those overseas."
Coming away from the event, we got the strong feeling that all parties, political and business, including banks, as some of the audience were bankers, that the manufacturers feel that the country has seen the light again, in investing in industry and not just commercial and financial sectors. How much of a risk we take in innovative ideas in the future is still open for debate, especially when banks and the government are worried about investing in high risk technology development, after being caught out by the financial industry's mistakes with high risk investment. Sadly, it was those high risks that paved the way for the industrial revolution in the UK, that we now fear doing. So will we truly be able to lead a new revolution of we do not take high risks? What are the costs if we do not take the risks and the costs should they fail? After visiting this event, the feeling we got was that we still have a long way to change minds and to become more open, or as Andrew Peters put it:- "Disruptive" rather than "Compliant" to pull away! Unfortunately we could not stay for the last session, but what we did see and hear was extremely interesting. So what are your views on manufacturing in the UK? Do you think we are able to lead the way again?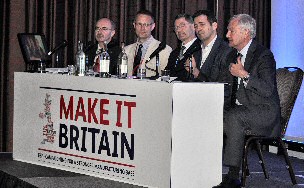 We can say for definite is that the 'Make it Britain' campaign needs support, and that it truly is time to ditch 'urban myths' and misconceptions about British manufacturing' that it is failing, as UK's manufacturing industry is actually growing. As the representatives and delegates all said:- "We need to promote ourselves better internationally and stop reinforcing these potentially damaging urban myths."
Did you attended any of these events? What are your views on the manufacturing world? Have you been affected by the changing business practices? What can be done to get Britain's name on the lips of others as the place for invention? Please do email us your thoughts and views to any of the topics raised in this report and let us know what you think. Email our newsroom today!