Project Jennifer benefits from superfast broadband for Merseyside businesses and homes in Liverpool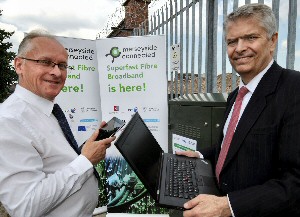 HIGH speed fibre broadband is coming to Merseyside, following a multi million pound partnership project between Merseyside Local Authorities and BT.

Merseyside Connected; a partnership of 5 Councils led by Liverpool City Council; builds on BT's on going commercial fibre deployment across the Liverpool City Region, and aims to provide a high speed broadband network to an additional 43,000 premises in the area. This means the vast majority of Merseyside; around 98% of homes and businesses; will have access to fibre broadband by the end of July 2016.

The Merseyside Connected project is supporting the Council partnership's aim to focus on enabling superfast broadband to small and medium enterprises and help boost the local economy. The 3 year programme brings fibre broadband to more of Merseyside and to date 37 cabinets serving 4,200 customers have now been installed by BT Openreach, BT's local network business.

On Tuesday, 1 July 2014, Project Jennifer in Everton marked the switch on of the latest cabinet to be completed, off Great Homer Street.

The cabinet will connect superfast broadband to 91 business premises; but this will increase as Project Jennifer is delivered, with 500 new homes, 80,000 sqft of new retail space, 80,000 square feet of employment units, a large supermarket, a new health centre and a market all planned.

Councillor Malcolm Kennedy, Cabinet member for regeneration at Liverpool City Council, said:- "This substantial investment is absolutely vital if we are to make sure the City does not get left behind in the race to build technology infrastructure. The aim is to make sure that businesses are able to take advantage of faster speeds which means they have the technology to handle growing needs and enable them to win more business and custom."

Mayor Joe Anderson said:- "I want Liverpool to be the best digitally connected City in the UK. We have a long road ahead to achieve this, but this scheme is a major leap in taking the City's economy to the next level. We are competing on a global stage and investment in our digital infrastructure is a real priority for the City."

BT was chosen to partner with Liverpool City Council, along with Knowsley, St Helens, Sefton and Wirral Councils; following a thorough procurement process. BT is contributing £6 million towards the overall cost of deployment in "non-commercial" areas while European funding (ERDF) is contributing £4.4 million, with £5.46 million coming from the Government's Broadband Delivery UK (BDUK) fund.

Bill Murphy, BT managing director for the new generation of communications, said:- "Fibre broadband and the speeds it brings are crucial to people and businesses in Merseyside. BT and Liverpool Council have worked hard this month at the International Festival for Business to demonstrate how Liverpool people will make the most of this fantastic technology. From finance systems in the cloud to new ways of caring for people in hospitals like Alder Hey and entertainment in people's homes, fibre broadband can change people's lives for the better."

Communications Minister Ed Vaizey, said:- "This is great news and marks the ongoing transformation of broadband on Merseyside, which is on track to deliver access to superfast speeds to 98 per cent of the area by July 2016. We understand how important access to superfast broadband is; the UK already does more business online than any other European country, and the widespread access to superfast broadband that this scheme will deliver will provide a tremendous boost to the local economy."

Check availability of fibre broadband by clicking on here.

Also for businesses within The City Centre Enterprise Zone covers the waterfront and key parts of the Commercial BID including Old Hall Street, Tithebarn Street, Dale Street and Leeds Street, the Government's Super Connected Cities Voucher Scheme gives SMEs up to £3,000 towards the capital costs of a super / ultra fast broadband connection. This covers the capital and equipment costs of getting a better, faster connection to businesses.
More information on the scheme is available at:- connectionvouchers.co.uk.

Bill Addy, chief executive of Liverpool BID Company, said:- "This broadband scheme is a game changer for the Enterprise Zone in Liverpool City Centre. It's going to make a huge impact to the efficiency and productivity of businesses and make Liverpool an even more attractive place to do business. This goes to the heart of our plans to support our members by improving their working environments. The voucher can be used towards the cost of making the physical connection to business premises, but cannot pay for monthly rental or for any IT equipment. The connection needs to give a real change in service speed, upgrading to a minimum of 30Mbps on a shared line or 20Mbps on a dedicated business grade line."

The City Council is working with Liverpool Commercial District Business Improvement District (BID) on the scheme, and they will ensure all eligible businesses in the Enterprise Zone in the City Centre have the opportunity to apply.

NWAS LAUNCHES 5 YEAR PLAN
THE North West Ambulance Service (NWAS) NHS Trust has launched its 5 Year Business Plan this week, to staff and stakeholders and is making the document available for the North West public.

Entitled 'Good 2 Great', the plan outlines the Trust's strategy and vision for the next 5 years and the themes it wants to focus on to improve quality of care to patients, and ensure the organisation is one which people want to work for.

Staff input has been a vital component in the development of the plan, following an engagement exercise earlier this year where staff were asked to put forward their views on how the Service could:-

► Deliver care closer to home.
► Become a great place to work.
► Cause no harm.

Chief Executive, Bob Williams, comments:- "Our staff is our greatest asset and as they see day to day, the impact we have on the lives of people in the North West, we believed it was vital to understand how they perceived the Trust and thought we could improve. Our plan is not about just being good at what we do. It is about aspiring to continuously improve our service and ourselves as an employer, ensuring our patients get not only the best care, but the right care and as the plan's title suggests, going from being a good organisation to being a great one."

In delivering safe care closer to home, the Trust already has some very successful initiatives in place. Not all patients who call 999 need to go to hospital and accident and emergency departments are not necessarily the right place for them. The Trust wants to further improve its 'See and Treat' and 'Hear and Treat' so it can safely offer advice either over the phone or attend patients and ensure they get the help they need in their own homes, for example by organising a GP visit. This ensures patients get the right care, in the right time and in the right place and also frees up ambulances to attend to the more serious, life threatening calls.

NWAS is very proud of holding an Investors in People (IiP) Gold Award and being an IiP Champion and low staff turnover is a good indication that the Trust is considered a good place to work. As part of the plan, the Trust is looking at ways in which it can further help staff feel supported in the decisions they make as well as improving engagement and staff health and wellbeing; this will go some way in making NWAS a great place to work.

Like all NHS trusts, patient and staff safety must be at the heart of what NWAS does. Thankfully a patient coming to harm is extremely rare but the Trust cannot be complacent and must seek ways to minimise the risk as much as possible. This will be achieved under the 'Cause No Harm' aim.

The plan addresses how the Trust hopes to achieve these objectives and has been sent to MPs, Healthwatch groups and Councils. NWAS is also meeting with stakeholders to present the plan. A dedicated website has launched where people can view the document and anyone is free to send their comments to:- g2g@nwas.nhs.uk.

Bob adds:- "Asking our staff for their thoughts was a very useful exercise and likewise, we want to share our ambitions with those we serve and the people who represent them and hear what they have to say. The plan is a comprehensive one and sets out what we want to achieve and showcases some of the initiatives we are planning or have already put in place to reach our objectives."

The plan can be viewed on:- goodtogreat.nwas.nhs.uk and feedback sent to:- g2g@nwas.nhs.uk.
Firefighters to join mass strike action on 10 July
FIREFIGHTERS in England and Wales will join hundreds of thousands of other public sector workers taking strike action on Thursday, 10 July 2014, the Fire Brigades Union has announced. The long running dispute over firefighters' pensions will see a further day of strikes at the same time as a walk out by local government workers, teachers and civil servants over a range of issues, including attacks on pay and pensions and workloads. The strike will last between 10am and 7pm and will be the 15th in the FBU's campaign. The union is also expected to announce further action later this week.

Matt Wrack, FBU general secretary, said:- "The FBU has wanted to settle our dispute for a long time, but the government at Westminster is simply not listening. We are therefore proud to take strike action alongside our colleagues in other unions on 10 July 2014. The fact that this Government has united so many workers to take strike action against them is a testament to the failure of their policies. They are destroying our public services and wrecking the lives of millions. If they won't listen and won't negotiate then this is the result; and they should face more of the same if necessary."

It is estimated that as many as 2 million workers will take strike action. The firefighters' dispute has continued for months as the FBU says firefighters are facing the imposition of a pension that ignores the physical demands of the job they do. Wrack said:- "Despite endless assurances they have done precisely nothing to address the threat to firefighters as their fitness declines in their 50's. Firefighting is a dangerous and physically demanding job which requires specific fitness standards. It is obvious to everyone that it is more and more difficult to meet those standards in your 50's compared to your 20's. Firefighters in that position face a stark choice of being sacked or losing half their pension. This is outrageous and all the claims that the government values our firefighters have been exposed as an utter lie. They need to wake up to the fact that we are not going away and we will be continuing our fight for pension justice."

The Government in Northen Ireland recently offered firefighters a retirement age of 55, and the FBU says this demonstrates that the Westminster government's position is not justified by evidence or lack of affordability. The FBU recently launched a legal challenge against the government's proposals, saying they have received legal advice that reducing the pensions available to firefighters by different amounts depending on when they retire after 55 amounts to age discrimination. A recent academic report on firefighter fitness by the University of Bath undermined the government's proposals by arguing that higher fitness levels are required for the job than those used by the government to defend the idea of firefighters working until 60. Firefighters were last on strike on Saturday, 21 June 2014.