Firefighters set to strike on 8 consecutive days over Government's "vicious" pension attacks
FIREFIGHTERS in England and Wales will strike on eight consecutive days this month, saying that the current proposals by government are unacceptable, unworkable, unrealistic and nothing short of a "vicious" attack on firefighters' pensions. Strikes will take place:- Monday, 14 July from 6am to 8am and 5pm to 7pm; Tuesday, 15 July from 6am to 8am and 5pm to 7pm; Wednesday, 16 July: 6am to 8am and 5pm to 7pm; Thursday, 17 July from 6am to 8am and 5pm to 7pm; Friday, 18 July from 6am to 8am; 11pm to 1am on Saturday, 19 July; Saturday, 19 July from 11am to 1pm; 11pm to 1am on Sunday, 20 July; Sunday, 20 July from 5pm to 7pm; Monday, 21 July from 6am to 8am and 5pm to 7pm;

The Fire Brigades Union has been in negotiations with the government for 3 years in an attempt to avoid the implementation of proposals that they say would see firefighters paying more, working longer and receiving less. Matt Wrack, FBU general secretary, said:- "The government must realise that firefighters cannot accept proposals that would have such devastating consequences for their futures, their families' futures; and the future of the fire and rescue service itself. We have tried every route available to us to make the government see sense over their attacks. 3 years of negotiations have come to nothing because the government is simply unwilling to compromise or even listen to reason despite a huge amount of evidence showing their planned scheme is unworkable. Shorter strike periods have illustrated the strength of feeling amongst firefighters whilst limiting disruption to the fire service, the public and our members' working lives. But the government is merely ploughing ahead, forcing firefighters to react."

A recent academic report on firefighter fitness by the University of Bath undermined the government's proposals by arguing that higher fitness levels are required for firefighting than those suggested by the government to defend the idea of working until 60. In comparison the government in Northern Ireland recently offered firefighters a retirement age of 55. The FBU says this demonstrates that the Westminster government's position is not justified by evidence or lack of affordability. Matt Wrack said:- "The offer in N Ireland was achieved through negotiation without any industrial action being necessary. This clearly shows that if both sides are willing to talk, things can be resolved. This makes a mockery of the government's claims that the union is walking away from talks."

During negotiations with the FBU, the government in Westminster recently imposed a third annual increase in firefighters' pension contributions, taking them to 14.2% for most firefighters; one of the highest in the public or private sector. This means that a firefighter with a salary of less than £29,000 now pays around £4,000 a year for a pension that is being devalued and attacked; and the government has now issued proposals for a 4th year increase for many firefighters. The FBU also recently launched a legal challenge against the government's proposals, saying they have received advice that the current proposals reducing firefighters pensions by almost 50% at age 55 is unlawful and amounts to age discrimination. Firefighters are also due to strike next week on Thursday, 10 July 2014, the 15th in their campaign; alongside local government workers, teachers and civil servants, who are campaigning over a range of issues, including attacks on pay and pensions and workloads. Firefighters voted by 78% for strike action in August 2013.

Writing on the Wall introduces Liverpool's first Virtual Book Fair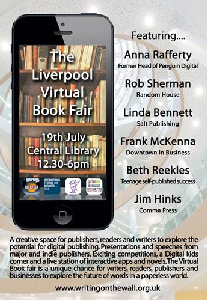 WRITING on the Wall hosts Liverpool's first Virtual Book Fair with an exciting selection of writers and publishers who work across a range of platforms in publishing, self-publishing and digital publishing, and interactive based activities and demonstrations.

Taking place in the stunning atrium of Liverpool's Central Library, Writing on the Wall will host a day of interactive, hands-on readings, discussion and interactions with those at the top of their games in publishing.

With an introduction by Downtown in Business Director, Frank Mckenna, The Virtual Book Fair will explore business models of online publishing and encompass publishing powerhouses such as Anna Rafferty, whose innovation during her time as managing director of Penguin Digital showed different ways of marketing books to a fast-paced population, and Linda Bennett, director and editor of Crime at Salt Publishing, who will speak about the ways authors today can put themselves on the literary map.

Jim Hinks of Comma Press will be introducing his app LitNav. From your fingertips you can read and travel the world via their collection of short stories. Designed with commuters in mind, these bite sized gems will take you on the alternative route. Liverpool to Venice to Zurich, where do you want to go next?

Beth Reekles wrote her first novel aged 15 which she self-published on Watt Pad, after it received 19 million views; she signed a 3 book deal with Random House. Liverpool's Virtual Book Fair is delighted to introduce Beth Reekles to the stage to discuss her self-published success and the impact that self-published authors are having on the way we read now.

Other exciting highlights include our Twitter Haiku Competition, join our resident poets and write your best Twitter Haiku to be in with the chance of winning some exciting prizes!

Try out the newest interactive novels for virtual readers at our Digital Station, courtesy of revolutionary app inventors Touch Press. Catch up with webinars streamed from across the globe, including Blackwell's Digital Manager, Kjell Eldor, as he speaks to us about the future of books in a digital age.

Our Children's Pod will be open throughout the day! A magical and interactive experience for the whole family. Join our resident illustrators and storytellers from The Wild Writers as they host storytelling sessions, where their imaginative work, with the help of our young audience, will be projected around the pod.

Madeline Heneghan,Writing on the Wall Director, says:- 'The age of digital print is a key issue for readers, writers and business, both within the world of literature and publishing. With new platforms, such as Kindle, and e-publishers taking on the traditional book format, there are many exciting developments for literature, including a cross-over into the world of gaming. The virtual book fair will help participants discover new ways of writing and working, with the opportunity for networking and the potential for future collaborations.'

Come down the Writing on the Wall's Virtual Book Fair as part of the Culture programme for the International Festival of Business.