GROWTH DEAL HERALDS NEW ERA FOR LIVERPOOL CITY REGION ECONOMY
THE Liverpool City Region Local Enterprise Partnership agreed an historic Growth Deal with the Government which will see £232.3million invested in the Liverpool City Region. £45.7million of funding has been confirmed in the first year, and as part of the Government's on going commitment to the Liverpool City Region LEP it has provided an indicative award of a further 186.5million of funding from 2016/17 onwards. The deal will help to create up to 15,000 jobs, allow up to 16,000 homes to be built and generate up to £30 million in public and private investment.

The key features of the deal are:-

► Over £50m of investment in key transport connections into and within Liverpool City Centre, revitalising the north of the City and better connecting Liverpool's iconic waterfront to the City Centre;

► A £47.7m package of improvements for 6 colleges – equipment and facilities improved at 6 City region colleges to ensure that young people are properly trained for the jobs of tomorrow

► A reshaped Liverpool Skills for Growth Bank – £4.64m from Government to co-invest in a reshaped Liverpool Skills for Growth Bank which will support employers who are willing to invest in training to source high quality training provision and to grow the skills base in the City region, building on this successful City Deal programme.

► Committing to a second International Festival of Business in 2016.

The Liverpool City Region Growth Deal is part of a £12 billion long-term programme to revitalise local economies. The deals are the latest and greatest example of the British economy being rebuilt from the bottom up, and sharing the benefits of the recovery around the country. Local businesses and Council leaders have been invited to open discussions immediately on the next set of projects to be funded, building on the momentum that has been established.

The Prime Minister said:- "Growth Deals are a crucial part of our long-term plan to secure Britain's future. For too long our economy has been too London-focused and too centralised. Growth Deals will help change all that. They are about firing up our great towns and cities, boosting local economies and driving growth across the country. This historic deal means real change for Liverpool, including major investment in transport to help people to get to work and back business and new training facilities at 6 colleges, to help young people get the skills they needs to get on. By trusting local people, backing business and investing in infrastructure, skills and housing, we can create thousands of new jobs. And that means more economic security, peace of mind and a brighter future for hardworking people in Liverpool."

The Deputy Prime Minister said:- "The Liverpool Growth Deal will create thousands of jobs, provide incredible new training opportunities for young people, build of new homes and improve transport links across the region for people and their families; building a stronger economy and a fairer society. We're placing the power and money in the hands of people in Liverpool who know how to spend it best, making a real difference to local communities."

Robert Hough, Chair of Liverpool City Region Local Enterprise Partnership said:- "I am delighted by the news from Government. Both the public and the private sectors identified what investment was needed for the City Region to accelerate economic growth and create new jobs. The £230million awarded to us will not only create jobs and stimulate the economy in the short term, but with improved infrastructure, the City Region will be better positioned to attract investment and ensure long-term growth and prosperity. This announcement clearly shows that Government has recognised that our work and structures here provide the capaCity to unlock the regions potential as an economic powerhouse."

Joe Anderson, Mayor of Liverpool said:- "This is great news for Liverpool and means we can build further on the recent transformation of the City Centre. The £52milion commitment to these schemes will enable us to push-on with the next phase of our investment strategy. Liverpool is an international brand at the heart of the City region and a great place to live, work, do business and to visit. I am delighted that we have secured bringing the International Festival of Business back to the City region for 2016 which recognises the impact that the inaugural IFB has already had in terms of businesses nationally and internationally as well as the opportunity for us to showcase what Liverpool has to offer to businesses and visitors alike."

Cllr Phil Davies, Chair of the Liverpool City Region Combined Authority, said:- "This announcement is great news for our City Region. As a City Region we have clearly demonstrated that the public sector and private sector can work together to identify priorities for investment. The announcement also shows that our governance structure as a City Region is working and that by focussing on the strategic projects within the Growth Deal we can bring widespread economic benefit to the whole Liverpool City Region. Working closely with the LEP, the Combined Authority will ensure the delivery of the various schemes throughout the City Region which will see us even better placed to secure further economic benefits over the years ahead. Particularly welcome the £41.1million commitment to skills funding as supporting our young people into work is a particular priority for the City Region."

Cllr Liam Robinson, Chair of Merseytravel said:- "We warmly welcome the announcement. The funding for the City Region's top priority transport infrastructure schemes will ensure better connectivity across the City Region and beyond which will not only not only boost our economic potential, but pulls northern cities and towns closer together, helping rebalance the whole UK economy. We will now build on this by working with the private sector to identify the top schemes for a Long Term Rail Strategy for future rounds of investment."

Kate Willard, Corporate Affairs Director, Stobart Group, Atlantic Gateway Board Member, and LEP Board Member said:- "The Freight and Logistics Hub project is a critical component of both SuperPORT and Atlantic Gateway and will be critical to helping the wider North become an economic powerhouse. The investment in transport schemes throughout the City Region is essential to create jobs and growth and our overall plan is to see between 20,000 and 30,000 new jobs created over the decade."

Amanda Lyne, Chair of Liverpool City Region Low Carbon Economy Committee and LEP Board Member said:- "Liverpool City Region's coastal location and low carbon and energy capabilities mean it is in a strong position to capture and realise the job growth potential from a low carbon economy. With our specific strengths in renewable marine energy including wind, tidal and wave, building retrofitting, waste and water management and hydrogen energy systems the Low Carbon Economy is one of enormous importance to Liverpool City Region. Today's announcement from Government clearly shows that they also see the continued investment in the Low Carbon and Energy sector in the City Region as one of the key strategic projects to unlock the regions potential."

Red poppies herald 'Green Cities' partnership as Liverpool charity Landlife sign ecological agreement with China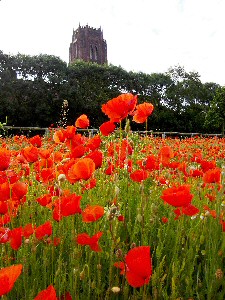 A project which is promoting cultural and conservation links between Liverpool and China was celebrated on Friday, 4 July 2014, with a special signing ceremony in Chinese as part of the International Festival of Business (IFB) at the Hub in Mann Island, supported by UK Trade and Investment (UKTI).

Merseyside charity Landlife, which founded the National Wildflower Centre, has set up a historic new conservation agreement in Kunming, South West China.
The agreement was 1st signed in English at the Opening Ceremony of British Week in Kunming in April, and coincided with Landlife¹s trip to China to research and refine selection of Chinese Wildflower species for multiplication.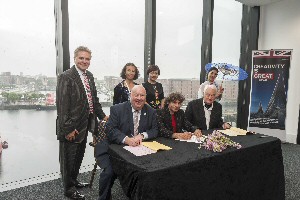 The Liverpool China partnership will create a new reciprocal wildflower seed industry and generate creative conservation projects in China. This will allow a celebration of Chinese biodiversity and enable Chinese wildflowers to be used in ecological restoration to address problems of landscape degradation, and promote Chinese wildflowers as an important cultural asset for City landscaping projects.

The seeds of the project were sown when Professor Wang from Shanghai visited Liverpool in Capital of Culture year and told Landlife's future Chinese partners about the National Wildflower Centre and its work.
Links with Kunming Botanic Institute developed after a visit from Jie Cai, then Kew Gardens' China Programmes Officer, who came to speak to Liverpool's Chinese community at the Pagoda Centre in 2007, sparking the connection to Kunming.

The Chinese Community in Liverpool is the oldest in Europe, and earlier this year Landlife helped representatives and local schoolchildren plant poppy seeds on the Tribeca land below the Anglican Cathedral with permission from Liverpool City Council and support from John Swire and Sons Ltd, a global company with Liverpool roots which has extensive Chinese business interest.

The poppies germinated in time for the second signing ceremony, with the bright red colour symbolising good fortune and joy in Chinese culture.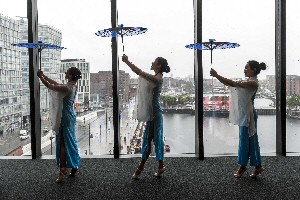 The signing event was hosted by Mayor Joe Anderson and attended by representatives from Landlife, Sichuan Rungfeng Landscape Engineering Ltd, the Kunming Institute of Botany and UKTI North West.

Celebrations were completed with a visit to the poppy fields on Upper Duke Street, a performance of the Chinese Children¹s Youth Orchestra and refreshments at the Pagoda Centre on Henry Street.

Richard Scott, Senior Project Manager of Landlife said:- "We are delighted to be confirming the agreement today in Liverpool with our partners at UKTI as part of the International Festival of Business. Landife has pioneered Creative Conservation for 40 years, using innovative techniques to establish new wildflower landscapes for the benefit of wildlife and people. This agreement is an important step for us, and it is fitting that Liverpool, with the oldest Chinese community in Europe and a pioneer of ecological restoration, should be focus for this event. This is a very exciting beginning for the beginning of a Chinese wildflower seed industry, and shows China¹s commitment to combat environmental degradation by using wildflowers on urban restoration projects in the same way groups like ourselves have pioneered this practice in the UK. National and international seed banks are important. However, it is also important that seeds are put to effective and reviving use, as part of a living landscape. We hope projects like this will eventually create the Cities of the future, which reflect biodiversity and a real concern for the planet and wild flowers."

Philomena Chen, Head of Asia Pacific Development for UKTI North West says:- ³We are delighted to support the pioneering work of Landlife both here in the region and in China. This is a natural follow on from the creative aspirations of the British Pavilion and Thomas Heatherwick's Seed Cathedral in Shanghai Expo 2010, for which Landlife's partners in Kunming provided the seeds. Congratulations to Landlife and the National Wildflower in connecting cultural and business links between Liverpool and China with their innovative and creative projects."