Record-Breaking Motorcyclists Supporting Alder Hey Charity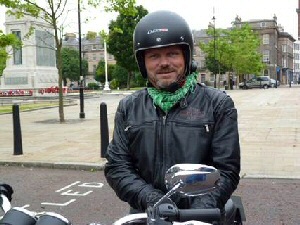 2 intrepid motorcyclists will set off on Friday, 1 August 2014, on a 15,000 mile (24,140km) motorcycle trek across Europe to raise awareness and funds for the Alder Hey Children's Charity.

Code named 'Triumph over Tragedy', Harry Glover and Pete Bray will be setting off on a 28 day adventure that will see them pass through all 26 European Union capital cities.

Starting from outside Buckingham Palace, they will travel as far North as Helsinki, as far East as Bucharest and as far South as Athens and Madrid.

Speaking ahead of the event, Harry Glover said:- "The work done by Alder Hey has truly been an inspiration, and that is why we are doing this trip. The charity is very close to our hearts and having personal experience of the work they do, I have nothing but admiration for the medical team."

The Alder Hey Children's Charity offers life saving medical procedures and care to children suffering from chronic illnesses.

They are currently trying to raise £30 million for new equipment for the 270,000 patients they treat every year.

The charity is particularly close to Harry's heart, as his young daughter Elizabeth is preparing to have cranial surgery starting in September under the expert guidance of Alder Hey.

The 2 riders will be covering an average of 600 miles (965km) a day, and are currently looking for sponsorship to cover the running costs of the expedition.

Events planned upon their arrival in each City will ensure that the Alder Hey name is seen throughout Europe, and that thousands of people will be made aware of the life saving work that they carry out on a daily basis.

Pete Bray is no stranger to adventure, having completed a 2,980 mile (4,800km) kayaking trek across the Atlantic from Newfoundland to Ireland in 2001, and the fastest circumnavigation of South Georgia in 2006. Add that to Harry Glover's 30 years of motorcycling experience and the two are prepared for anything.

The two motorcyclists are looking for all the support they can get for the cause. For more information on the trek visit the Triumph over Tragedy website, and for more information on sponsoring Harry and Pete.

Harry and Pete are directors of Birkenheadbased firm Primarius Ltd., which provides security services and training to businesses and personnel around the world. For updates on the work done by Alder Hey, you can follow them on Twitter.
Brake supports proposed penalty point increase for risky mobile phone use
THE road safety charity, Brake has welcomed reports that the UK's Government is considering doubling penalty points for using a mobile phone while driving. The reports say the move has been recommended by Metropolitan Police chief Sir Bernard Hogan-Howe and Transport Secretary Patrick McLoughlin has asked his officials to look into the idea. Julie Townsend, deputy chief executive, Brake, said:- "This is a welcome proposal, and we hope the government will implement it. Brake has long campaigned for tougher penalties for mobile phone use at the wheel because of the suffering we see the bereaved and injured victims of road crashes put through as the result of such a senseless and unnecessary risk. An increase in penalty points is a step in the right direction, but it could provide a more effective deterrent if combined with a increase in the fixed penalty fine to £500 to 1,000, as well as heightened traffic enforcement, so risky law breaking drivers know they will not get away with it. It is also vitally important the Government doesn't ignore the danger of hands free mobiles. Research shows using a phone hands free is about as risky as picking up the phone while driving, so this should be included within the ban, and carry the same penalty. Our message to drivers is clear... Switch your phone off, put it out of sight and reach, and remove the temptation to jeopardise someone's life for the sake of a call or text."
Firearms discharge on Percy Street, Bootle
MERSEYSIDE Police have confirmed that 5 people have been arrested in connection with a firearms discharge on Percy Street, Bootle on Wednesday, 2 July 2014. It follows a number of warrants being executed at properties this morning, Friday, 11 July 2014. A 20 year old man from Walton and a 17 year old male from Bootle have been arrested on suspicion of a firearms offence and criminal damage with intent to endanger life. A 20 year old man from the Bootle area has been arrested on suspicion of criminal damage, firearms offences and possession of a controlled drug. 2 males aged 16 years and 12 years from the Seaforth area have been arrested on suspicion of possession of a controlled drug with intent to supply and firearms offences. Anyone with information is asked to call the Matrix Serious and Organised Crime team on:- 0800 230 0600 or Crimestoppers, anonymously, on:- 0800 555 111.

Prince's Trust spruce up hospital gardens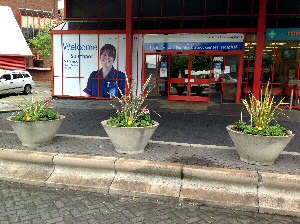 VOLUNTEERS from the Prince's Trust have worked hard clearing and replanting more than 32 concrete planters at Southport hospital.

10 volunteers from the Prince's Trust gave the planters and borders a new lease of life bringing colour to the main entrance, outside the North West Regional Spinal Injuries Centre and around the hospital grounds.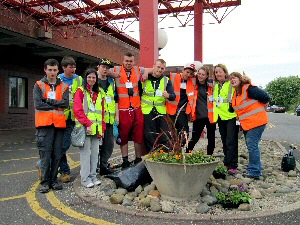 Dobbies, the nearby garden centre, donated plants and equipment for the project and the Prince's Trust have not only volunteered their time but also fundraised towards the project.

The project is being run by Catherine Carter, medical device manager, as part of the Scope for Change, a Trust staff development programme which is putting staff in charge to deal with the everyday issues that get in the way of patient care.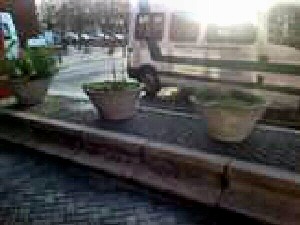 Catherine said: "It's been very rewarding working with the Prince's Trust volunteers and supervisors. Their energy and enthusiasm meant we could complete far more than I originally envisaged and they've left our Southport hospital site looking blooming lovely!"

Photos show planters before and after and Prince's Trust volunteers
MERSEYSIDE'S TROUBLED FAMILIES TURN LIVES AROUND
MORE than half of the troubled families living in Merseyside have turned their lives around in little over 2 years, according to the latest government statistics. Councils have been praised for helping to get the lives of 2,767 families back on track out of the 4,805 troubled families living in the County. Speaking at the Local Government Association annual conference in Bournemouth, Communities Secretary Eric Pickles announced that 52,833 of the most troubled families in England have been turned around by local authority teams since April 2012.

This means that:-
► children are back in school for 3 consecutive terms where they were previously truant or excluded.
► high levels of youth crime and anti-social behaviour have been significantly reduced.
► and/or adults that were on benefits have been in work for at least 3 months.

The Secretary of State said that councils all over England had risen to the challenge of helping whole families improve their lives, through a 'tough love' approach that combines intensive and practical support. Eric Pickles said:- "To have helped so many families so quickly is testament to the hard work and determination of troubled families teams across the Country. Nobody is saying that troubled families will become model citizens overnight, but turning them around starts with getting kids off the streets and into school, giving them a better chance in life, and helping adults into employment or better able to work. This is good for the taxpayer, good for the families themselves and good for the communities around them."

Local authorities are paid up to £4,000 on a payment by results basis for turning around troubled families. The government's £448 million 3 year budget for 2012 to 2015 is drawn from 6 Whitehall departments who all stand to benefit from the public sector working more effectively with troubled families. At the Spending Review last year it was announced that the Troubled Families programme would be expanded to work with more families. The Budget in March 2014 announced that work with up to 40,000 of these families would begin this year.