LIVERPOOL PRIDE LAUNCHED IN A BURST OF RAINBOW COLOUR
Photographs by David Munn
LIVERPOOL Pride launched yesterday in true Fairy Tale style with a glamorous lunchtime event at Liverpool Malmaison hosted by Radio City breakfast presenters Leanne Campbell and Dave Kelly, and attended by the local media, celebrities and VIP's including singer Sonia and actor Andrew Lancel.
With just a few weeks to go until the 2014 Liverpool Pride event on Saturday 2nd August, excitement grows as the full line up is finalised for this year's ticketed event.

Liverpool Pride have also introduced a new Golden Circle VIP ticket, priced at £20 each (additional £12 to upgrade if already purchased) - Golden Circle tickets are strictly limited to provide the very best Pride experience and jumping all the queues. You will get the best access and views of the Main Stage area and access to your very own washrooms and Golden Circle bar.

Pride revellers will be treated to a whole host of top performances across the Waterfront, Stanley Street and Garlands and G-Bar stages.
Pride organisers can now reveal what the Saturday line up will look like across all 3 stages…
The Waterfront Stage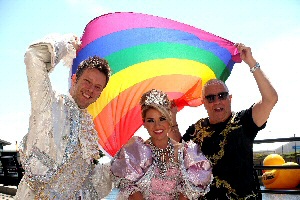 House of Suarez will kick proceedings off at 1pm and re-join the stage at 3.45pm for their innovative forms of dance interpretations, fusing dance styles with expressive and amazing performances. Headline act Katy B takes to the Waterfront stage at 1.30pm after bursting onto the scene in 2010 with 'Katy on a Mission' and a career that's growing from strength to strength with hit singles '5AM' and 'Crying For No Reason' Katy B makes her way to Liverpool for her first Pride performance. There are other performances through the afternoon from Claire Simmo 2pm, Watchtower 2.10pm, Audio Zero 2.30pm and Sam Cottrell 2.40pm.

Later on the Waterfront stage, witness music from Ukebox 3pm, Doodah Farm 3.10pm and DJ Ellie Phillips 3.30pm before a glittering performance from the cast of WICKED at 3.50pm. Telling the incredible untold story of the Witches of Oz and their unlikely but profound friendship with all the colour and lights of Oz, singing a selection of hit numbers from one of the most popular and longest running West-End musicals of all time. Duo, Killa Sista continue the Pride celebrations at 4.05pm, followed by the UK's best Kylie Tribute act at 4.20pm and singer Jes Stretton at 4.55pm.

Taking us into the late afternoon is 80s sensation Sam Fox at 5.10pm, Edge of Eden 5.50pm, DJ Lee Butler 6.10pm, My Forever 6.25pm, ABBA GOLD, the original and still the best ABBA tribute band at 6.45pm, MiC Lowry 7.15pm and closing the Waterfront Stage is Heather Small and M People at 7.30pm. As one of the biggest dance acts in the UK, Heather Small and M People will once more captivate audiences with some of their greatest feel good and empowering hits like:- 'One Night in Heaven', 'Search for the Hero' and 'Proud'.
Stanley Street Stage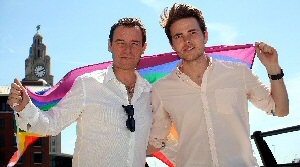 Hosted by Paul German, Calvin Fox, Baby Jai, Leanne Campbell and Pete Price. Stanley Street stage will host some fabulous performances from DJ Danny Kay 1pm, House of Suarez 2pm, Masquerade 2.10pm and Superstar Boudoir Drag Queen Vivienne at 2.20pm. Scouse songstress Sonia will perform at 2.30pm, Sonia's career launched right here in Liverpool as she sang on the club circuit in the 1980s, where she was discovered by pop producer Pete Waterman. Famous for her smash hit debut single 'You'll Never Stop Me From Loving You' Sonia returns to where it all began for Pride.

Stanley Street will also showcase some fantastic local, up and coming talent alongside some Pride favourites throughout the day with performances from Sista Luv 3pm, Lisbon 3.15pm, Flick/Jupiters 3.30pm, Superstar Boudoir 3.50pm, Radio City's DJ Lee Butler 4.10pm, Pink 4.40pm, Cabaret favourite Cindy Crystelle 5pm, Danielle and Jonathan Graham 5.10pm, Heaven 5.20pm, Carly Grimes/Kev McGowan 5.40pm and Navy Bar 6pm.

There will also be performances from S'Evere 6.20pm, Lady Gaga tribute act Toni Nesbitt 6.35pm, Boutique 6.50pm, 'Sex Shooter' and 'Trippin' on you' singer Nikki Belle 7.10pm and finally, DJ Mark Armstrong at 7.30pm.
Garlands and G-Bar Stage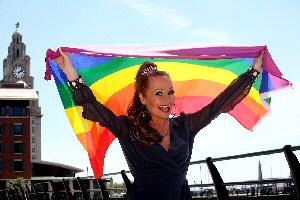 The Garlands and G-Bar stage will host back to back DJ sets from Garlands and G-Bar's biggest and best resident DJs. Keeping the party vibe going from 2pm until 11pm will be, G-Bar basement hero Andy Mac, crowd pleaser Anthony Armstrong, G-Bar resident Dave Bennett, the UK's longest serving resident DJ, Dave Booth, G-Bar's ever popular John Hooper, Garlands own Les Calvert, who has played to crowds all over the world from Ibiza to Dubai, creator of Liverpool's Carry on misbehaving and Garlands resident Lil Jon, and the man behind the mask Mr. X fresh from Ibiza after taking Gatecrasher by storm.

This non-stop stage of music will have crowds entertained with the biggest and freshest tunes and keep the magical party spirits going till late into the night!

As always, Liverpool Pride will remain a family friendly event with all ages encouraged to attend, there will be a free, community area at the festival in association with Movema, with entertainment for those not wishing to pay to visit the main stages but that still want to enjoy and remain part of the festivities. There will be a wealth of entertainment and activities including music from the LGBT Choir, a market with stalls to stock up on souvenirs, gifts and mementos, food and drink stalls, information stalls, adrenaline-pumping fairground rides, a dance and active zone and a trans friendly area for the trans community and their allies.

The Pride March is also completely free to participate in and watch. To join our celebration of LGBT culture and community and demonstrate support for our campaign for equality, acceptance and freedom, meet at the St Georges Plateau on Saturday, 2 August 2014, from 11am. To register to join the Pride march visit our website.

This year marks the 5th Anniversary of Liverpool Pride which was established in 2010 in memory of murdered gay teenager Michael Causer. Liverpool Pride 2014 falls on the exact date of Michael's death, making this year especially poignant. After last year's record breaking Pride event where over 65,000 revellers enjoyed the music, fun and atmosphere of Pride, 'Glam Fairy Tale' organizers are hoping for a bigger and better event this year!

Ticket Prices:-
► Advanced tickets £8 and £11 on the day. (No booking Fees, a handling charge may apply of £2.25 per transaction)

► New Golden Circle Tickets go on sale on Friday, 11 July 2014, at 10am priced £20 (or £12 for those already purchased tickets)

► For tickets book online or call the Liverpool Pride Ticket Hotline on:- 0844 8000 509. Tickets also available in person at TicketQuarter, Queen Square, Liverpool.

► Make sure you check out:- liverpoolpride.co.uk, @LiverpoolPride on Twitter and Facebook to have your say and for all of the latest pride news.

1.5million reasons why Merseyside charity is making an impact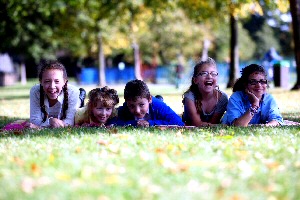 WIRRAL based children's charity Stick 'n' Step creates good value for money, according to a recent report published by Liverpool John Moores University. It looked at Stick n Step's social return on investment and found that the charity created more than £1.5 million of social value in 2013, in return for an annual investment of £300,000.

The £300,000 figure is the charity's annual running cost, which ensures that free conductive education and support services are provided to 70 children with cerebral palsy and their families. Cerebral palsy affects around one in 400 children, and there are approximately 110,000 children and adults currently living with the condition in the UK.

Conductive education is a non-medical based developmental aid, which promotes independence for those with conditions like cerebral palsy, and is not offered by the NHS. It helps young people to learn new skills such as head control, moving around independently, sitting unaided, walking and more.

The Social Return on Investment (SROI) report confirmed that for every £1 spent by the charity, £4.89 of social value was created. The report was based on 70 people benefiting from Stick 'n' Step. However it added that if 140 people were considered (to account for at least one parent as well as a child benefitting), the social value would increase to £9.76 for every £1 invested. The report adds that the SROI is not an actual representation of what has been spent, but is instead an insight into the holistic health and wellbeing benefits that are gained. It concluded that the benefits experienced by those who attend Stick 'n' Step have a much wider impact that resonates outside of the charity and into the wider community.

All children and adults involved in the evaluation reported three main themes of positive impact that Stick 'n' Step has on them: social benefits, mental health and wellbeing benefits, and the learning of new skills. 'Many of the children, parents and staff at Stick 'n' Step reported that being involved with the charity had been life changing,' the report stated:- "Many young people added that without Stick 'n' Step they would be unable to walk, which was a key factor in them gaining independence, and non-reliance on their parents."

Commented Sarah Smithson, Operations Manager at Stick 'n' Step:- "We receive no government funding and so we rely entirely on the generosity of community fundraisers and grants to allow us provide our service for free to the families that attend. More often than not, it is the people of Merseyside that contribute the heaviest towards fundraising for us and we are always so grateful for their dedication to our cause. This report is a fantastic way of showing our loyal supporters that their money really is making a huge difference and is positively impacting those who attend and the wider community too."

To access the full report or to find out more about Stick 'n' Step visit:- sticknstep.org. Alternatively contact Stick 'n' Step on:- 0151 638 0888 or via email.
Tate Liverpool presents young people's free festival
THIS summer, from 18 July to 20 July 2014, Tate Liverpool will host a festival of music, performance, art, and dance that has been programmed by and for young people aged 15 to 25. Led by Tate Collective Liverpool, an ongoing youth art initiative, Blueprint Festival 2014 will be a 3 day festival where young visitors can experience unexpected encounters with art, music, spoken word, dance, theatre, a parade of living sculptures and free admission into Tate Liverpool's summer exhibitions. The Blueprint Festival 2014 and its accompanying exhibition is part of Circuit, a four year national programme connecting 15 to 25 year olds to the arts in galleries and museums working in partnership with the youth and cultural sector. Led by Tate and funded by the Paul Hamlyn Foundation, it provides opportunities for young people to steer their own learning and create cultural activity. The festival also offers participants the opportunity to develop an arts community and learning network with peers and professionals. The festival starts with the launch party on Friday, 18 July 2014, from 6pm at Tate Liverpool featuring performances by acclaimed young bands including headline act Stealing Sheep supported by The Orielles. Visitors will also have the chance to get a first glimpse at the Blueprint Festival 2014 exhibition, a two week showcase of work by emerging artists curated by Tate Collective Liverpool and a selection panel of high profile arts professionals, including the former Turner Prize winner Mark Leckey. The launch party will then continue at a spectacular event at The Kazimier from 8pm. On Saturday, 19 July 2014, from 1pm onwards, visitors to Tate Liverpool can take part in Rub-a-glove beatboxing, lyric writing and MCing workshops, listen to music and performance poetry, or try out some design inspired by the gallery's summer exhibition Mondrian and his Studios. At the same time, the festival will move out into the City, with live acts, art and performance workshops in Liverpool ONE's Chavasse Park as well as a parade of living sculptures through Liverpool City centre. From 7pm, young people can experience Tate Liverpool in a whole new way as Tate Collective Liverpool and selected cross disciplinary artists including The Costumologists and Youmeandus transform the gallery into a digital playground of music, performance and art. On Sunday, 20 July 2014, from 12pm, Tate Liverpool will be taken over by young designers, graphic artists and printmakers selling their work at an art fair arranged in collaboration with Inprint, a startup established by Liverpool John Moores University and Manchester Metropolitan University graduates of 2013. Print and design studio Jonzo will be running a zine making drop-in, while acoustic musical performances animate the gallery and the Albert Dock. Grace Collins, Tate Collective Liverpool member said:- "The group, of around 30 of us, has been working on the festival for nearly nine months now. The Blueprint Festival 2014 is going to be an immersive, exciting and busy weekend and we can't wait to share with Liverpool what we've been working on." For more information about Blueprint Festival 2014 and the exhibition go to:- tate.org.uk/liverpool. Blueprint Festival 2014, produced by Tate Collective for Circuit, is a strand of Flux Liverpool, a City wide celebration of young people's creativity and entrepreneurialism. Held in Liverpool from the 17 July to 2 August 2014 Flux Liverpool aims to energise young people's creativity through events, performances, workshops, discussions, and projects. Events at venues across the City will also coincide with and complement the Flux Liverpool programme, including: Blueprint Festival 2014 for Circuit at Tate Liverpool, Young DaDaFest, The BIG Event and the Young Liverpool Film Night at FACT.
WHO WILL BE CROWNED BRAZILICA CARNIVAL QUEEN 2014?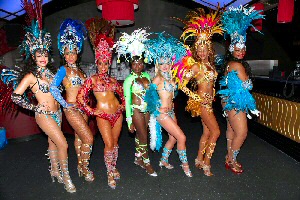 BRAZILICA 2014 is alive and kicking and this Friday, 18 July 2014, the ever popular Carnival Queen Competition will heat up the already sizzling summer festival. Brazilian dancers from far and wide will battle for samba supremacy at the 2014 Brazilica Carnival Queen Competition which this year takes place at Liverpool's spectacular Alma de Cuba Bar on Seel Street from 9pm. The competition; which the public are invited to attend, will warm the City up for the main Brazilica Carnival Day which takes over Liverpool City Centre the following day, Saturday, 19 July 2014, for a magnificent colourful spectacle of Brazilian music, dance and culture. The panel of judges will be hard pressed to pick a winner from Friday evenings line up, which will see each dancer showcase their best routine, most dazzling costume, and of course their sparkling personality and energy. Contestants have come from far and wide to compete in the battle for this year's title including Poland, Mexico and Brazil as well as local talent from Preston and Liverpool. Winner of 2013's Carnival Queen Title, Yazzmin Newell, who was also the 2012 London Samba School Queen will hand over her crown on the night to this year's deserving winner. A highlight in the Brazilica calendar the Carnival Queen competition always proves to be a fun and highly entertaining evening which will get audiences in the samba spirit. Event details:- Brazilica Carnival Queen Competition, Alma de Cuba, 76 Seel Street, Liverpool L1 4BH, 9pm, Free Entry! The night time carnival parade is definitely the star of the show with world class samba bands and dancers transforming the streets of Liverpool with their glittering showcase. Be sure not to miss any of the parade action which kicks off at 8pm. Starting at Abercromby Square, the parade will turn onto Oxford Street and Hope Street where the parade will then follow Hardman Street onto Bold Street. Then travelling through the City's streets before finishing at Williamson Square where the evening's entertainment will take place on the main stage.