Birkenhead woman scales up fishmonger business with new store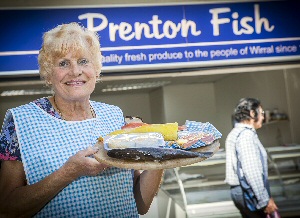 A Birkenhead grandmother is making a splash by scaling up her fishmonger business. Beryl Greer, 71, has been wished the best of luck with her new venture, a shop at Pyramids Shopping Centre in Birkenhead, by 1 of her most famous customers, global folk and country music superstar Charlie Landsborough. She started her working life with the Inland Revenue and eventually rose to become a senior Tax Officer. But 35 years ago she opted for a dramatic career change by opening a fishmonger stall in Birkenhead Market.

The business, which she named Beryl's Plaice, did so well that she eventually expanded to open a 2nd fish stall, called Prenton Fish, on the same market a few years later.

Now Beryl has taken on the fresh challenge of launching a third arm to her business by recently opening a brand new fishmongers; also called Prenton Fish; in a shop unit at Pyramids, creating 2 jobs into the bargain.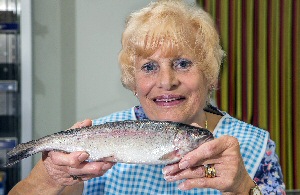 She says it has already been extremely well received by shoals of customers old and new who are coming in to snap up everything from her famous plaice fillets to more exotic cuts like shark steaks. But Beryl recalls her career started very differently when she left school back in Liverpool at the age of 18. She said that:- "I became a Civil Servant with the Inland Revenue, as it was then known, and was eventually a higher grade Tax Officer. Then, 35 years ago, I decided to leave that job and open my own business which I had always wanted to do. It was then I took the first stall on Birkenhead Market. I chose a fishmongers because I suppose it was in the blood. My mother, Hilda Hawkins, had her own fish shop in Woolton, Liverpool, and I used to help her out, which is how I learned the trade. Both stalls on the market; which I am keeping open alongside the new shop at Pyramids; have done very well and being there all that time I have plenty of regular customers, including a couple of famous ones such as Charlie Landsborough, the Birkenhead singer songwriter. Charlie became a customer because he was also a regular at Apollo Music, which is run by my husband Alan and our son Jamie and is also in Pyramids. In fact, the new shop is very much part of a family enterprise."

The new Prenton Fish, which is on St Werburgh's Square in Pyramids, is open from 9am to 5pm Monday to Saturday and, apart from Beryl, there are 4 part time staff. 2 of them have come over from the market stalls and the other 2 members of the team are new to the business. The shop offers a vast range of fish and seafood, from salmon, seabass and cod to shark steaks, swordfish, cooked lobsters and dressed crab. All the stock is delivered fresh every morning from the fishing port of Peterhead in Scotland, which Beryl says is famed for its cool, clear waters. She's up at 4.20am every day to receive the deliveries.

Derek Millar, Commercial Director for Pyramids Shopping Centre, said:- "We are very keen to look at showcasing more local, food businesses like Prenton Fish because shoppers enjoy being able to choose from such a range of fresh produce. We are enjoying a bumper set of new businesses opening with us once again including fashion boutique Our Beautiful Life and popular fashion jewellers Mococo. It is all part and parcel of us providing the best range of shopping we can for the Wirral."

Beryl has been married to Alan for the past 52 years and the couple have three sons and a daughter, 47 year old Alan, Jamie, 31, Miles, 29, and Lyndsey, 42. They also have one granddaughter, Lucy, who is 14.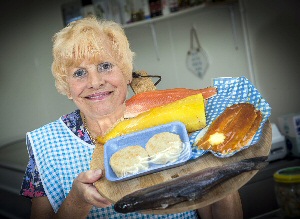 Beryl added:- "Although the 2 stalls on the market are still doing very well, I decided to open a shop in Pyramids because it has much more passing trade. Fresh fish is also very popular at the moment as people become more health conscious. I see this as a new challenge and a new opportunity and although we've not been open long we're being very well received by the public. About 30% of the people who have been in so far are our regulars from the market but I'd say 70% have been completely new customers, which is great."

One of Beryl's regulars is Birkenhead's own Charlie Landsborough who said:- "My wife Thelma and I have been buying fish from Beryl for many years and we wish her every success with the new shop. I'm also a long standing customer of her husband Alan's Apollo Music shop and Beryl is the other half of a great partnership. They're both lovely people and I wish them all the best for the future. Thelma's more of an expert on fish than I am; I just eat it. But I think our favourite is smoked cod loin, which Beryl does very well."

For more information go to:- pyramidsbirkenhead.com.
Marked belongings in Formby lead to burglary suspects being arrested
A burglary victim has been re-united with some of her treasured belongings and several suspects arrested thanks to a property marking scheme offered free to her by Merseyside Police. The woman suffered 2 burglaries in the space of a fortnight at her home in Formby and had jewellery, computers, cameras and even a flute stolen. But after the 1st, local Police Officers offered to mark all her remaining valuables with a special invisible ink which is undetectable to thieves and impossible to remove. When the woman was burgled a 2nd time, 1 of the offenders cut themselves when they smashed a ground floor window to get in, leaving Police with a way of identifying who the suspects might be.
When officers then arrested several youths on suspicion of both burglaries, they found a number of valuables matching those stolen from the woman in Formby. Officers shone ultra violet light on the items, including a large cubic Zircona on a platinum chain and a 24 carat gold necklace and earring set, and found the presence of the forensic marking. Much of the jewellery was of sentimental value as well as expensive, with some having been bought as wedding, engagement and honeymoon gifts.
The items have since been identified by the burglary victim the burglary victim and a total of 7 people aged between 14 and 22 have been arrested on suspicion of burglary and handling stolen goods. All seven (including 4 teenage girls) have been questioned about the 2 burglaries before being released on Police Bail pending further enquiries.
Formby neighbourhood inspector, Jim Atherton, said the arrests and recovery of the stolen goods highlighted the benefits of people taking advantage of free property marking schemes. He said:- "To be burgled once is terrible for anyone, but to be burgled twice is unthinkable and it is extremely rare for anyone in Formby to suffered this kind of crime twice in quick succession. It is possible that offenders returned to the house a 2nd time thinking they could steal more of this lady's belongings. However, thanks to the property marking that the police offered free after the first burglary, items that we have managed to recover during the investigation have been identified as hers and will be returned. It will never make up for the distress of her home being burgled, but it will be of some comfort to have her things returned to her and it greatly assists in us arresting people for the crime. Property marking is quick and easy to do and does not damage or spoil your valuables. It does however spoil the chances a criminal has of getting away with their crime."
For more information about how to get your property security marked in Sefton call Merseyside Police on:- 0151 777 4149 or you can also send an email to the Homewatch co-ordinator:- .

BBC Archaeologist Joins Liverpool's Navy Reserves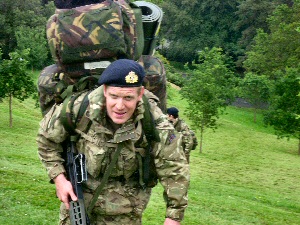 AN archaeologist and BBC TV presenter has signed up to become a reserve during his spare time at the Royal Navy's base in Liverpool. Tom Pinfold, who appeared on BBC2's Tudor Monastery Farm last year, is currently filming at a medieval castle being built in France while also training to become an officer at HMS Eaglet in Liverpool. The 35 year old from Birkenhead, who specialises in Roman archaeology, was last seen on our TV screens celebrating Christmas as a Tudor farmer. Since then, he has spent ten days driving to Bosnia and back with a group of reserves from his naval base. Tom also worked on the commemorations for the seventieth anniversary of the Battle of the Atlantic, and has taken part in a 10 week intensive training course at HMS Raleigh in Plymouth. The Royal Naval Reserve needs to sign up around 150 new recruits in the region over the next 3 years, and Tom is backing a new campaign encouraging people to do their bit for Britain by becoming a reserve in their spare time. Anyone wanting to find out more about joining the reserves can attend a Royal Naval Reserve Live event at HMS Eaglet in Liverpool on Saturday, 26 July 2014. The event will include a tour of the naval base, as well as a chance to take part in training activities and meet serving reserves. A virtual reality simulator will also give potential recruits a taste of life at sea. Tom said:- "I'd thought about maybe joining the army or navy while I was at school but hadn't given it much thought since then. When I reached my 30s, I felt like I should be doing something more with my life and so signed up to become a reserve. It's great to be able to do something where you feel you're putting other people before yourself. I do still find it odd that one day I'll be doing some filming at a castle in France and the next I'll be brought back down to earth with a training exercise in Liverpool, but I like the contrast. The banter from the other reserves makes sure I don't get above myself as well! The highlight so far has been the 10 day trip to Bosnia. I'd been before as a backpacker in 2006 but the country's changed so much since then. Because we were with the navy, we got to see things you wouldn't as a member of the public, such as going inside the British Embassy and visiting Tito's war bunker; built into a mountain. I'd definitely encourage anyone who's ever thought about becoming a reserve to step up and give it a go. You'll never be bored and it gets you out of your comfort zone."

Tom is 1 of more than 2,300 people who currently serve as reserves in the Royal Navy alongside their normal day job. Most have no previous military experience. When needed, the Royal Naval Reserve supplements the full time ranks with extra manpower and, in some cases, provides additional specialist civilian skills. New recruits must be aged between 16 and 40, have an appropriate standard in English and Maths, and be able to complete a one-and-a-half-mile run within a set time. Reserves need to be able to commit the equivalent of 24 days a year for training, which mainly takes place during the evenings and at weekends, and will be paid for their time. They will also qualify for a yearly tax free bonus, which ranges from £400 to £1,600 depending on the length of service. Lieutenant Roy Miller added:- "We'd encourage people to come along to the Royal Naval Reserve Live event on Saturday to find out more about what it means to be a reserve in the Royal Navy. Being a reserve doesn't have to take up a huge amount of time; but it's a great way of experiencing something entirely different without having to give up your day job. You'll also be paid for your time. We welcome new recruits from all sorts of backgrounds; whether you're a student, in a full time job or looking to get some additional work experience."

The initial training to become a reserve takes place 1 night a week or at weekends for the 1st 20 weeks. This is followed by a 2 week residential course at the prestigious Royal Navy training facilities at HMS Raleigh in Cornwall or Britannia Royal Naval College in Devon. Both courses include overnight exercises on Dartmoor and, following the residential course, new recruits will be given training for a specific role, ranging from logistics to submarine operations. The Royal Navy needs to recruit an extra 1,500 reserves at its 22 Units, across the UK, over the next 3 years. The Royal Naval Reserve Live event in Merseyside will take place at HMS Eaglet at East Brunswick Dock in Liverpool between 10am and 3pm, on Saturday, 26 July 2014. For more details, or to register to attend, call:- 08456 00 32 22, you can also get more information online.
Top 10 tax credits renewal 'excuses' revealed
WITH the tax credits renewal deadline of 31 July 2014 just days away, HM Revenue and Customs (HMRC) has revealed the top 10 excuses, that according to HMRC are used for not renewing tax credits claims. Excuses given by claimants to HMRC for missing the deadline include:-
► I didn't need the money because I'd met a rich bloke, but he dumped me.

► My mum usually does this for me.

► The form was locked in the boot of my car, and then my car caught fire.

► My baby used the paperwork as a colouring book.

► My dog ate the form.

► I got confused with the 31 January Self Assessment deadline.

► I booked the last 2 weeks of July for a holiday and forgot all about it.

► I've been in hospital but am feeling much better now.

► I was unable to get income details from my employers in time.

► I thought I'd already renewed.
Claimants have until the 31 July 2014, deadline to renew, or their payments might end. Last year more than 650,000 failed to renew on time. This year, for the first time, claimants can renew online, at GOV.UK, as well as being able to renew by post and phone. Nick Lodge, Director General of Benefits and Credits, HMRC, said:- "So far, over 203,000 claimants have renewed online. It's a quick and easy way to do it. Renewing tax credits on time is important. People who don't renew by the deadline can, and do, lose their payments." HMRC asks all claimants to check the accuracy of the information in their renewals pack, and to tell the department about any changes to their circumstances that they haven't already reported, such as to their working hours, childcare costs or pay.
The Magic of Motown is heading to Southport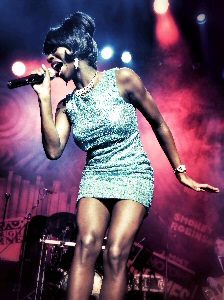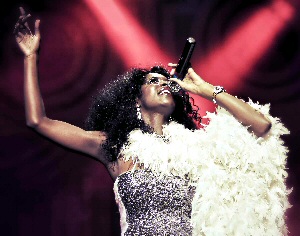 ON Saturday, 27 September 2014 Magic of Motown will be heading to Southport theatre's stage for a 7.30pm show... This magical event promises to put a spell on you... For more information about he show visit:- easytheatres.com or to book tickets go to the Booking Office, located on Promenade, Southport, or call the Booking Office on:- 0844 871 3021. Tickets cost:- £23 with concessions at:- £22. This show will features slick male harmonies and stunning female vocals, the production honours The Temptations, Supremes, Four Tops, Stevie Wonder and many more Tamla Motown legends. It was not just the distinctive Motown sound created by founder Berry Gordy Jnr back in 1959 that set the label's artists apart from all other artists of the era. For mass market appeal, artistes' images were carefully controlled from dress and choreography, right down to their manners. So pop over and take this show in. It is recognised as the UK's number a Motown concert show on tour in the UK playing huge arenas and massive open air festivals, so book your tickets.