Incredible weight loss for local woman after taking up running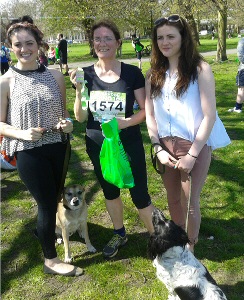 ALISON Chapman, 52 from Liverpool lost an astonishing 5 stone after taking up running and will be joining hundreds of women taking part in the Women's Running 10K Race Series when it hits Liverpool on Saturday, 26 July 2014.

Alison, a mum of 3 began her running journey 3 years ago with a neighbour whilst taking their dogs for walk. She said:- "Whilst out one morning walking the dogs, my neighbour and I decided that we would jog instead of walking. That first jog was the hardest jog we had ever done because at the time we were both of a certain size; however we persevered and kept going. I have never been overly sporty and I lack motivation when it comes to exercise, but for some reason the running bug struck. After I got over the panic of getting out of breath I began to run further and started to really enjoy it. Last year was the first time I managed to run around Sefton Park and it was magical, I felt so proud. By this time I had lost weight and that summer I did my first race and joined a running club."

The 10K race for Alison is not just about the running; she will be taking part in the race in honour of her sister Nancy who has suffered from cancer four times in the past 12 years.
She has recently been found to have the BRACA 1 gene, a genetic cell mutation which increases the likelihood of developing cancer by 50%. Alison added:- "My sister is 63 years old, she was diagnosed with her 1st breast cancer 12 years ago. She had a mastectomy and as a consequence got lymphedema in her arm and she has to wear a support stocking on her arm. Unfortunately, shortly after she had further breast cancer and had to have another mastectomy. Just 4 years after her 1st cancer diagnosis in 2002 she was diagnosed with ovarian cancer for the second time. This came as a bit of a shock as she thought she was on the home run and at this time we didn't know about the BRACA one gene. Nancy's cancer has just become active again and she is back on chemotherapy despite being monitored, as well as taking a new form of drug that helps regulate blood cell activity. I wanted to share our family's story because I am hoping for better access to genetic cancer screening in the future. I have 3 children and my other sister has daughters, so I want to make sure that they get screened for the gene before it's too late."

Alison has donated to cancer charities in the past in order to try and raise the hopes of developing genetic testing for cancer genes and making screening more accessible. Alison said:- "It seemed fitting to take part in an event that encourages entrants to raise money for Breakthrough Breast Cancer. Thankfully cancer is becoming more and more survivable and my sister is living proof of this."

To train for the Women's Running 10K, Alison runs 3 times a week including one long run of up to 10 miles, despite being a working single mum. For Alison, running gives her some time alone to reflect and relax. She added:- "Liverpool is such a dynamic City with some amazing spaces to run around and explore and I really enjoy being the freedom of being able to run through the open space at my leisure."

Nell McAndrew, model and runner, is the ambassador for the race series this year. To help runners around the 10K course, Women's Running pacers will be on hand to run with participants to help them achieve their target time. Suitable for runners of all abilities, there will be a team of four pacers targeting times of 50 minutes, 55 minutes, 60 minutes and 70 minutes.

The race experience also includes a warm up, led by an expert from Women's Running Magazine, a technical t-shirt, a high quality drawstring goody bag full of goodies worth over £30 and a medal for every finisher.

The event is still open for entries at:- wr10k.co.uk, priced at £26. Other events in the 10K series include; Bristol, Glasgow and the finale on the 27 September 2014, at Finsbury Park in London.

Letter to the Editor:- "The so-called 'bedroom tax' impact"
"THE UK's Government's new report on the impact of the spare room subsidy, or the so called 'bedroom tax', makes for worrying reading. The analysis has revealed that a staggering 60% of tenants affected by this welfare reform have been unable to meet their basic housing costs since having their benefits reduced. Although 1 in 5 claimants have registered an interest in downsizing, shortages of smaller properties mean just 4.5% of tenants had been able to move to a smaller home. As a result some have no choice, but to cut back on food and energy, and others are running up debts through credit cards and payday loans. As part of a charity supporting people in financial need in the UK, we at Turn2us know that these findings echo the experiences of our users; over a 3rd of which are social housing tenants. Many people tell us they've had to choose between heating their homes and buying food for their families, or have turned to high credit lenders in their desperation to cover rising bills. We're also concerned by the recent government figures showing that almost ⅔ of Councils have not paid their total Discretionary Housing Payment allocation to tenants. Funding for the payment was increased to help people affected by benefit changes including the spare room subsidy so it's vital that this additional support is accessed by those in need. With the gap between incomes and living costs widening for an increasing number of people, it's important that they are aware of the support available to them. Anyone who is struggling can use our free Benefits Calculator and Grants Search at:- turn2us.org.uk to see if they are eligible for any additional financial support. Our website also contains more information about the spare room subsidy and how to apply for Discretionary Housing Payments. With a number of tenants now facing increasing costs, it's crucial that they are getting all the help they need." Alison Taylor, Director of Turn2us, London.
Writing on the Wall introduces Liverpool's 1st Virtual Book Fair
WRITING on the Wall hosts Liverpool's 1st Virtual Book Fair with an exciting selection of writers and publishers who work across a range of platforms in publishing, self publishing and digital publishing, and interactive based activities and demonstrations. Taking place in the stunning atrium of Liverpool's Central Library, Writing on the Wall will host a day of interactive, hands on readings, discussion and interactions with those at the top of their games in publishing. With an introduction by Downtown in Business Director, Frank Mckenna, The Virtual Book Fair will explore business models of online publishing and encompass publishing powerhouses such as Anna Rafferty, whose innovation during her time as managing director of Penguin Digital showed different ways of marketing books to a fast paced population, and Linda Bennett, director and editor of Crime at Salt Publishing, who will speak about the ways authors today can put themselves on the literary map.

Jim Hinks of Comma Press will be introducing his app LitNav. From your fingertips you can read and travel the world via their collection of short stories. Designed with commuters in mind, these bite sized gems will take you on the alternative route. Liverpool to Venice to Zurich, where do you want to go next?

Beth Reekles wrote her 1st novel aged 15 which she self published on Watt Pad, after it received 19 million views; she signed a three book deal with Random House. Liverpool's Virtual Book Fair is delighted to introduce Beth Reekles to the stage to discuss her self published success and the impact that self published authors are having on the way we read now.

Other exciting highlights include our Twitter Haiku Competition, join our resident poets and write your best Twitter Haiku to be in with the chance of winning some exciting prizes!
Try out the newest interactive novels for virtual readers at our Digital Station, courtesy of revolutionary app inventors Touch Press. Catch up with webinars streamed from across the globe, including Blackwell's Digital Manager, Kjell Eldor, as he speaks to us about the future of books in a digital age. Our Children'sPod will be open throughout the day! A magical and interactive experience for the whole family. Join our resident illustrators and storytellers from The Wild Writers as they host storytelling sessions, where their imaginative work, with the help of our young audience, will be projected around the pod. Madeline Heneghan, Writing on the Wall Director, says:- "The age of digital print is a key issue for readers, writers and business, both within the world of literature and publishing. With new platforms, such as Kindle, and e-publishers taking on the traditional book format, there are many exciting developments for literature, including a cross over into the world of gaming. The virtual book fair will help participants discover new ways of writing and working, with the opportunity for networking and the potential for future collaborations."

To find out more you should go along on Saturday, 19 July 2014, from 12:30 to 6pm, and visit the Central Library's 4th Floor Atrium. Your book might just be the next best selling book of all time!