5 convicted of ATM thefts/attempt thefts
MERSEYSIDE Police have confirmed that 2 men, on Thursday, 10 July 2014, have been convicted following a Crown Court trial for a series of thefts/attempt thefts from cash machines across the North West and central England. A further 3 men pleaded guilty in an earlier hearing. All 5 men were charged with Conspiracy to cause an explosion under s.3 (1) (a) Explosive Substances Act 1883,and Conspiracy to commit burglary other than a dwelling, Contrary to Sec 1(1) Criminal Law Act 1977.

► Thomas Whittingham, 28 years, of Broughton Hall Road, West Derby was found guilty of both offences.

► Anthony Bushell. 29 years. of Childers Street, Old Swan was found guilty of both offences.

► Craig Cartwright, 39 years, of Vinecote Road, Coventry was found guilty of both offences.

► Kurt Beddoes, 31 years of Hanford Avenue, Orrell Park was found guilty of both offences.

► Ian Ellis, 30 years, of Warrington Road, Rainhill was found guilty of both offences.

► All 5 men are to be sentenced on Friday, 5 September 2014.

Meryside Police have said that:- "These men were responsible for ATM attacks at 28 premises (banks, post offices and supermarkets) in Wirral, Lancashire, Cheshire, Southport, Liverpool, Prescot, Loughborough, Gloucester, Birmingham, Northampton and Derby. These attacks resulted in losses to the businesses targeted by the thieves, of approximately £1.5m, not to mention damage to the properties estimated to be in excess of £200,000."

Detective Chief Inspector Gayle Rooney, from the Matrix Serious Organised Crime Team, added that:- "This is a culmination of year long investigation into crimes involving thefts from cash point machines across the North West and Central England. Since January 2013, officers from the specialist Matrix Serious Organised Crime Team have worked tirelessly, using all the resources available to us to identify those responsible and take positive action. This has included working closely with Warwickshire and West Mercia Police, and both the North West and Midlands Regional Organised Crime Units, as well as detectives from ten other forces These 5 men thought they were untouchable and they used hazardous tactics in targeting ATM's, clearly endangering members of the public. The techniques used by the men involved in these attacks were extremely dangerous and we are fortunate that no one was hurt. Offenders often believe that by committing crimes in different force areas they can escape detection and arrest, but Police forces across the UK do work together, regardless of boundaries. This case is an example of painstakingly piecing together huge amounts of complex evidence, to bring people to justice. It was a thorough, extensive investigation by officers from the Matrix Serious Organised Crime Team. I would like to thank all of those involved in the investigative process and the Crown Prosecution Service, who have worked together to bring these men to justice. These men were driven by greed and a need to fund lavish lifestyles, expensive cars, holidays and large houses. They didn't' think about the danger of what they were doing and the potential that they could cause serious and significant injuries to others through their reckless actions. These convictions send out a strong message to those who commit these types of crime. Merseyside Police is, and will always be, relentless in its targeting of criminals involved in serious and organised crime and for us there are no boundaries."

Maria Corr, Senior Crown Prosecutor with the Crown Prosecution Service in Mersey and in Cheshire, have worked on the case throughout the investigation and charged all of the defendants. This involved working closely with West Mercia, Merseyside and other Police forces. She said:- "This has been a complex and painstaking investigation and we would like to thank the police for their work in helping us bring these men to justice. The cash machines were often in residential areas and these men blew them up without a thought for the safety of the local community or the inconvenience caused to people who needed to get cash. This was an organised gang who thought of nothing, but their own criminal greed. Their conviction should send a message out that people who get involved in this sort of activity will be caught."
We hope you liked the photos, but please, don't copy them. Please help us to keep our copyright intact and to keep this site online. Click on here now to find out how you can order prints!

The Hightown Church that was Built a Century Ago
Photographs by C Trollope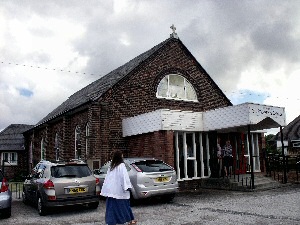 IT was on 15 July 1914, that the Church of England, Church of St Stephen, was consecrated in Hightown, Merseyside. It was, at 1st, a chapel of 1 of the Crosby churches, but shortly after 15 years, it became a Parish Church. It was built for the hamlet, now town, named Hightown with its own railway station and some shops. The celebrations began on Friday, 10 July, 2014; then on Saturday a Fair type event took place aimed at the younger inhabitants of the town. The Celebration Eucharist, at 10.30am, on Sunday, 13 July 2014, saw the Church building filled to capacity. The service was followed by a magnificent celebratory buffet lunch in the Church Hall and later that day the concluding event occurred, at which the Mayor of Sefton attended along with other dignitaries.

During the morning service, the choir sang a Centenary Anthem, written by Hilary Burgoyne ARCM, LGSM, based on Psalm 138. The Sermon was given by The Archdeacon of Liverpool, the Venerable Ricky Panter; he based his talk on the idea as to what the founders in 1914 would find if they used a tardis to see if their hopes and aspirations had fulfilled. Then he talked about the next hundred years. Among the congregation were several priests, one of whom had been one of St Stephen's vicars, some of the Sefton Deanery Priests and Readers. Everyone was most impressed by the beauty of the refurbished Sunday School Window which was in memory of Miss Chris Scott and of the drawing of the proposed Centenary project's new entrance porch.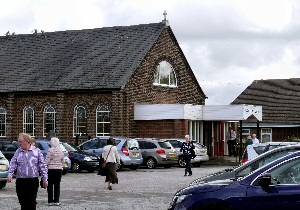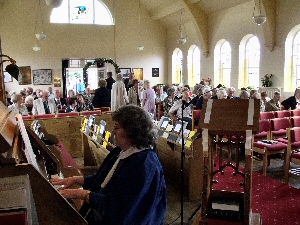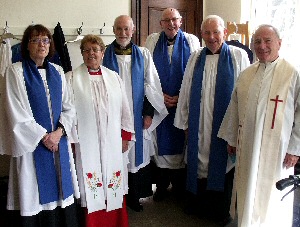 Page 1 of 2