County Insurance to light up Southport Football Club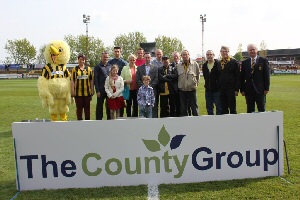 1 of the UK's Top 50 brokers, County Insurance has recently announced that they will sponsor Southport Football Clubs floodlights for the next 3 years. The exciting deal, which is the 1st of its kind for Southport Football Club, was announced on the Merseyrail Community Stadium pitch before kick off on Easter Monday. The financial support offered by County Insurance will help towards the clubs stadium development and also link in nicely with the previous fundraising led by 'Trust in Yellow', the teams official group of dedicated supporters.

Trust in Yellow have already ran a series of events to help raise cash to support the clubs ambition to replace the existing floodlights which date back to 1963. As a loyal supporter of the club themselves, County Insurance decided to make up the difference as part of their on going commitment to providing a traditional broker service through getting closer to the target market and the local community.

The company, who is part of The County Group, has enjoyed rapid growth in the last few years to become one of the UK's leading brokers. Although they now have a total of 9 offices across the country, one of their original offices is situated just around the corner from Southport Football Club at 9 Princes Street.
Referring to the deal, Commercial and Community Director, Haydn Preece said:- "We are delighted to have secured a three year sponsorship with County Insurance. We have a stadium that is up to football league standard and now we can construct the highest quality floodlights too. Southport Football Clubs ambition moving forward is to compete for promotion in the football league. It's imperative that our facilities match this standard and the new floodlights are fundamental to this. The long term floodlight sponsorship along with the fund raised by Trust in Yellow will ensure that we can make this happen."

Dave Clapp, Managing Director of County Group added:- "We're extremely proud to have signed a major sponsorship deal with Southport Football Club. When myself and my colleagues met with Hayden Preece and Charlie Clapham (Chairman), we were extremely impressed by the clubs ambitions for the future. After sponsoring several match balls, we decided that we really wanted our support to the next level. Like the rest of the business, our Southport office has flourished in recent years and now employs over 45 people. We are expecting this will continue to grow in the next few years and are hoping that the sponsorship will further increase our profile within the region. We're now looking forward to next season building on a very promising form and results in recent weeks."

County Insurance is part of 'The County Group' – who is in the Top 50 in the UK for brokers. They provide a complete range of personal and business insurance products as well as financial services like mortgages and income protection. For more information call:- 01704 530239 or visit:- countyins.com.

New jobs as fashion store Select heads to Church Square Shopping Centre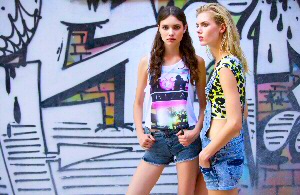 WOMEN'S fashion retailer Select is opening a new store in Church Square Shopping Centre, St Helens, creating 9 new jobs. It's the latest store to open under the retailer's rapid expansion plans, targeting key prime trading spots around the UK. Select specialises in translating catwalk trends into high street outfits at affordable prices, with a 15% discount for students. The shop is due to open in the next few days in the former HMV store, and is a sign of the continuing strong interest in Church Square Shopping Centre by national retailers, said centre manager Steve Brogan. "This is great news for Church Square Shopping Centre and for the town. I've a teenage daughter and she loves this store; the clothes are an affordable price, decent quality and very 'on-trend.' We have many young shoppers who come to the centre, and enjoy hunting down a new outfit, so this is absolutely perfect for them. Signing a well recognised name such as Select also shows the hard work that that's been put in to encourage retailers to come to St Helens. Women's fashion retailer Roman recently opened, with new jobs, and is doing very well."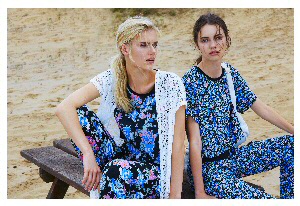 Launched in the early 1980s, Select was bought by Turkish investor Cafer Mahiroglu in 2008 and has focused on becoming one of the high street's most affordable fashion forward retailers.

This strategy has been successful with 136 UK stores open and ambitious expansion plans in place to open 40 more stores by the end of 2014. Select owner Cafer Mahiroglu commented on the new store opening:- "We're thrilled with the opening of the new St Helens store; we feel it will be a welcome addition to our rapidly expanding chain of outlets."

Roman women's fashion retailer opened at Church Square Shopping Centre in February, creating 6 jobs. It marked a return to the town for the brand, as it was previously part of TJ Hughes.

Church Square Shopping Centre is open daily and home to a range of big name stores; such as River Island, BHS, Boots and Superdrug; along with independent retailers plus the busy St Mary's Market. Details on what's happening at the centre at:- churchsquaresthelens.co.uk.