Call for volunteers to give cancer patients therapies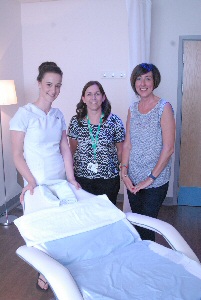 A cancer survivor, who is leading a new complementary therapy service to help others affected by the disease cope with their treatment, is calling on volunteer support.

Maureen Gildea, Macmillan cancer volunteer co-ordinator at the Cancer Wellbeing Centre, in the Royal Liverpool University Hospital's Linda McCartney Centre, was inspired to learn some of the therapies after her own treatment for ovarian cancer.

She is now using her experience to set up the new service, run in partnership between The Royal Liverpool and Broadgreen Hospitals NHS Trust and Macmillan Cancer Support. It will be delivered by complementary therapy volunteers under Maureen's care and will help minimise the stress and anxiety patients can experience when diagnosed with cancer.

The Linda McCartney Centre has provided diagnosis, treatment and therapies to patients affected by cancer from across the region since it was founded in 2000. With more and more patients living with and beyond a cancer diagnosis, staff now want to expand the therapy services offered to patients, partners and carers and are appealing for volunteers to come forward to help achieve their goal.

Maureen explained:- "I was diagnosed in May 2010 with ovarian cancer and as a result received complementary therapies afterward which I loved and helped me to cope with the anxiety and stress. I loved them so much I have since qualified in aromatherapy, Swedish massage, Indian head massage, Reiki and reflexology. I feel privileged to be working as a Macmillan professional within the Trust supporting patients and carers affected by cancer."

Maureen is now calling on other complementary therapists to volunteer for some of the rewarding roles available. She added:- "We would be interested in hearing from qualified experienced therapists who can provide aromatherapy, massage, Indian head massage, reflexology, Reiki, relaxation and meditation sessions to provide to patients at the world famous Linda McCartney Centre."

One patient who has already benefited from the services offered at the centre is 47 year old Colette Byrne.

Colette was diagnosed with bowel cancer in January last year. Radiotherapy and chemotherapy treatment shrank the tumour but not significantly, so her bowel was removed during a 12-hour operation in June 2013.

Colette, a manager of 2 Surestart centres from West Derby, said:- "6 months of chemotherapy infusions followed which absolutely destroyed me and left me with neuropathy - nerve damage in my hands and feet. Sometimes I couldn't feel if I had shoes on. A member of staff at the Linda McCartney Centre mentioned the complementary therapies. I am someone who would never go on a spa day or anything like that, so I was quite sceptical. She said 'why don't you ask Frankie if she will do your hands and see if it helps?' So I agreed."

Colette believes the reflexology she received from volunteer therapist Frankie Hodge at the Cancer Wellbeing Centre helped.

"It seemed to stimulate the nervous system back into action. For that half hour or 40 minutes in the therapy room I didn't feel I had cancer. It's like a safe haven. You can be a cancer patient if you want, but if you don't want to talk about it you don't have to. Frankie has been an absolute star. She will never know how much I appreciate what she does. She has been a huge support. She can have difficult conversations so it takes a special person to be able to always know what to say. I can't fault this hospital. The care has been over and above." she said.

Frankie, 25, lost her father to cancer in 2010 and after seeing the good that therapies did for him, she resolved to provide others with the same service. Frankie, who lives in Toxteth, had been a therapist for 18 months before volunteering at the centre for 2 days a week from December last year after completing short courses in cancer care, palliative care and aromatherapy.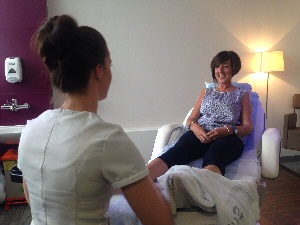 Maureen added:- "Dad was having lymphatic massage, aromatherapy and Reiki after his operation. He benefitted a lot and that's when I got interested in complementary therapy. Only when dad passed away did I realise I wanted to give something back. You feel like you're doing something important and making an impact on someone's life. And psychologically, I feel like I'm helping my dad. My dad said 'make sure no one ever has to go through what I've been through'. The patients say the treatment helps them find a new normal and gives them the chance to find a new path. They come to the same place they have had a diagnosis and treatment, but for something positive. Patients feel they can let loose in the therapies room. For many they have never taken their wig off in front of anyone else. It can be a liberating experience. Volunteers in this role will be offered regular reviews and emotional support. This is an opportunity to use your skills to support people at a difficult time while developing your experience within a cancer care setting. A regular weekly or fortnightly commitment between 10am to 3pm would be ideal, but times are flexible."

All potential volunteers require an enhanced DBS check, formerly known as CRB, and previous experience of providing treatments within a healthcare setting would be beneficial but not essential.

For further information contact Maureen Gildea by telephone:- 0151 706 4603, or by email:- Maureen.Gildea@rlbuht.nhs.uk.
Can you help find the next of kin of Eric Pinnock?
THE Liverpool Coroner's Office are appealing for the public's help in tracing the next of kin of Eric Pinnock who died on Monday, 21 July 2014. Mr Pinnock lived in Hazel Grove, Crosby and sadly passed away in his home at the age of 69. It's believed that Mr Pinnock has family in the Merseyside area, but the Liverpool Coroner's Office has no way to contact them. If you are a member of or know a member of Mr Pinnock's family, or if you know anyone who knows them, please contact the Liverpool Coroner's Office on:- 0151 225 5063.

Galloway's helps local Southport community make the most of their vision.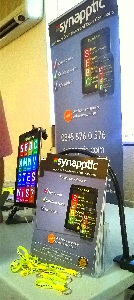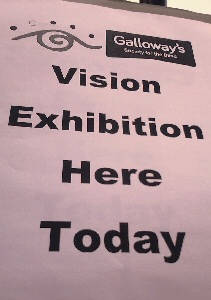 DESPITE the heat, Southport based sight loss charity; Galloway's Society for the Blind held their "Making the most of your vision" day last week and invited people in from the local community to their Southport Centre.

The day was supported by some of the leading suppliers of specialist equipment, technology and low visual aids to demonstrate to people how technology can help them in their day to day lives when living with visual impairment.

Carl Moore, Vision Services Co-Ordinator for Sefton and West Lancashire, commented:- "We know that many people in our community have trouble with their sight and often people don't realise what aids are out there to support them. The whole idea of the day was to introduce people to different aids and equipment that essentially could help them live more of an independent life. As a charity, we aim to help people with a visual impairment live more comfortably within a sighted world. We had ample demonstrations throughout the day which were well received by everybody who attended. It was also great to speak to so many people about the work we do and what we're aiming for in the future; we asked many people what they wanted from us and we'll be using this feedback to look into how we can improve our services."

To host events like this and offer the support needed for visually impaired people along with providing drop in days, guided holidays, day trips, a range of services and their outdoor pursuit group, the charity must raise £1million this year alone.

For more information please contact Carl and Adrian at the Southport centre on:- 01704 534555.
Warning over loan scam
LIVERPOOL people are being warned over a scam in which they are asked to pay advance fees before a loan is released. They are asked to pay by 'UKASH' vouchers to release a loan they have been promised in an unsolicited phone call by a company called:- 'Cash Saga'. The company will often recontact the consumer and ask for further money before releasing the loan money

Liverpool Trading Standards, who have received a number of complaints from people who have lost money, are not aware of anyone receiving the loan after making these payments and are warning people not to fall for this scam.

John McHale, head of Trading Standards, said:- "No genuine loan company will ask you to send money in advance to secure or release a loan. If you are asked to send such fees then simply refuse to do so. If you do you will not see your money again. While this scam is being operated by 'Cash Saga', you should be aware that scammers often operate under a number of different names and the same advice applies to whatever the company is called."

Trading Standards have issued the following advice:-
Check the company has a valid consumer credit licence on:- 0800 111 6768 or fsa.gov.uk/register/home.do.

Never give your financial details as a result of an unsolicited phone call or email

Check the person you are sending the voucher to is a genuine merchant listed on:- ukash.com.

If you think you have been scammed then report the matter to the Financial Conduct Authority on:- 0800 111 6768 or CACS on:- 0845 4 040506 or Action Fraud on:- 0300 123 2040
West Lancashire Light Railway (WLLR)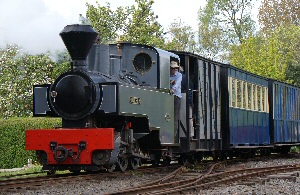 3 locomotives will be in steam on both days of this year's Annual Gala Weekend. Trains will run at frequent intervals from 11.30 until 16.30. on both days, hauled by 3 resident locomotives, Montalban, Utrillas, and Joffre, a veteran of the 1st World War, named after the French hero, General ('Papa') Joffre.

This is an event for families and enthusiasts. Photographers will be welcome, and lineside photography passes will be available. Photographers will be required to wear hi-vis jackets.

As usual at this annual event there will be several additional attractions on site, possibly including visiting steam rollers and traction engines, a fairground organ, model railways, Meccano models, and other exhibits. A small children's merry-go-round and home made cake stall will also be on site.
Admission to the site is free.
Tickets to ride on the train are valid all day for unlimited rides on that day:-
Adult £4.00
Child £3.00
Senior £3.50
Family £10.50
Under 3s go free
Gala Weekend 2014
Saturday, 9 August 2014 and Sunday, 10 August 2014
11.30am to 4.30pm both days.
Station Road, Hesketh Bank:- westlancs.org. Further information and enquiries call:- 01772 815881 or on email them.