Homeless Battersea cat named in honour of England's swimmer Fran Halsall winning Commonwealth gold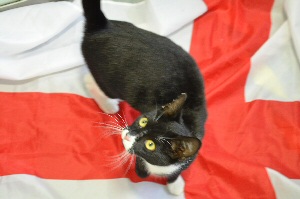 A stray moggie at Battersea Dogs and Cats Home has a new sporting namesake in swimmer Fran Halsall, who was born in Southport and lives in Loughborough, and who won gold for Team England in the 50m Freestyle at the Commonwealth Games in Glasgow. So the world famous animal charity hopes Fran the Domestic Shorthair will also win gold and sniff out the ultimate prize of a new home. Battersea is naming some of its 400 dogs and 250 cats, waiting patiently for new homes every day, after every Home Nations gold medallist at this year's Games. With so many animals looking for new homes, the charity is hoping that potential new owners will spot its special "Commonwealth residents" and want to re-home them. Head of Operations Carly Whyborn says:- "We really hope Fran the cat will find a loving home and can celebrate England's swimming champion's win by finding a new family. Fran definitely lives up to her namesake; she's agile, intelligent and clearly has her eyes on the prize of a happy future. Here at Battersea we hope by naming some of our animals after our champion gold medallists it will give cats like Fran the second chance they're looking for and so deserve." If you can give Fran a new home, please call Battersea Dogs and Cats Home on:- 0843 509 4444 for more information.
Appeal for information following a serious RTC
MERSEYSIDE Police are appealing for witnesses after a cyclist was left in a serious condition following a road traffic collision in Bootle, on Tuesday, 29 July 2014, in Bootle. At about 6.10pm emergency services were called to Canal Street to a report a lorry had been in collision with a cyclist. Paramedics and police attended and found the 29 year old cyclist with serious head injuries at the scene. The cyclist was removed by Ambulance to hospital where he remains in a serious condition. The driver of the lorry stopped at the scene and is helping the Police with their enquiries. The scene was cordoned off for examination and CCTV is being sought from the area. Inspector Mike McFall, said:- "We are investigating the full circumstances of this incident and would appeal to anyone who was in the area at the time and might have seen something to call Police. The information you provide could be really important for our enquiries. The incident took place on Canal Street near to the junction Millers Bridge, which is a busy area and I would urge anyone with information to call Merseyside Police on:- 0151 777 5747."

Home owners hit by new accounting standards
ACCA (Association of Chartered Certified Accountants) warns that the new accounting standard (IFRS 9) may force banks to have larger bad debt provisions against long term loans such as mortgages and business loans. The standard will also financially penalise banks for offering overdraft and credit lines even when they are unused by the customer. This development presents obvious access to credit implications for those seeking longer term mortgage approval and for business in general. A number of shorter term loans, however, will not be affected and they will become more financially attractive to banks.

The new standard, IFRS 9 Financial instruments, will require a life time expected loan loss model to be used rather than the current standard which uses an 'incurred, but not reported' (IBNR) loan loss model. While somewhat technical in application, the new standard may result in long-term loans requiring larger bad debt provisions compared to the previous accounting standard, loans of one year or less duration will require lower provisions. The standard also requires recognition of losses expected on credit limits offered to customers even when the credit limits are not used as at the year-end reporting date.

Glenn Collins, ACCA UK head of technical advisory said:- "Business needs long term credit but banks will be under pressure to provide shorter term credit and lower credit limits. Even though the standard will not be applicable until 2018, loans taken out now will be affected by this change and are likely to be either more expensive or of a shorter duration. FRS 9 in 2014 will not stop bad lending, but it will measure the financial effect of such lending better and require earlier bad debt provisioning. This should allow earlier intervention by the Regulator where necessary. It will however, encourage banks to cut consumer credit limits on overdrafts and credit cards, only granting approval for shorter term mortgages and business loans."

This is not the 1st time that an accounting standard changed the business environment:-
► In 2000, the standard on pension accounting led to the real cost of defined benefit pensions being shown on financial statements and these pensions being closed and replaced by defined contribution pensions.

► In 2004, the standard on employee share options led to the widely generous share options being granted to senior executives being stopped

► A standard in the UK on disclosure of working conditions in factories supplying companies in the UK reportedly led to recent improved working conditions for workers in India

► IFRS 9 in 2014 will require better measurement of the risks involved in lending and better provisioning against these risks. It will result in lower risk lending which will generally be shorter term loans.