Park life leads to a unique link up with Big Apple for Birkenhead youngsters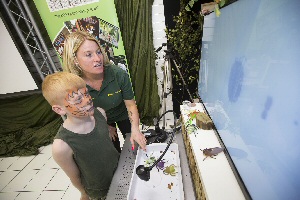 ADVENTUROUS youngsters had a chance to stroll through America's most famous park without ever leaving a Birkenhead shopping centre.

Young people taking part in the Junior Rangers scheme at Pyramids communicated online through a specially designed "mission control desk" with the organisers of a similar scheme in New York's Central Park.

The pioneering summer programme, which is being run with support from Wirral Council, is giving Birkenhead youngsters a chance to enjoy regular live virtual tours of the park at the heart of the City they call the Big Apple.

Central Park staff are using a mobile camera to walk around the site with the footage being broadcast live via the mission control desk on to a huge screen set up in a unit in Pyramids.

The link-up is the latest stage in the growing relationship between Birkenhead Park, which is situated close to the shopping centre, and Central Park.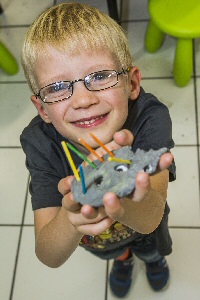 The 2 urban "green lungs" may be thousands of miles apart but they share close historical links. Birkenhead Park, the first publicly funded park in Britain, was the model for Frederick Law Olmsted's design of Central Park.

The first transatlantic link-up was a major success and saw around a dozen Young Rangers electronically crossing the big pond under the guidance of Birkenhead Park Ranger Paul Davies.

Seconds after going live at 2.30pm; 5 hours behind the New York time of 9.30am; the young audience cheered as they saw Terry Carter, Associate Vice President of the Urban Parks Institute and also Director of Programmes for Central Park Conservancy, the body that runs the park, appear on screen to say a big "hi" to those watching more than 3,000 miles away in Pyramids. She said it was a "gorgeous" day in New York and how thrilled she was to be able to speak to live to the Young Rangers.
Accompanied by the camera held by a colleague, Terry then began walking slowly through the sunlit park until she reached the famous Hallett Sanctuary, a small wooded area on the edge of the park where the public aren't normally allowed to go. She explained how wildlife within the sanctuary; from squirrels to wildfowl; had been carefully protected over the past 11 years by young volunteers, similar to the Junior Rangers in Birkenhead.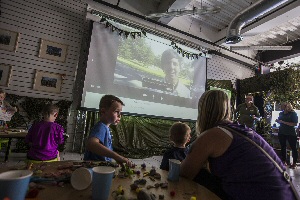 The camera was trained on a bubbling waterfall and birds bathing in a small pool amongst the foliage as Terry explained about them.

As the half-hour session drew to a close, there were questions from the audience. And, from Terry's answers, the watching youngsters learned there are 275 different species of birds living in the 843 acres of the park and that within its vast grounds lie no less than seven lakes of different sizes. After Terry Carter said her farewells, the Junior Rangers were buzzing about what they had just seen on the big screen.

5-year-old Riley Gidman, from Rock Ferry, said:- "I thought the link was really good because we learned so much about the park in New York. It was also great because the lady was speaking to us live from so many miles away."

Riley's mum Kathryn Gidman said:- "The link-up was amazing, really. Riley loved it because he likes things about the outdoors and nature and I thought it was fascinating too. We'll definitely be coming back for the future live links from Central Park."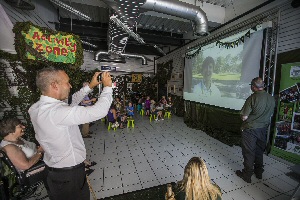 Also enthralled by the pictures from New York were 4-year-old Maizey Hoyle and her brother Eliott, 6, from Wallasey. Eliott said:- "I really enjoyed it and I'm glad I came. I like wildlife things so I was very interested in what the lady was saying."

Their child minder Pat Harris, who had brought them along to Pyramids, said:- "Today's technology is fantastic and I found the whole thing very interesting as did Maizey and Eliott. I'll be bringing them back to see future links over the next few weeks."

Birkenhead Park Ranger Paul Davies said:- "I'm delighted with the way the first link-up went and I'm very appreciative of Terry Carter and her colleagues at Central Park for taking time out of their busy schedule to speak to us here at Pyramids. Over the next 3 Friday afternoons we'll be linking up with them again when they will show us other interesting areas of the park including the famous Harlem Mere and one of the playgrounds, which should interest the children watching here. I'm so excited about this programme and delighted Pyramids Shopping Centre is supporting our summer activities programme by providing investment and allowing the ranger team to use a unit at the shopping centre."

Paul added:- "The fact that Birkenhead Park has such an important historical link to Central Park is a fact that is becoming more widely known. The mission control desk link-up is a great way to celebrate the connection between the two parks. The virtual tours will give our youngsters an idea of what Central Park is like and also help them realise that with the rocks, fountains and lakes, how similar their own park is to America's most famous public park. We want to promote the use of Birkenhead Park and also promote its history and heritage, including the link with Central Park."

Paul, along with fellow Birkenhead Park Ranger Paul Sinclair, were invited to New York by Central Park bosses in April this year as part of the close relationship that is being forged between the two parks. That visit followed a visit by Central Park bosses to Birkenhead last year.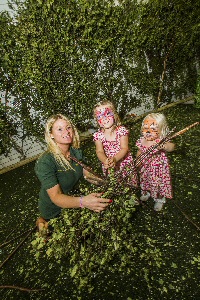 The Central Park virtual tours is just one aspect of the busy summer activities programme set up for youngsters at the transformed unit at Pyramids Shopping Centre.

A whole host of other activities taking place over the summer at the unit, which has been dressed to recreate the inside of a forest using branches and camouflage, complete with woodchip on the floor and a dedicated buggy park area.

The free summer activities will be available for children to enjoy from 10am to 4pm and run every Monday, Tuesday and Friday until Friday, 29 August 2014.

On Friday, 1 August 2014, a minibeast and face painting session will be held. There are Gruffalo Days on Monday, 4 August 2014 and Monday, 11 August 2014, while a demonstration of country crafts such as basket-making is planned for 5 August 2014.

A chance to make a bughouse and a face painting session will be held on 8 August 2014 and a talk about bats will be held onn 12 August 2014.

On a historical note, Central Park is an urban park in the New York City borough of Manhattan. It was opened in 1857 to 10 years after Birkenhead Park; on 778 acres of City owned land and now covers 843 acres.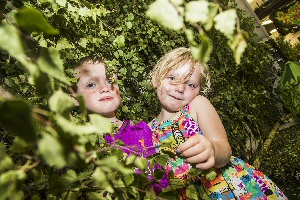 In 1858, Frederick Law Olmsted and Calvert Vaux won a design competition to improve and expand the park. Construction began the same year and was completed in 1873. Central Park is now the most visited urban park in the United States.

Designated a National Histroic Landmark in 1962, the park is currently managed by the Central Park Conservatory under contract with the City government and has an annual budget of $37.5 million.

According to Olmsted, the park was "of great importance as the first real park made in this country; a democratic development of the highest significance" a view probably inspired by his stay and various trips in Europe during 1850. He visited several parks during these trips and was particularly impressed by Birkenhead Park.

Wirral Junior Rangers transformed a unit at the Pyramids Shopping Centre with woodland into an indoor forest and children are den building, looking at bugs and enjoying crafts and enjoyed a live link up with Central Park in New York where youngsters will go on a Skype virtual tour of the park. Central Park was modelled on Birkenhead Park and Wirral Rangers at Wirral Council have been fostering links with their equivalent in New York.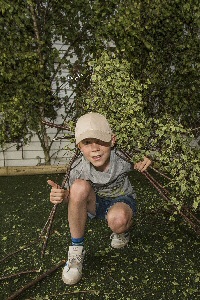 The 2 Pauls were kept extremely busy during their two week stay in New York, sharing the skills and knowledge they have developed during their years as park rangers in Birkenhead to their counterparts in New York.

They gave presentations on subjects such as the history of Birkenhead Park and its influence on the development of other urban public parks, including Central Park. They explained their role as a Ranger in a British park and particularly how British parks engage and integrate with the local community. And they discussed the success of the Forest Schools programme they have established at Birkenhead Park.

In Forest Schools, pupils learn how to build dens, become aware of the natural environment and discover history, maths, literacy and science and their application in the natural world.

Paul said he was hoping a spin-off from the live Central Park virtual tours would create closer links between New York children and Birkenhead youngsters.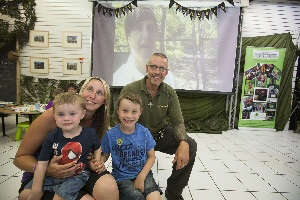 Commercial Director of Pyramids, Derek Millar, who was watching the first transatlantic link-up, said:- "I know Central Park very well. I've been there about a dozen times as I'm a frequent visitor to New York, so it was fantastic to see it live today. The whole thing was fascinating and very educational and to have the opportunity to be able to do something like this at Pyramids is just excellent. I'd like to thank Paul Davies and Terry Carter and her colleagues at the New York end for making this link possible."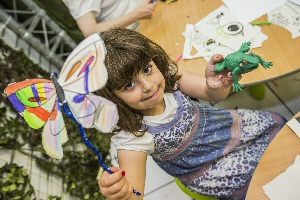 Doug Blonsky, President and CEO, Central Park Conservancy, and Central Park Administrator said:- "Bringing live snapshots of Central Park to the heart of Birkenhead is a great way to highlight the terrific partnership Central Park Conservancy is fostering with the Wirral Rangers and Birkenhead Park. In the same way that Central Park's designers were inspired by Birkenhead Park over 160 years ago, we hope this virtual exchange with the children and families on the Wirral will inspire a greater sense of pride in Birkenhead Park and its significance to the urban park movement."