Southport Open Top Tours 2014 Season
FOLLOWING on from the success of the 1st 2 years' operation in 2012 and 2013, the Merseyside Transport Trust (MTT) is pleased to announce that it will once again be operating circular open top tours of Southport during the holiday season of 2014. These tours will be provided entirely by volunteers using historic vehicles.
Starting from the tradition location of Southport Pier, the tours will operate as a free of charge circular service taking in the sights of Southport that have on a tour that has proved a popular tourist attraction for many decades. Ensuring that the tours continue operating has proved to be very popular with Southport locals, families and tourists alike; since their first year extra journeys have been added to cope with increased demand and popularity.
Picking up where Arriva left off in 2011, the tours are to be operated using historic Leyland Atlanteans that have been operating these tours in past years and are now in preservation; 1449 (GKA 449L) and 1551 (OLV 551M). After a leave of absence during the 2013 season 1551 went through an intensive rebuild and has been restored to the livery it carried during the 1980s when it originally operated the tour and is ready for its public once again.
Exclusively for the 2014 season, 1449 has been treated to a front end repaint into yellow to commemorate 30 years since the Liverpool Garden festival in 1984; so here's your chance to come out and ride the festival bus! A closed top vehicle will be substituted in adverse weather conditions.
The tours take in such beautiful Southport attractions as the Marine Lake, Marine Bridge, Royal Birkdale Golf Course, Hesketh Park, Lord Street Boulevard and the Botanic Gardens.
The operation of the tours will commence on Sunday, 27 July 2014 and will operate on every Sunday through to Sunday, 24 August 2014, also including August Bank Holiday, Monday, 25 August 2014. Departures are timetabled for:- 12:00, 13:00, 14:00 and 15:00 hours from Southport Pier, in front of the carousel.
For more information, please consult the MTT's website.
Junior National Underwater Hockey Championships
Photographs by:- Damien McNulty.

SUCCESS for players from as far afield as Hale in Liverpool, Greenfield in Lancashire and New Mills in Derbyshire, members of a club in Tameside.

Declan McNulty, from Hale in Liverpool, Vice Captain of the achieving team has only been playing a couple of years.

Saturday saw Xarifa's Underwater Hockey club Under 12's take Bronze medals.

A combined Under 18's Northern Team, including many players from Xarifa, took silver medals in the competition.

Xarifa UWH entered players into 5 teams into the 2014 Junior National Championships.

The children were split into 4 age categories, Under 18, Under 16, Under 14 and Under 12's.

The Junior National had teams entered from clubs as far apart as Orkney to Plymouth.

The tournament was held in Leeds' John Charles Sport Centre, with the international pool split into four playing areas.

Xarifa put together another Under 12 team with players from Batley club, although they didn't come away with any medals they gained valuable competition experience.

Under 12's were playing in a 5-a-side competition, each team being allowed 3 substitutes.

UWH, also known as Octopush, is normally a 6-a-side game (U14's and above), with 4 substitutes.

Xarifa's Under 14's and Under 16's teams met with some stiff competition and had many very close games, sadly neither team qualified in any of the medal positions.

Team South West were the most successful squad, gaining gold medals in all 4 age category.

"TSW have a few junior clubs to select players from. It's no wonder they produce excellent teams." said Phil Thompson, Xarifa Coach and Treasurer.

Xarifa UWH has been at Dukinfield since 2005 and has players from 8 years of age all the way up to 18, celebrating its 10th Anniversary next year.

Xarifa now has a 2 hour pool session allowing more time and space for the different age categories to play a better game; Beginners are welcome on Fridays from 5.30pm to 7.30pm at the Dukinfield Swimming Pool.

The countdown begins - 2014 Crewsaver 24 Hour Race!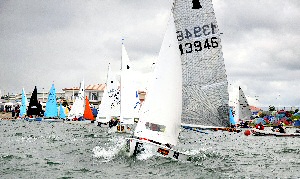 PREPARATIONS are well under way for the 48th year of the Crewsaver 24 Hour Race at West Lancashire Yacht Club (WLYC), Southport. The club are very excited to welcome you to this year's event, that is due to run over 13 September to 14 September 2014. With 52 boats entered so far entries are up on last year, making this event bigger and better than ever! Of those entries we are pleased to see four boats from the recently re-introduced Firefly Class, numerous boats from various universities and a large increase in Lark entries. Friday night promises to be a lively one; with the hugely popular sailing band Elephant Juice and resident DJ Steve Blackburn confirmed to keep the entertainment going until the early hours! Back by popular demand is the folk afternoon which will take place on the Saturday, followed by a soul night in the evening. The main marquee has been increased in size to help house all of the additional entries and providing more room for on shore activities which promise to rival last year's surf competition. After the catering success of last year, and WLYC are again catering in house with beer supplied by Robinsons. Your local chandlery, 1st Mark, will also be on site selling some of your favourite Crewsaver kit at some fantastic event prices. Due to the extensive popularity of the kit last year he will also be increasing the size of his marquee; helping to ensure all the kit you need is on hand to keep you out on the water. This year WLYC had both Robin Jones and Isaac Marsh, from Scammonden Water Sailing Club, sailing a Firefly for the full 24 hours in aid of the Andrew Simpson Sailing Foundation. Please donate to show your support for these 2 embarking on this fantastic challenge again, this year! Liverpool Yacht Club has gone the extra mile for this year's event by building an Enterprise especially for the race; and WLYC are look forward to seeing the results of all your hard work in September. "Huge thanks must be made to Crewsaver, title sponsor of the event, for their on going support which enables us to improve on the event year on year. In addition, this year Crewsaver have helped to support a prize draw to win some of their fantastic Phase2 sailing gear range on the Saturday in the main marquee – more info to follow on the Facebook page closer to the event. Thanks also to GJW and Robinsons, our other 2 main sponsors, for their continued help and support. We can't wait to see you all and, if you haven't entered yet, get your entries in soon so we can make sure we have enough sausages and bacon for the breakfast butties!" said the club.
For more information and live updates before, during and after the event please visit the West Lancashire Sailing Club's 24 Hour Race Facebook Page.
Merseyside Police comments following the "Memories of August 1914" event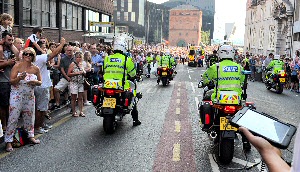 MERSEYSIDE Police have thanked the hundreds of thousands of people who have been in Liverpool since Wednesday, 23 July 2014, to see the Memories of August 1914 event. Huge numbers of visitors and local people have turned out to see the return of the Little Girl Giant and her dog Xolo, along with the new Grandmother Giant. The giants have enchanted the crowds, touring the City, putting on spectacular shows in Newsham Park and Clarence Dock and finally leaving on a boat down the River Mersey on Sunday, 27 July 2014. Silver Commander for the event, Chief Superintendent Jon Ward, said:- "I'd like to thank everyone who has come to see the Giants for creating a fantastic atmosphere in Liverpool over the last 5 days. The event has combined a huge spectacle of street theatre with some very poignant moments as people mark the 100th anniversary of the start of World War 1. The Giants have once again proved hugely popular and there's no doubt the crowd's enthusiasm, good humour and patience have contributed to making the event the enormous success it has been. I am also pleased to say that we have had no arrests over the 5 days, which is a credit to the people of Merseyside and everyone who has visited us. We have worked with our partners, including Liverpool City Council, for a number of months to plan the event, and I'd like to thank them for their support. I'd also like to acknowledge the professionalism of the officers on duty along with that of the hundreds of volunteers who have given up their time to make the event run smoothly. Memories of August 1914 has created lots of interest both across the UK and around the world. Liverpool is renowned for showcasing events of this magnitude in style and I'm pleased people have, once again, had the opportunity to see what a great place our City is."