Lauren Malone from Southport shortlisted to be Britain's Top Real Role Model 2014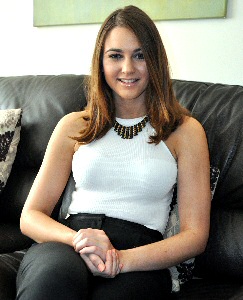 PLEASE help a local girl become Britain's Top Real Role Model 2014. The owner of Alexandra Malone Events in Southport, Lauren Malone, is hoping that her business idea will be strong enough to win, after being shortlisted and needs to secure as many votes as possible to boost her chances of winning the title. Lauren is a determined entrepreneur with little financial backing for her business that was has been grown from the ground up, since 2012. She is hoping that the £5,000 prize money to branch out into more specific themes and offer clients a wider range of services and special extras. As Britain's Top Real Role Model (BTRRM), is run by the world leader Amway UK, the accolade of Britain's Top Real Role Model 2014, would help her raise her business profile and help sicure her businesses future. Now in its 4th year, the competition's focus this year is 'Women in Enterprise', with acclaimed fashion designer Savannah Miller heading up the judging panel. If you can help, all you need to do is go to a webpage and a click on a button, to help her win! So show your support to local entrepreneur Lauren Malone by visiting:- britainstoprealrolemodel.co.uk/lauren-malone, click on 'vote'. that is all you have to do... Even better still please tell others do this as well! Nominations for BTRRM are open until 11 August 2014, when Lauren and other successful shortlisted applicants will be asked to submit a brief business plan. The winner will be announced in September 2014 and will be awarded £5,000 to aid their business venture.
Crewe to home to a new University Technical College (UTC)
ON 5 August 2014 it was announced that Crewe will be home to a new University Technical College. UTC Crewe, due to open in September 2016, is a major new investment in the educational offering in Crewe. This new college will offer an exciting and inspiring education for young people seeking a pathway to employment and further education. University Technical Colleges offer courses for 14 to 19 year olds which are designed with input from local employers and a partner university. UTCs already operate in other parts of the country but this is the first of its kind in Crewe. Commenting on the successful UTC Crewe bid, Bentley's member of the board for Human Resources, Dr Ariane Reinhart, said:- "UTC Crewe is fantastic news for Crewe, local students and for Bentley. It will enhance the local community, boosting skills, education and employability, for the benefit of individuals and many organisations. It is driven by a collaboration between Bentley Motors, Manchester Metropolitan University, Siemens, Bosch, OSL Rail, Jacobs Engineering, Chevron Racing, Optical 3D, South Cheshire Chamber of Commerce and Cheshire East Council. The aim is to feed the gap local businesses have of young people with automotive, engineering, rail and design skills in these growing industries." As with all colleges, the Principal and teaching staff are pivotal to success. At UTC Crewe, they will be able to draw on expertise from a range of partners to ensure the academic and practical learning activities are relevant for the changing world of work leading to clear student pathways into academia or employment, or both. Bentley has been closely involved with the UTC project and will continue to work with the College and its partners to help design a curriculum that reflects the needs of industry and provides an exciting and inspiring learning environment. The collaboration with UTC Crewe forms the next step in Bentley's focus on talent development and continuous improvement. Bentley already offers trainee programmes, including apprenticeships and graduate schemes, around 150 work experience placements each year and has an established school liaison programme providing workshops in local schools. UTC Crewe will build on these existing development activities.

AWARDS TO CELEBRATE MERSEYSIDE RUNNING
MERSEYSIDE'S vibrant running community is being celebrated with its very own awards and nominations are now open.
The inaugural Merseyside Running Community Awards feature seven categories, including overcoming adversity, inspiring others and volunteer teams and are open to all.

A special presentation evening will take place in Liverpool at The Richmond Hotel, Hatton Garden, on Friday, 24 October, during which the winners will be announced.

The awards are the brainchild of RUN (Running Unites Network), a group of like minded keen volunteer runners from across Merseyside who meet on a monthly basis to discuss all things running with RUN hosts, race organisers BTR Liverpool.

BTR Liverpool is the leading independent organisation for race organisation and delivery in Liverpool City Region.
Its portfolio of annual events include the BTR Liverpool Half Marathon; BTR 52-mile Tour Of Merseyside; BTR Wirral Half Marathon; BTR Liverpool Santa Dash.

Collectively, RUN and BTR Liverpool are creating a new event to acknowledge and reward people who work in or take part in the sport of running anywhere across Merseyside; all ages and abilities.

BTR Race Director Alan Rothwell commented:- "We are keen to recognise and celebrate all that is great about running here on Merseyside; and feel an event such as the Merseyside Running Community Awards is long overdue. We've chosen the categories carefully to have the widest possible appeal, as we want to see people of all ages and abilities nominated. The running community of Merseyside has really grown in recent years. The introduction of new events at all levels has attracted many first time runners to try the sport, while the more experienced race participants continue to be motivated by new challenges. There is already a lot of excitement surrounding the awards and we are keen to make this a key date in the annual running events calendar."

The 7 awards categories are:-
► Overcoming Adversity Award.
► Running Community Service Award.
► Most Inspirational Individual Award.
► Volunteer Team of The Year Award.
► Running Personality of The Year Award.
► Lifetime Achievement Award.
► Running Image of The Year*.

* Please note the Running Image category is the only category where individuals can nominate themselves.

Nominations are open until 11.59pm, on Sunday, 17 August 2014. A shortlist will be announced on Friday, 5 September 2014, when the public will be invited to cast their vote to choose their overall winners and event tickets will go on sale.

Voting will then close on Friday, 3 October 2014, with the winners announced at the special awards evening on Friday, 24 October 2014.

The Merseyside Running Community Awards is sponsored by BTR Liverpool, with support from sports brand Salming, Running Imp, Wild Thang, and the Northern Running Guide.

Find out more at:- BTRLiverpool.com.