LIVERPOOL'S ANNUAL COMEDY FESTIVAL RETURNS FOR A 13TH YEAR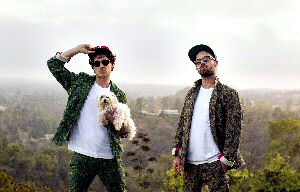 THE annual outing of Liverpool Comedy Festival returns for a lucky 13th year and with 13 days of the finest UK comedy performers, from Tuesday, 23 September 2014, running until Sunday, 5 October 2014, in venues across Britain's funniest City. Brought to you by The Comedy Trust, this year's festival sees a whole host of the biggest names in comedy from Monty Python legend Michael Palin at the Echo Arena to British Comedy Award winners and BAFTA nominees Cardinal Burns at the Epstein Theatre. The big names continue as the Unity Theatre showcase the legendary Sean Hughes, Foster's Edinburgh Comedy Award winner Bridget Christie plus many more. Treading the boards at the Liverpool Royal Court is Sony Gold Award winner Robin Ince and musical maverick Vikki Stone.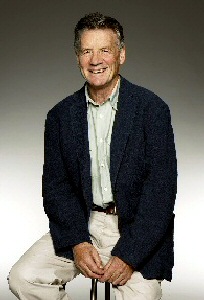 The stand up comedy scene is only as strong as the talented acts within it, in Liverpool they are plentiful. There is huge excitement building with the festival launching new shows from local legends Chris Cairns, Silky, Steve Gribbin, Laurence Clarke, Dave Twentyman, Adam Rowe and Jake Mills, plus the long awaited debut show from comedian Tony Carroll. Check out the full line up of stand-up acts at Liverpool's yearlong comedy clubs Laughterhouse Comedy, Hot Water Comedy Club, Comedy Central and Liverpool Comedy Cellar. Throughout the run of the festival is one of the funniest farces ever written, Noises Off at the Royal Court from 5 September 2014 to 4 October 2014, takes a look at the antics that happens backstage during a show? An all star cast including Allo Allo's Kim Hartman and Coronation Street's Tupele Dorgu will be making you laugh all Festival long. Sam Avery, Festival Manager and Comedian said:- "In my first year as Festival Manager I am absolutely thrilled with the line-up for the 13th annual Liverpool Comedy Festival. It's going to be more diverse than the Speke night bus with a huge cross section of comedians performing from Michael Palin, Cardinal Burns and Sean Hughes to our own big name comedians like Chris Cairns, Silky and Steve Gribbin. There are plenty of opportunities to see our new up and coming talent and it is going to be great to see comedy expand from our regular comedy venues to places you will least expect." As well as programming in to the City's usual performance venues and comedy clubs, there will be acts lined-up to perform in bars, shops, schools and even people's houses. There is also comedy coach tours, kids shows, pub crawls, poets, podcasts, open mic nights, quizzes, magicians, networking events, rap battles, plays, sketch groups, plus their first outdoor event 'Tee Hee In The Park' in Williamson Square in conjunction with Everton in the Community. To really immerse yourself in the festival then experience new talent and buy a ticket for someone you've never heard of. New talent can be heard at 81 Renshaw St, The Pilgrim and Hatters Hostel, with most shows only £5 for a double bill and 2 hours entertainment in the company of some of the stars of tomorrow!Don't miss one of Liverpool's favourite and longest-standing festivals, the Liverpool Comedy Festival from 23 September 2014 to 5 October 2014, in venues across the City. Visit the Festival's website for full line up, information and direct links to book tickets. Follow us on Facebook/The Liverpool Comedy Festival and Twitter @LpoolComedyFest.
DULUX DECORATOR CENTRE TO HELP SOUTHPORT DECORATORS BRUSH UP ON THEIR SKILLS
THIS autumn, Dulux Decorator Centre Southport is helping to support the professionalism of local painters and decorators by hosting a dedicated programme of activity at its store on Kensington Industrial Park. From September to November 2014, the store will be providing expert advice on a range of specialist topics to help decorators expand their skills and knowledge of new products and technology, and build their reputations for quality craftsmanship in the local area. Each month will focus on a different theme, with Dulux Decorator Centre Southport offering guidance on how to make the right impression in September, followed by advice on using the latest products and techniques in October. In November, the store will be celebrating and rewarding local decorators through the Nectar loyalty scheme. Throughout each month, Dulux Decorator Centre will also be running competitions both in store and on its Twitter (@DuluxDecCentre) and Facebook pages to celebrate and reward the successes of local painters and decorators. In-store, every customer that buys 10 litres of Dulux Trade paint or woodcare will be in with a chance of winning £10,000 for their business, a tablet, tyres for their van plus much more. For further information, please contact:- 01704 531 310.
Southport's men – have a free night out on us
THE Round Table, is the UK's largest young man's organisation, is offering the men of Southport a free night out with the lads. If your wheelie bin has more nights out than you do, then your local Round Table wants to change this. The new campaign has been launched to encourage men, aged 18 to 45, to reclaim their social lives and to try new things. Meeting just twice a month, Round Table enables people to have nights out, try new activities and to get involved within their local community. To earn a 'Free Night Out', men simply have to visit the Round Table Facebook page and register on the "A free night out" tab. The members of the club will then be in contact to invite them along to their next event. Cait Allen, Round Table Chief Executive, said:- "We know how busy modern men are, with work and family commitments often making it difficult for them to make time for themselves. With our Free Night Out offer, we want to make it as easy as possible for men to break from routine and do more with their evenings. We're the original and best social network, so why not claim a voucher and see what happens – it won't cost you anything!" To find out more about joining, visit:- roundtable.co.uk. To receive a 'Free Night Out' voucher, go to Facebook and search for 'Round Table Great Britain and Ireland'.

Poppy, 13, aims for the sweet smell of success by starting her own scented candle jar business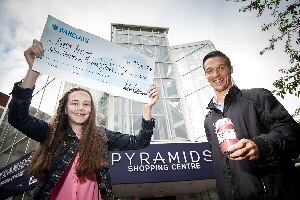 SCHOOLGIRL entrepreneur Poppy Wilson is hoping that competitors won't be able to hold a candle to her new business venture. Because, at the age of just 13, she's aiming for the sweet smell of success by embarking on an ambitious project to make and sell a range of scented candle jars. To help her get the scheme up and running she's already had a big cash boost of £100 from the Wirral Youth Enterprise Competition based at Pyramids Shopping Centre in Birkenhead.
Being run by HYPE - 'Helping Young People Everywhere' - which aims to help young people gain valuable work experience and qualifications, the competition is challenging young people aged between seven and 24 to come up with fresh business ideas and try to win one of a series of cash prizes from £10 to £100 to help them get it off the ground.

The 1st round of the competition was held at Pyramids in July and early August 2014 and the 2nd round started on 27 August 2014 and runs until 30 August 2014, from a base at the Bandstand in St John's Square in the Centre. Among those lucky enough to benefit from the first phase of the competition was enterprising Poppy Wilson from Saughall Massey on the Wirral who wowed judges with her scheme to make and sell scented candle jars to neighbours and friends. And she's encouraging other young people with an eye to business to make their own bid for some kick start cash.

Poppy, who attends West Kirby Girls' Grammar School where she'll be in Year 9 from September, said:- "I heard about the enterprise competition from a friend and went along to Pyramids to find out more about it a few weeks ago. I filled in all the details of my idea to make scented candle jars on the entry form and then I heard I had won a prize of £100, which is really good and will help me get my business started. Some of the materials I'm using are quite expensive so the money will pay for these. I think the competition is a great idea and if any other young person like me has an idea for their own business I'd tell them to go along to Pyramids later this month and enter themselves."

Poppy explained that her big idea was to buy in a stock of candle wax, candle wicks and glass jars to produce her product in a range of fruit "flavours" from strawberry to lemon curd. She'll then sell them for £4 each to neighbours and friends either by her own local leafleting, word of mouth recommendations or online through social media sites. Poppy reckons her total income from the first batch will be £160 which, minus her initial outlay, should leave her with a healthy profit of £60.

"The project will last for 1 month, but if it's successful I intend to keep things going by putting back the profit I make from the first batch of candle jars into the business," My candles are going to look just like homemade jars of jam with material over the top and string tied around for a vintage look to make them appealing to the eye. I think people would choose to, buy my product over others because they are unique as gifts and reasonably priced so people can afford them. I'm starting off with candles smelling strongly of strawberries and then, when I make some profit and invest in more materials, I'll try out lemon curd, blueberry, raspberry and lime. I'm designing and putting out leaflets advertising my candles on people's doorsteps and then I'll deliver them. My customers will mainly come from the Wirral area but I will also be advertising on social networking so I'm hoping to make the business larger and sell all over the country. I've only just started making the candles but I've already had about 10 orders from my neighbours, friends and family." said Poppy.

Despite her early display of business flair, Poppy, who has a sister Milly, 11, and 7 year old brother Ben, said she isn't considering a career in commerce as she plans eventually to become a doctor. "At the moment I'm just making and selling the candles because it's a lot of fun but if I'm really successful then maybe I'd change my plans," she confessed.

HYPE, which is running the Wirral Youth Enterprise Competition, was set up by Matthew Houghton in 2007 to offer support to young people across Wirral in a range of settings that includes youth clubs, employment programmes and education.

Matthew said:- "We know Wirral has some of the most innovative and talented young people around. So we're asking them what great ideas they can come up with and what would £10 or even £100 could do to help get it off the ground. We'll give people the money if the idea is a good one which is why we are going to be at the Bandstand in Pyramids Shopping Centre until Saturday, 30 August 2014, from 10am to 4pm. There young people can talk to our team about their ideas and fill in an application form. If their application is successful they can get cracking with their idea. To apply you must be aged between seven and 24 years old. You can get help from other people but the lead person must be under 24."

Derek Millar, Commercial Director for Pyramids Shopping Centre, said:- "It is exciting and inspiring to see some of the ideas which are coming through from young people in this terrific partnership project we have set up with Matthew and Hype. We wish Poppy lots of success and look forward to hearing about the progress of her project."

Matthew added:- "The ideas can be anything and everything. £10 could buy you a bucket and sponge and you could start washing cars. A few quid can set you up with a website and you could be selling online. You could make cards, cakes, drinks or bracelets to sell. If you are creative how about selling your own paintings, craft work or even music."

To find out more about the competition or other events planned with Pyramids Shopping Centre, call:- 0151 538 3307or 07719 171833,or you can also send an email to HYPE or download an application form.