Percy French, a Life in Formby
The photographs on this report were taken with thanks by Mr Bob Wagstaff - West Winds Video.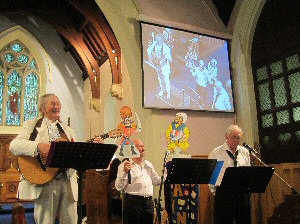 WHAT a wonderful afternoon's entertainment a large crowd of people received on Saturday, 23 August 2014. For almost 2 hours we were entertained in Formby's St Luke's Parish Church. This venue, in the Church in the Dunes, was the perfect setting for the performances of the famous Irish poet, Percy French's ditties, songs and, of course his poems.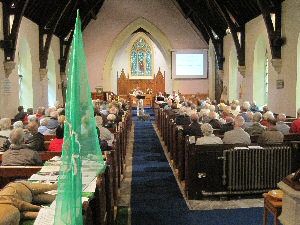 The singing and guitar trio called, The Privateers, did the honours. David Edward Davies, most ably acting as Percy French, set the scenes by talking to slides, singing and playing his guitar. He was well supported by both Ian Clark, and David Frank Davies, who played guitars, sang, and waved cut out figures, some of which were really quite humorous. A small group, from the Life Boat Tea Room, did sterling work during the interval serving tea, coffee and biscuits to everyone at the free concert.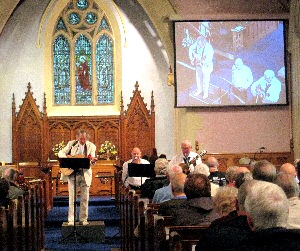 There has been a long connection between the late Percy French and St Luke's. He is buried in the Church yard, and the grave is visited each year by members of the Percy French Society, annually on the day he passed over, when a short service is usually held at the grave side with some of his works being read out. The Privateers chose to perform the following pieces which Percy French wrote: Eileen Oge, Drum Collier, Abdul Abulbul Ameer, Are You Right There Michael?, Come Back Paddy Reilly, Phil The Fluter, Slattery's Mounted Fut, Gortnamona, Oklahoma Rose, Mountains Of Mourne, and, as a special request, an encore Abdul Abulbul Ameer; each piece was preceded by background comment and pictures projected onto the wall screen. The large audience were delighted with such a high standard performance by the group, The Privateers.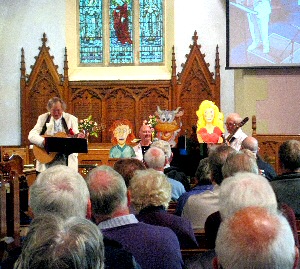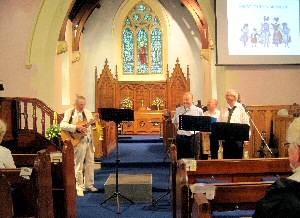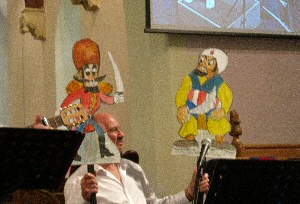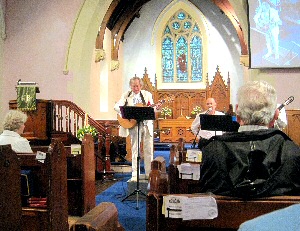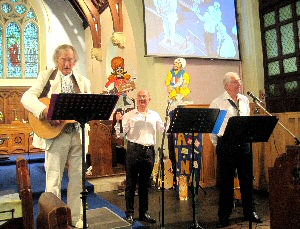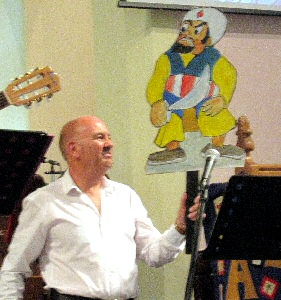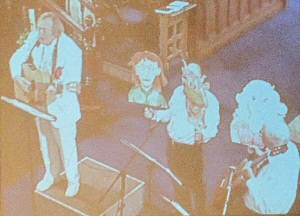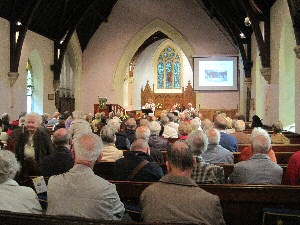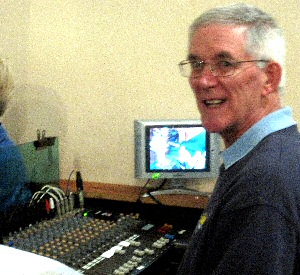 1st World War Commemoration Weekend to be held in Liverpool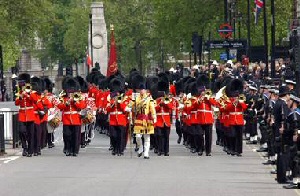 THIS September the City will be taken back in time to 1914 for the Merseyside 1st World War Commemoration, a special weekend programme of events to mark the 100 Year Anniversary since Britain entered in to the 1st World War, brought by The 1st World War Commemoration Task Group from Friday, 12 September to Sunday, 14 September 2014.

The programme of events will commence with a free concert at the Liverpool Anglican Cathedral on Friday, 12 September 2014. In this special concert a mass choir of Song Merseyside that has been formed especially for the event, comprising of Primary Schools from 6 local authorities, will perform a special selection of songs from the World War 1 era, which will echo through the Cathedral. Participating choirs Vox Swing, Pacific Swing, Sing Our Socks Off, Vox Voices, as well as many individual singers, all come together to present a wonderful highlight to lead the proceedings of the weekend.

St Johns Gardens will be transformed to 1914 Merseyside on Saturday, 13 September 2014, with a series of performances, exhibitions and stalls that will demonstrate to all exactly what life was like at the time of the outbreak of the First World War. Encounter everything from Housing, Clothing, Transport, Entertainment, Public Health and Women's Suffrage in this educational and informative experience which will give the public a fascinating insight in to life at the time. It will also explore what the Call to Arms meant to thousands of families in and around the (old) counties of Lancashire and Cheshire in this truly poignant event that will offer something for the whole family. There will also be a special guest appearance from The Band of the Grenadier Guards who will perform in the Gardens before a full concert that evening at St Georges Hall.

The Band of the Grenadier Guards, the sound which symbolises the very essence of the nation, will play a live concert filled with the music which has made them a national treasure for more than 3 centuries in the magnificent Great Hall at St Georges Hall, and is also a fundraiser for SSAFA, on Saturday, 13 September 2014.

Throughout Britain's history, the music of the Grenadier Guards has been the backdrop to national life and identity; representing British constancy, dignity and artistry; attributes shared with the venue for this unique concert; and the guard are now regarded as one of the world's finest military bands; having filled the streets of London with music and colour; a truly historic sound and sight which invokes the very sentiment of national pride. The band has not been seen in Merseyside within living memory so this is truly a once in a lifetime opportunity to see them play live.

There will also be a warm welcome for guests as brass musicians aged 11 to 18 from Resonate's Music Centre will be playing a special selection of music, entertaining guests as they arrive.

Concluding the weekend on Sunday, 14 September 2014, is a special Drumhead Service at Exchange Flags, honouring the ceremonies that Soldiers of all faiths and beliefs received before they went off to War in 1914, and also whilst they served. A Drumhead Service has its origins in the distant past where military chaplains in the field used the drums of their Battalion or Regimental band to construct a makeshift altar, so that they could hold religious services close to where the troops were positioned. The drums were covered by either a simple cloth or a flag and topped by a simple cross.

Councillor Roy Gladden, Chair of the 1st World War Commemoration Task Group said:- "I hope that as many people as possible will come together to commemorate the outbreak of the 1st World War. This commemorative event will give a small, but very informative insight to the generations of today of what life was like at the time of the outbreak of the 1st World War. This commemorative event recognises all the Commonwealth countries that were involved during World War 1 and representatives from each have been invited to attend."

This will be the 1st in a series of Commemorative events happening across the Merseyside region over the next 4 years, marking key dates and events throughout the 1st World War, and is truly not to be missed.

The 1st World War Commemoration Task Group is made up of the 6 local authorities Halton, Knowsley, Liverpool, Sefton, St Helens and Wirral as well as the Ministry of Defence and various organisations including SSAFA and the Royal British Legion.

Anyone interested in exhibiting at the event in St. Johns Gardens, on Saturday, 13 September 2014, can contact Susan McAdam on:- 0151 600 2918 or email her via:- susan.mcadam@liverpool.gov.uk. For further information can also be found on:- itsliverpool.com/culture

PERFORMANCE DETAILS:-

Primary Schools Concert
Location:- Anglican Cathedral, St James Mount, Liverpool L1 7AZ
Date:- Friday, 12 September 2014
Time:- 1:00pm to 2:30pm
Tickets:- Free Event

World War 1 Commemoration Day
Location:- St Johns Gardens, William Brown Street (Behind St Georges Hall), Liverpool
Date:- Saturday, 13 September 2014
Time:- 10:00am to 5:00pm
Tickets:- Free Event

The Band of the Grenadier Guards
Location:- St George's Hall, St George's Pl, Liverpool, Merseyside L1 1JJ
Date:- Saturday, 13 September 2014
Time:- 6.30pm (doors) for 7.30pm (show)
Tickets:- £20.00 (Inc Booking Fee) Purchase in person at TicketQuarter, Queen Square, Liverpool, or go online also you can call:- 0844 800 0410, alternatively you can call the St George's Hall Shop on:- 0151 225 6909.

Drumhead Service
Location:- Exchange Flags, Liverpool, L2 3YL.
Date:- Sunday, 14 September 2014.
Time:- 12:00pm to 12:45pm.
Tickets:- Free Event.
Road crash victims remembered
LIVERPOOL'S Lord Mayor will join relatives and friends of those who have been killed or injured as a result of road incidents this week. On Sunday, 31 August 2014, at 1pm, the annual remembrance, organised by national charity RoadPeace, will take place on the Rankin Steps of the Anglican Cathedral. Lord Mayor Councillor Erica Kemp said:- "This is an opportunity for us to join together and remember all of those who have been killed and injured on our roads. Our thoughts will be with their families and friends."

Pauline Fielding of RoadPeace said:- "We encourage anyone who has been bereaved or injured through a road crash to join us for this remembrance and the chance to support and talk to each other after the ceremony. We are thankful to those who support us and to those who are working hard to reduce the number of people killed on the roads of Merseyside."

A minute's silence will be followed by the release of 5 doves, symbolising the average number of people who die each day on the roads across the UK. The event will also be attended by dignitaries and representatives of the emergency services and organisations which deal with and support road crash victims.
The anniversary not only marks 17 years since the tragic death of Princess Diana, but also that of the world's 1st road death in Ireland in 1896 and Britain's 1st road death, when Bridget Driscoll was killed at Crystal Palace, on 17 August 1896, with the then coroner pronouncing "This must never happen again." Since then, over half a million people have been killed in crashes in Britain and the current annual global death toll is estimated at over 1.3 million deaths. RoadPeace 1st introduced a day of remembrance in 1993, and has organised ceremonies of remembrance ever since; giving families an opportunity for an act of private remembrance, as well as giving public recognition to the terrible toll of road death.
Illegal tooth whitener fined £15,000
THE UK regulator of dental practice, the General Dental Council (GDC), has successfully prosecuted a Wirral based man for unlawfully practising dentistry. On 26 August 2014, Wayne Roberts was found guilty at Wirral Magistrates' Court of 2 offences of unlawful dentistry (namely tooth whitening), contrary to Section 38 (1) and (2) of the Dentists Act 1984 and 1 offence of Unlawful Use of Title, namely 'Dental Technician', contrary to Section 39 (1) and (3). Mr Roberts didn't attend court. "He's been fined £5000 on each count (a total of £15,000) and ordered to pay a £500 victim surcharge. Mr Roberts was also ordered to pay full costs to the GDC of £3167.25." said the General Dental Council (GDC) to us. It is reported that the offences took place at Caldy Clinic, 161 Banks Road, West Kirby, Wirral, Merseyside, CH48 3HU and Caldy Clinic, 49 Rodney Street, Liverpool, L1 9EW. Also the General Dental Council (GDC) said that:- "Mr Roberts is linked to the provision of illegal tooth whitening using the 'Megawhite' brand of products. By law, only dentists, dental hygienists, dental therapists and clinical dental technicians (working to the prescription of a dentist) can carry out tooth whitening. Also by law, all dentists, dental nurses, dental technicians, clinical dental technicians, dental hygienists, dental therapists and orthodontic therapists must be registered with the GDC to work in the UK. This is to ensure only appropriately qualified and skilled dental professionals are part of the dental team looking after patients."
Trust A&E services maintain top performance
HOSPITAL staff at Southport and Ormskirk were once again among the top 10 best performing A&E teams in England this spring. The figures show that the Trust comfortably exceeded the national target for patients to be treated, discharged or admitted to a bed within four hours. The Trust was eighth equal out of 144 NHS trusts. Southport hospital, in particular, continues to improve its performance even though staff saw 4% more patients in June, for example. The good news for patients is part of a continuing trend with the Trust having another top 10 performance in 2013. Chief Executive Jonathan Parry said:- "A&E performance is closely linked to how well we're looking after patients elsewhere in the hospital. So these figures don't just reflect the skill of our A&E staff but also the hard work of staff on the wards and providing health care support. It is important too to remember this is a collective achievement for the local NHS. We have been working for more than a year now with GPs, local authorities, the ambulance service and voluntary groups on a programme called Care Closer to Home to better meet patients' needs outside hospital." Southport and Ormskirk Hospital NHS Trust provides adult A&E services at Southport hospital, children's A&E at Ormskirk hospital as well as urgent care at Skelmersdale Walk-in Centre. In 2013/14 the Trust handled a total of 98,163 urgent care cases.