RMT slams "all-out war" on rail in the North as Government reneges on promise to scrap "Pacer" trains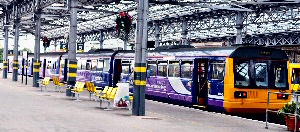 RAIL UNION RMT today slammed the Government for launching and "all out war" on rail in the North as it emerged that they have dumped a flagship pledge to scrap the hated 'Pacer' trains, diesel multiple units (DMUs). The revelation comes just a week after the close of consultation on the future of rail services on Northern and Trans-Pennine Express led to RMT delivering 10,000 postcards registering opposition to the Government's cuts to jobs and services and also follows news that Northern are scrapping a wide range of off peak fares in 2 weeks times.

The clapped out, 30 year old trains, were due to be replaced as part of the new franchise, due to be introduced on Northern Rail by 2016, but the Department for Transport has now been forced to admit that the Pacers may be "modernised" instead, to keep them running for at least another decade.

Also to meet the Disability Discrimination Act 1995, that says:- "all public transport must be accessible by 2019", as no Pacers currently meet this requirement, they will have to have extensive refurbishment to be upto standard, which is a worry to some in the industry.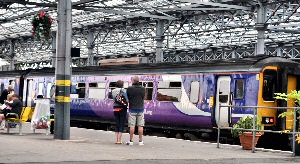 The background to these trains was that in the late 1970's British Rail (BR) started a project to create a train, with low running costs, for use on rural and suburban rail services and the 'Pacer' series was born. The first of them stared coming in to service in between 1980 and 1987. In total 165 Pacer trains (totalling 340 carriages), a lightweight train similar to railbuses, have been built

Now that the latest attack on rail services in the North is bound up with the UK Government's shambolic fleet replacement programme which means that they have a chronic shortage of rolling stock to cascade through the network. The move on 26 August 2014, has been seen as a massive embarrassment for the Government, after it promised, in a Commons debate earlier in 2014, that the Pacers would go.

Stephen Hammond, the then Rail Minister, told MPs:- "We expect to ask bidders for the Northern franchise to put forward proposals for the removal of Pacers from the area. That pledge has been ripped to shreds as the Government are once again caught conniving with the private train companies to avoid investment in the name of maximising profits from the Northern routes. The Pacers were supposed to be nothing more than a short term lash up. Brought in as a stop gap in the mid 1980's they consist of a bus body mounted on a freight wagon chassis and the Government's ditching of its pledge to remove them means that they will now remain in service for another decade."

Mick Cash, RMT Acting General Secretary, said:- "The ditching of the pledge to replace the 'Pacer's' as part of the new Northern Franchise shows clearly, that despite all the rhetoric from George Obsorne, this Government are waging all out war on rail passengers in the North. Taken alongside the abolition of off peak fares, the axing of guards and the assault on services and ticket offices, there can be no other explanation. The end of the consultation last week was just the end of round one in the fight to stop the carve up of jobs and services on Northern and Trans Pennine Express. RMT is now preparing for the next phase which is ratcheting up the political pressure on these issues with the next election looming large on the horizon. Politicians across the North need to recognise that if they don't oppose the plans to rip apart rail services in the region in the name of profit then they will be called to account by an electorate that RMT will ensure is fully aware of the issues. The only solution to this racketeering on our railway tracks is public ownership and the return of our railways to the people on the basis that they are run as a public service and not as a get rich quick scheme for greedy private train companies."
WEST LANCASHIRE RAILWAY 50th ANNIVERSARY OF CLOSURE TOUR
ON Sunday, 7 September 1964, British Railways succeeded in their 5 year objective of closing the Line that ran from Southport to Preston. Join the The Friends of the 502 Group and the Merseyside Transport Trust, 50 years thereafter, on Sunday, 7 September 2014, as they take a tour by bus along the route of the original West Lancashire Railway, from Southport to Preston commencing 11:30am at London Street, Southport, at side of Southport Station. The Friends of the 502 Group will be using vehicles provided by Merseyside Transport Trust in Burscough where our 502 Unit is being restored. Return to Southport will be before 17:30. "We will be visiting most of the original Station locations with frequent stops at for example Meols Cop Carriage Works, Hesketh Bank for visit to and trip on West Lancashire Light Railway (included) and Preston Fishergate Hill terminus. Refreshments are available at West Lancashire Light Railway. This event is being organised by Friends of 502 group who own the surviving example of 1938 Electric Stock which ran along part of route to Crossens until 6 September 1964, Merseyside Transport Trust, West Lancashire Light Railway Trust and Ormskirk, Preston and Southport Travellers Association. Places; which are going fast; may be reserved by application in advance to the 502 Group's Treasurer, Tony Kuivala, at the 502 Group, via emailing:-treasurer@class502.org.uk and enquiries can also be made to Tony on:- 07885 435542. Please note that numbers are strictly limited, so book now or you are likely to be disappointed. Also please remember that all the organisers involved areare voluntary bodies. The Friends of the 502 Group and the Merseyside Transport Trust, as such are always ready and willing to accept donations to help forward their aims. There will be opportunity to see me late on the day." said the 502 Group.
Readymade waterway days at the National Waterways Museum packed with fun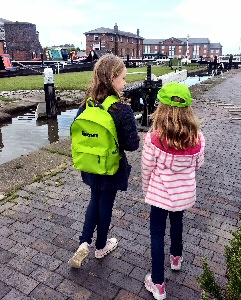 THE Canal and River Trust Education 'Explorers' are excited to announce the arrival of brand new family fun resources at the National Waterways Museum. Families and school groups are now able to borrow Explorer backpacks to help them discover the museum site. The backpacks contain activities children can do around the site along with objects and resources they need to complete them.

Helen Evans, the Canal and River Trust Education Co-ordinator said:- "We have developed the backpacks in partnership with Cheshire West and Chester Council with thanks to funding from Arts Council England. The museum is a great place for families to enjoy and explore together and the backpacks are designed in a way to do just that. Families can explore engineering and focus on social history whilst using the enclosed magnifying glass, spy book, slate and chalk, nut and bolts set and the battle of the boats card set."

The National Waterways Museum at Ellesmere Port is open all year round and showcases the history of the canals and the lives and times of the people who worked on them. A collection of canal boats can be seen at the museum, with several open for visitors.
To find out the very latest information on all that is happening at the museum can be found on its Facebook Page or by visiting the groups website.

Liverpool City Region's 30 year Rail future detailed in new strategy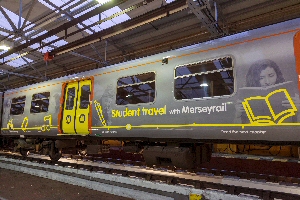 THE rail schemes that will support and grow the Liverpool City Region economy over the next 30 years by improving links within it and to cities and towns further afield, have been detailed in a Long Term Rail Strategy.

The document will be put to the Merseytravel Committee on 4 September 2014, before going to the Combined Authority for approval on 19 September 2014.

A draft blueprint, which outlined the package of 12 rail priorities, was approved by both bodies in May. The full strategy details potential individual schemes within these 'themes', the rationale behind them and possible timescales.

The transformation HS2 could bring is reflected in the schemes being taken forward as is the importance of developing East to West connectivity across the whole of the North, including key programmes already in development, such as electrification of the lines between Liverpool and Manchester, to reduce journey times.

Cllr Liam Robinson, Chair of Merseytravel said that:- "This is real 'big picture' thinking by the Liverpool City Region (Merseyside). Such strategies are not traditionally driven by local bodies. Doing it this way, working with Network Rail, ensures that our transport planning is intrinsically linked to our economic planning. There's growing confidence in our City Region economy and a recognition of the key role that we have in the 'Northern Powerhouse' as a means to rebalance the whole UK economy. But this can only be properly realised by ensuring that we are geared up for a significant increase in passengers and freight over the next 30 years. The rail strategy is about co-ordination and building on our successes, most notably the Merseyrail network. It is about ensuring that the rail connections we have within our City Region (Merseyside, including parts of West Lancashire, Grater Manchester and Chester) to link seamlessly with those beyond, not only to what we would consider the untapped potential of local catchment areas such as North Wales and Skelmersdale, but to London and to places like Manchester and across the Pennines to Leeds through better, faster and more frequent connections. Delivering on our strategy will make us 'HS2 ready' and it puts us ahead of the game in taking forward East to West connectivity across the North. The need for City Regions to develop their own plans to feed into this bigger picture was 1 of the recommendations of the 'One North' report presented to the Chancellor earlier this month."

The Long Term Rail Strategy, developed by Merseytravel as strategic transport advisor to the Combined Authority, is intended to be regularly reviewed to ensure it reflects changing economic circumstances and funding opportunities over the next 30 years. All individual schemes proposed will demand full feasibility studies and robust business cases to progress.

As a result of all these factors, it is unlikely that all those projects listed will become a reality. Conversely, there may be new schemes proposed during the life of the strategy in response to new demands, for instance, as yet, unplanned regeneration schemes.

The scheme areas proposed to be taken forward are:-

► Improving National Passenger and Freight Connections

Increasing frequency of Liverpool – London services; new direct routes including to Scotland and South Wales; extending platforms at Liverpool South Parkway to take longer trains.

► Enabling Growth on the Merseyrail Network

Replacing the stock with higher capaCity units with the capability to run on parts of the network where they do not currently; power upgrade to the network; improvements to station accessibility.

► Increasing CapaCity in Liverpool City Centre

Encouraging more use of James St and Moorfields stations especially at peak times; extending and increasing platforms at Lime Street to accommodate additional services (including high speed trains); creating more platform space at Liverpool Central; investigating the potential for a new City Centre station.

► Improving Connectivity on the City Line

Improving the level and quality of services in line with the success of Merseyrail. Increasing capaCity at Wavertree junction for services between Mossley Hill and Edge Hill; extending Merseyrail services between South Parkway and the Airport, Speke and Runcorn; creating new stations to serve the universities and Smithdown Road corridor.

► Facilitating a High Quality Service on the Cheshire Line

Electrification and capaCity enhancements allowing for more and faster trains; extending Merseyrail services to Warrington and beyond; new stations at Tarbock Interchange (or Halewood South) and Warrington West.

► Connecting via Halton Curve

Restoring direct connections to Wrexham and North Wales from Liverpool and Liverpool Airport; faster journeys and increased frequency to Chester; direct link to Frodsham and Helsby; creating an alternative route between Liverpool and Cardiff via Shrewsbury.

► Improving Connections to Chester and Ellesmere Port

Electrification of Chester–Crewe line (Crewe being HS2 hub), North Wales mainline and Chester– Warrington line and Ellesmere Port – Helsby line; new route between Chester and Leeds via Newton-le-Willows.

► Serving New Development on the Southport – Wigan and Ormskirk – Preston Line

Improving links with new developments in West Lancashire and South Preston. Electrification of the Ormskirk – Preston line; reinstatement of Burscough curves between Ormskirk/Preston and Southport directions; interchange station at Burscough Bridge allowing connections between Ormskirk/Liverpool services and Southport/Wigan services.

► Connecting to Skelmersdale and New Development in Wigan

Electrification of the line between Kirkby and Wigan; electric spurs between Rainford and Skelmersdale and Upholland and Skelmersdale; new stations at Headbolt Lane (Kirkby) and Skelmersdale; increased services between Kirkby and Manchester Victoria/Rochdale line.

► Enhancing the Borderlands Line

Increasing service frequency between Wrexham and Bidston; new station at Deeside industrial Park; full electrification of the line longer term. This would be incorporated into the Merseyrail Wirral line.

► Converting Freight Lines to Passenger Usage

Review the findings of the Northern Ports study to better understand the requirements for freight access to Port of Liverpool, but current plans include upgrade of North Mersey and Bootle branchlines to passenger services creating new routes to Ormskirk and Edge Hill; new stations at Anfield, Tuebrook and Edge Lane.

► Selected New Stations

Responding to new developments, new markets and areas of latent demand, including stations that do not fit into other packages. Proposed new stations at Carr Mill, Ditton, Maghull North, St James, Vauxhall, Town Meadow. All these would be subject to an evaluation exercise to better understand the potential. This would have to be satisfied before progressing to the statutory development framework (GRIP stages).

To read the Committee report and Long Term Rail Strategy in full, please visit the website:- merseytravel.uk.net.