Smoking costs Councils in North West more than £91m a year in social care costs
NEW figures from Action on Smoking and Health (ASH) show that Councils in the North West are paying more than £91m a year to help people with smoking-related illness to live in their own homes (domiciliary care). The true figure could be much higher because of lack of information on some costs. There are no figures at all for what Councils spend to support people aged under 50.

Individuals across the region also face a bill of over £67 million to cover the cost of their own care. This means that more than £158 million is spent unnecessarily on social care every year in the North West as a result of smoking.

For the first time the new research has estimated the cost of smoking to the social care system. It reveals that current smokers over 50 are twice as likely to need help with day-to-day living and on average need care 9 years earlier than non-smokers.

The study shows that every year 5,600 more people in the North West need local authority social care as a result of smoking. However, smoking means that in the region of 126,000 people are receiving unpaid care from friends or family.

The costs of smoking to the social care system in England also shows that local authorities spend more as a proportion of their care budgets on smoking-related care than the NHS does.

Peter Hunt, 67, has COPD (chronic obstructive pulmonary disease) and a heart condition caused by smoking:- "I've received support from the Council for two years and the care is vital; I really couldn't do it without them. My carer comes in every morning to help me with washing, shaving and changing and my wife helps out too; she has to, I can hardly do anything for myself. I can make a cup of tea myself but I can't carry it anywhere. I also have a walk-in shower and a ramp to help me get into the house. I pay for as much of my care as I can and the local authority provides what's left."

Andrea Crossfield, Chief Executive of Tobacco Free Futures said:- "Continued investment in supporting adults to quit and preventing young people from starting to smoke is important to alleviate local authority budget pressures and bring money back into communities. Measures to reduce the number of children and adults smoking in communities, such as standardised tobacco packaging can also have a significant part to play in reducing local authority costs both now and in the future. Local authorities can invest now in both comprehensive tobacco control and stop smoking support to improve the health and wellbeing of their communities and secure savings in Council budgets which currently amount to more than £91m a year across the North West."

Dr Janet Atherton, a Director of Public Health in Sefton speaking on behalf of North West Directors of Public Health said:- "For every person who dies from smoking, 20 are living with a smoking-related illness. This research allows us to quantify that impact, not just on local authority funded services but also on our local communities. Smokers not only die younger but need care on average nine years earlier than non-smokers. Local support to help people quit and to reduce the number of young people taking up smoking is vital."

Deborah Arnott, Chief Executive of ASH commented:- "From next April when the Care Act 2014 becomes law Councils will also have to fund the extra social care costs of preventative measures in order to reduce the need for care in people's homes; this at a time when they face further cuts to their budgets. Investing in tobacco control and supporting smokers to quit will have to be high on the list of preventative measures to enable Councils to cut their social care bills in the future. Our research has funding estimates for every top tier English local authority to help Councils plan and cost services at local level more effectively. Local authorities are facing a financial squeeze that makes effective and targeted spending on preventative services all the more important."

Paul Burstow MP and Chair of the All Party Parliamentary Group on Smoking and Health said:- "Smoking remains by far the biggest single cause of preventable deaths in the UK and a significant cause of disability and ill health. Councils now lead on both public health and social care. Smoking brings both together. By helping people to quit smoking not only will it improve their health but it will mean they require less paid-for care in the future. With the pressure on Council budgets, this report makes the case for investing in smoking cessation now to save money on social care in the future."

The Association of Directors of Adult Social Services President David Pearson said:- "Local authorities currently face real difficulties with a growing need for social care at a time of shrinking resources. The number of people who, as a result of smoking, need care from the state or from family members is very high. Reducing smoking can help to address funding challenges and make a real difference to those who may otherwise need years of care. Working with colleagues in public health to encourage people to stop smoking could make an important contribution to reducing pressures on adult social care in the future."

Local residents could win up to £1750 worth of prizes in photo competition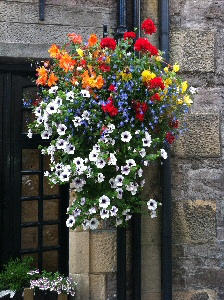 RESIDENTS, Councils and gardening groups around Liverpool are being offered the chance to win prizes worth a total of £1750 in a national photo competition which closes on 30 September 2014. The competition is being run by horticultural supplier Amberol who make a range of self watering plant containers at their Midlands factory. To be in with a chance of winning one of the prizes on offer, entrants need to submit a photo of an Amberol container from anywhere in the UK or around the Liverpool area. Amberol containers come in a range of shapes, styles and colours, but can be recognised by the company's label which is usually found near the base of the planter. Company MD Patience Atkinson Gregory is keen to receive as many entries as possible. She comments:- "With the judging period for Britain in Bloom recently ended, the streets of Liverpool have never looked lovelier. We are proud to help play a part in that and so to celebrate, we are asking people to send in photos of any Amberol containers that they see. If you see a great display, just look for our logo at the base of the container and if it's one of ours, take a picture and send it in; it's as simple as that!"

Entries should be submitted via the company's website before 30 September 2014. First prize is a selection of Amberol goods to the value of £1000, with the second placed photo winning goods to the value of £500 and 3rd place goods to the value of £250. "Communal displays are such an important part of our local landscapes. We love to see examples of the fantastic displays that Britain in Bloom entrants, Councils, businesses and schools come up with using our products, which is why we first started the photo competition several years ago." adds Patience.

For more information about Amberol's self watering products visit:- amberol.co.uk, visit the Amberol Facebook Page or you can alternatively call:- 01773 830 930.
LHK PRODUCTIONS ANNOUNCE DANCE AUDITIONS FOR THE BIGGEST PANTO IN TOWN
LIVERPOOL'S LHK Productions are working hard in anticipation of the Christmas season when they bring Jack & the Beanstalk to the Epstein Theatre. With a massive 49 shows from Thursday, 11 December 2014 to Sunday, 4 January 2015, it is set to be the biggest show in town. Producers are excited to announce opportunities to perform in this gigantic production, giving ambitious and talented local dancers the chance to star on stage. On Sunday, 21 September 2014, LHK Productions will hold auditions at the Epstein Theatre for senior gifted male and female dancers, aged 15+ with a strong jazz technique. This enchanting production is filled with excitement, adventure, hungry giants and magic beans and this open audition will give dancers a chance of being part of something truly magical. The enormous panto is returning after the huge success in 2012 and in 2013. This year, stars include Towie heartthrob Dan Osborne, and My Big Fat Gypsy Wedding star Thelma Madine, for audiences delight in Liverpool. The Only Way is Essex star Dan Osborne makes his panto debut alongside Thelma, in what promises to be an eventful show with both stars throwing themselves in to the excitement and insanity of the Christmas panto season at the Epstein. Former model Dan will set the hearts of woman in Liverpool racing this Christmas, headlining the show as Jack. His good looks, charm and general physique have ensured his rise to fame and lead to his second calendar release this year, shot in Majorca, which has had huge success for the young stud. After many television appearances, including ITV1's Splash with Tom Daley, Dan now wants to entertain live audiences on stage. The costumes will be sensational with fairy Godmother Thelma Madine, donning one of her own out of this world frocks, whilst she is dancing around stage holding her magic wand as the Fairy Godmother. She is sure to bring the glitz and glamour to Jack & the Beanstalk and her unique style to the stage as she does designing dresses to woman all over the world. Anyone fitting the bill with great technical, jazz ability and a good commercial appeal should come down to The Epstein Theatre, Liverpool on the 21 September and audition for the best Christmas panto of 2014! Registration is from 12.30pm.
Audition Details:-
Jack and the Beanstalk, Male and Female Senior Dancers (15+)on Sunday, 21 September 2014, Epstein Theatre, Hanover Street, Liverpool, 12:30pm.