A Dream of Wilfred Owen, Great War Poet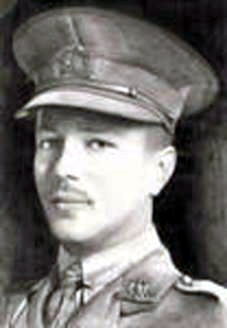 A play about the extraordinary life of Great War poet Wilfred Owen will be performed next month at St George's Hall, Liverpool. 'A Dream of Wilfred Owen' by David Charters will be staged in the Concert Room of the iconic landmark building on Friday, 17 October 2014, starting at 7.30pm. Known as the soldiers' poet, the story will be told from the perspective of Wilfred's ghost who will take the audience on a journey back to the time of World War 1. The story follows real and imagined events in Owen's life, from growing up in Birkenhead where his father, Tom, was master of the busy Woodside railway station, to his own war experiences in the trenches. 'A Dream of Wilfred Owen' has been written by Merseyside journalist David Charters. David has been a journalist for almost 50 years, including 25 years as a columnist in local papers. The dramatic 70 minute play is a departure from the media for David, who has published 2 books about Merseyside's history, as well as a compilation of his humorous musings. Not only has David written the play, he will also be playing the part of Wilfred's ghost. Writer David Charters explains:- "Writing this play was a challenge to which I have devoted years of energy and passion. I hope it will help audiences appreciate Owen's peculiar view of life, and how even the horrors of war did not destroy his belief in the essential good to be found in humanity. I have created 2 passages in the story, though in their dramatic form they symbolise the development of Owen and his poetry. Writing this play has been the fulfilment of an ambition that has been with me for many years. And to have the opportunity to perform in the Concert Room of St George's Hall, which has heard the voices of so many great writers, is a huge honour." As a prelude to the play, there will be a reading of other poems by Wilfred Owen. Several popular songs of the day are included in the play along with actors from theatre company Love History.
PERFORMANCE DETAILS:-
What:- A Dream Of Wilfred Owen.
Where:- Concert Room, St George's Hall.
When:- Friday, 17 October 2014.
Time:- 7:30pm.
Tickets:- £10 / concessions available.
How to Book:-
TicketQuarter:- 0844 8000 410.
Online at:- ticketquarter.co.uk.
Also you can collect in person at TicketQuarter, Queens Square, Liverpool.
A hospital trust is investing more than £1m in a 2nd MRI scanning suite
THE radiography unit at Southport and Formby District General Hospital has been extended to accommodate a new MRI scanner and work on the £1.2m project will be complete by the early New Year. A 50ft crane will lower the 7 tonne machine into place on Sunday, 28 September 2014. Once installed, the machine will operate with the existing scanner which was installed in 2005. That scanning suite will be refurbished once the new scanner is operational. MRI (magnetic resonance imaging) is a type of scanner that uses strong magnetic fields and radio waves to produce detailed images of the inside of the body. The scans can be used to examine almost any part of the body and the results can be used to help diagnose conditions, plan treatments and assess how effective previous treatment has been. Capital projects manager Neil Aindow said detailed planning was needed to safely lower the £500,000 machine into place. "Apart from the fact this is a very expensive piece of equipment, we have had to ensure the scanner is lifted safely, so as not hang at any time over occupied parts of the hospital. That's why we need such a big crane." The crane will be on site from 8am until lunchtime while the lift takes place. Staff will be on hand to redirect visiting motorists and ambulances as necessary around the hospital site. Jeanette Abraham, assistant director of operations for planned care, said:- "This is a major investment which will help meet increasing demand for MRI services. A second scanner will also reduce waiting times for diagnostic investigations and, in turn, get patients home more quickly."

AMBERFIELD – KEY TO UNLOCK HOUSING SHORTAGE
RICS have proposed a new solution to solve the UK's chronic housing shortage in the RICS Property in Politics report. Among a raft of recommendations, the report recommends the introduction of a new land classification, Amberfield; which would create a pipeline of 'ready to go' land, increasing housing supply and promoting development opportunities.

Under RICS proposals, Local Authorities and communities will have to work together to label sites favourable for development as Amberfield and each Local Plan will have to include a set quota of Amberfield, ready to be developed for housing. The quota is expected to be set between 30% and 50%, but the framework and guidelines for each quota would be open to consultation in order to match the specific needs of each Local Authority and community.

Amberfield sites would have to be developed within 5 years and therefore Local Authorities will be required to approve planning consent for Amberfield within a set time frame, otherwise the Authority would risk being classed as 'failing' under the RICS proposed OfPlan assessment. The new classification will enable local housing needs to be met and would create a 5 year land supply that works for communities and builders. The community will have better understanding of the planning process, more control over what is built where, and be able to see the long term development plan.

While both brownfield and greenfield play an important role in the current planning system, both classifications block or slow development and local growth is being impeded by extensive battles to bring forward land. Amberfield will speed up the process and take out cost for both developers and local authorities - enabling homes to be built faster on the agreed sites. It will provide certainty to investors, unlocking development opportunities, and will also encourage local infrastructure investment.

The review of land classification, coupled with the other RICS recommendations; including Development Delivery Units (DDUs) and a nationwide housing zones programme; will cut through the bureaucracy barriers, speeding up housing delivery and encouraging cooperation across local authority boundaries, stitching together the regions.

The RICS Property in Politics report is the result of the largest consultation ever undertaken by RICS, with property professionals from across England sharing insight into the biggest challenges currently facing housing, planning and development, construction and infrastructure and what actions a future Government should take to remedy them.

Jeremy Blackburn, RICS Head of Policy, commented:- "A new classification labelled Amberfield would speed up the delivery of appropriate housing stock. The housing market plays a fundamental part in the UK economy and adequate, affordable housing supply is vital to the UK's economic growth. The planning system needs to be responsive to the needs of customers and increased confidence is needed in which sites can be taken forward. We would suggest a quota of 50% Amberfield for most Local Authorities as it would enable them to deliver the appropriate housing stock required, but it is important to match the quota to the needs of the local community. Housing must be a common theme across a range of policy areas, and the actions we are calling for would add real impetus to housing delivery. Successive Governments have failed to achieve delivery of the appropriate housing stock we require and we need reform now to give certainty for long term investment."
The report puts forward 12 recommendations that RICS believe should be implemented by a future Government to build a vibrant, sustainable property marketplace in the UK. RICS calls on a future Government to:-
Housing
► implement Development Delivery Units and Housing Zones.
► Issue Property Tax Forward Guidance within its 1st 100 days.
► Deliver a Professional Private Rented Sector (PRS).
Planning and Development
► Introduce Amberfield: a new planning class.
► Embed Local Plan Enforcement.
► Lead a Resource Revolution in Planning.
Construction
► create a National Procurement Framework.
► introduce a Construction Skills Investment Charter.
► implement a Construction Finance Hub.
Infrastructure
► produce a National Infrastructure Delivery Plan.
► promote 'Olympic style' Infrastructure Delivery Partners.
► setup an Infrastructure Commission.