Karen Potter Craven Minor JFL

Results Week Ending 14 September 2014
Under 11 Premiership
Formby JSC White 0-2 Redgate White
Maghull Youth 7-0 Birkdale United
Trinity White 9-2 Southport FC Juniors
Under 11 Championship
Hesketh Colts 0-7 Crosby Stuart
S&A Amateurs Blue 2-1 Trinity Blue
Redgate Yellow 2-2 Formby JSC Black
Phoenix 6-1 Formby Athletic
Under 12 Premiership
Town Green 6-1 Hesketh Colts
Formby JSC Rangers 2-0 Formby JSC White
Birkdale United 1-1 Trinity Blue
Formby Athletic 1-8 Trinity White
Under 12 Championship
Ormskirk 6-0 Mitch Red
S& B Red 6-1 S&A Amateurs
Southport FC Juniors 6-2 Phoenix
Under 13
Southport Trinity 7-0 Hesketh Colts
Redgate Rovers 0-8 Southport FC Juniors
Birkdale S 8-1 S&A Amateurs
Birkdale Black 9-0 Birkdale R
Formby JSC 6-3 Formby Athletic
Under 14
Southport FC Juniors 4-1 Redgate Rovers
Hesketh Colts 2-0 Birkdale United
Birkdale Black 6-1 S&A Amateurs
Southport Trinity 4-1 Formby JSC
Under 15
Redgate Rovers 4-0 Churchtown Athletic
Southport FC Juniors 1-7 Birkdale United
The Hares 6-1 Formby JSC
Under 16
Hesketh Colts 2-1 Formby JSC
Jaguars Red 1-6 S&A Amateurs
Redgate Yellow 9-0 Redgate Green
Churchtown Athletic 8-0 Jaguars White
Under 17/18 Premiership
Myers 4-0 Lydiate
AFC Liverpool 5-3 S&A Amateurs
Birkdale United 2-4 Redgate Rovers
Under 17/18 Championship
Burscough Green 4-2 S&A Blue
Formby JSC Black 3-4 Birkdale Black
Hudson Celtic v Redgate Yellow
late result
Dynamo Rangers 1-2 Southport Trinity

Fixtures Week Ending 14 September 2014

Under 11 Premiership
Burscough v Formby JSC White
S&A Red v Birkdale United
Maghull Youth v Trinity White
Redgate White v Southport FC Juniors
Under 11 Championship
Crosby Stuart v Phoenix
S&A Blue v Formby Athletic
Trinity Blue v Redgate Yellow
Formby JSC Black v Hesketh Colts
Under 12 Premiership
Hesketh Colts v Formby JSC Rangers
Formby JSC White v Trinity White
Trinity Blue v Town Green
Formby Athletic v Altown United
Under 12 Championship
Ormskirk v S&B Yellow
Mitch Red v Mitch Green
S& B Red v Southport FC Juniors
Phoenix v Redgate Rovers
Under 13
Birkdale R v Redgate Rovers
Hesketh Colts v Southport FC Juniors
S&A Amateurs v Southport Trinity
Formby Athletic v Birkdale Black
Under 14
Southport FC Juniors v Hesketh Colts
Birkdale Black v Birkdale United
S&A Amateurs v North Sefton
Redgate Rovers v Southport Trinity
Under 15
Birkdale United v Churchtown Athletic
The Hares v Southport FC Juniors
Formby JSC v Southport Trinity
Under 16
Southport FC Juniors v Hesketh Colts
Formby JSC v S&A Amateurs
Redgate Green v Jaguars Red
Under 17/18 Premiership
Hudson Rangers v S&A Amateurs
Birkdale United v Lydiate
Under 17/18 Championship
Redgate Yellow v S&A Blue
Dynamo Rangers v Burscough Green
Southport Trinity v Formby JSC Black

First time buyers helped by the Bank of Mum and Dad receiving £23k each
UK parents helping their children with a deposit to get onto the property ladder give an average of £23,000, new research by housing charity Shelter shows. In a sign of the increasing strain being put on the Bank of Mum and Dad, the YouGov poll also found that 20% of parents that had helped their children onto the housing ladder used savings set aside for retirement or elderly care. According to the survey, 27% had to cut back on their own day to day spending to do so. But offering such big cash sums isn't possible for the majority of parents, who are feeling financially squeezed themselves. The research shows that 61% of parents in the North West are unable to save any money for their children's future, and so unlikely to be able to help their children to buy a home even if they wanted to. Additional research by the charity found that 70% of properties for sale in the North West are unaffordable for the average working family looking to buy their 1st home, even assuming that they were able to save an 18% deposit; the average size deposit for a 1st time buyer. The charity is warning that, unless politicians commit to building more affordable homes, young people and families who can't rely on help from their parents will find that a home of their own becomes an ever more distant dream. Norman Bainbridge helped both his daughter and son with the deposits for their first homes.

Norman says:- "Without financial help our children would never have been able to afford their own places. With house prices rising all the time and rent eating up most of their income it would have taken them decades to save. It's horrendous for any young person trying to get their own home today. People wanting to live in the place they have grown up in are having to move out because there's no affordable housing, and the cost of renting is so expensive. Renting can be very unstable too; my daughter didn't want to start a family without the security of a home of her own, so without our help with the deposit I wouldn't now have my beautiful granddaughter. I was happy to help my children, but it has meant that the nest egg we'd saved for retirement has plummeted. We've had to raid our savings, but at least we were lucky enough to have savings to dip into; many don't have this option."

Campbell Robb, Shelter's chief executive, said:- "When parents are having to hand over such vast sums of money to help their children afford a stable home, it is yet another sign that the housing market is spinning out of control. And the reality is that most parents could only dream of giving their children £23,000 to help them onto the housing ladder. A whole generation of young people are working hard and saving hard, but our desperate shortage of affordable homes still leaves them priced out. Instead they have to choose between becoming part of the 'clipped wing generation' stuck living in their childhood bedrooms, or 'generation rent' paying out dead money to landlords. A pay out from the Bank of Mum and Dad can't be the next generation's only chance of affording a home of their own. Parents understandably want to help their kids to get a start in life, but with many feeling the squeeze themselves this is only an option for a lucky few. Schemes like Help to Buy might be heralded as the solution, but in reality risk making the problem worse by inflating house prices further. Instead, politicians need to give back hope to all those left priced out by building the affordable homes they are crying out for. From a new generation of part rent part buy homes, to encouraging smaller builders back into the market, it is possible to turn the tide on the housing shortage, but only with the right innovation, investment and political will. It's time for politicians from all parties to turn their talk into action."
Are you affected by this issue? Please let us know your views and true feelings and views about this growing problem, by emailing us to:- news24@southportreporter.com.
Fornebei Hnefatafl?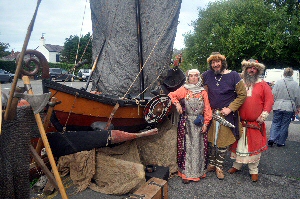 VIKINGS are heading to Formby's Gild Hall (L37 3NG), on the 4 October 2014, for the 2nd time in what is hoped will become an annual event. If you did not go to the last, you can click here to see what it was like, or better still go to this next one.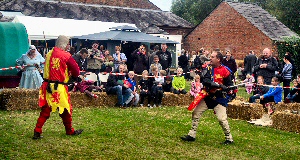 The event will be far more focused on Viking history, with an authentic long ship, warriors, birds of prey, arts/crafts, combat displays along with food and drink; it will be quite a show. Plus watch the Thor's Hammer Hnefatafl Championship Live, with UK champ Tim Bullen and Tim Millar refereeing. You can also challenge them to a game, which could see you taking away aa 'Smith' Jarn hand crafted trophy! No matter what you do, as along the way you can discover the Viking connection to Formby Village and the area thanks to superb event. To find out more call Formby Books on:- 01704 830130 or pop into the book shop at The Cloisters, Formby.