Merseyside mobile fruit and veg service in the running for funding boost at Aintree Shopping Park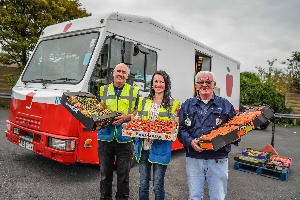 A company who delivers locally sourced fresh fruit and vegetables to communities across Liverpool has been short listed for a £1,000 boost.

U R What U Eat will be amongst other local organisations hoping to get their green fingers on the Big Green Leaf Community Award at a sustainable family fun day at Aintree Shopping Park.

The Underneath The Big Green Leaf event on Saturday, September 20, will enlist the help of a cavalcade of characters including Bugella Burrows and Walter Droplet, who will urge families to engage in fun and interactive activities from beneath a giant inflatable leaf canopy.

Calls are being made for other local community groups to join U R What U Eat in showcasing their work, and shoppers will be able to vote with special tokens for the cause that they feel is most deserving of the prize of up to £1,000 towards their environmental project or initiative.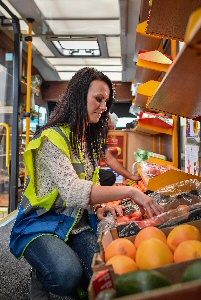 Catering Manager Denis Sheerin said he was happy to put the community interest company forward. Explaining more about the healthy-living scheme, he said:- "We use mobile vans and buses to deliver fresh fruit and vegetables to deprived communities at reasonable prices. At the moment, we cover 70% of Liverpool offering produce for 50% cheaper than what it costs in supermarkets. It also stays fresher for 5 days longer as we buy mainly from farmers within a 50 mile radius - therefore keeping things local while reducing the carbon footprint. We operate 6 days a week covering a huge part of Liverpool from Speke right up to Ormskirk. Our Big Apple Van is very iconic and instantly recognisable across the City. It also allows people living on tight budgets to eat more healthy food. Any profits we make are pumped back into the company for the benefit of the community."

The initiative has flourished since it was set up in 2007 and is run by dedicated members of staff and volunteers.

U R What U Eat also works with local charities and organisations to promote healthy living. Denis, who runs training on healthy food options and cooking on a budget, added:- "There are so many different elements to our company and there are a number of different projects that we are involved in. Our ultimate aim is to benefit the local community in many ways, working alongside the NHS, schools, social landlords, housing associations and charities. If we were to win the Big Green Leaf Community Award, we would use the funds to modernise the vehicles for our visits to special needs schools and adult learning centres, such as Stanfield Park and The Lime Project, which we also provide with fruit and vegetables."

The Big Green Leaf event takes place at Aintree Shopping Park on September 20 from 11am until 4pm, where there will be a wide range of free family-friendly activities and giveaways.

Bugella Burrows - keeper of insects and lover of bugs - will introduce children to a real Giant African snail called Slimon and a giant millipede named Oozmelda.

Other characters include professional composter, Wormarie Compostulaire who will teach youngsters about food waste and recycling, and Litter Bug who patrols the area looking for rubbish.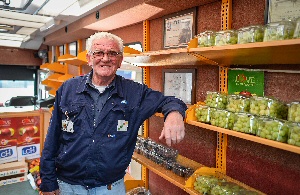 Jo Francis, Head of Retail Property Management for the Regional Portfolio at The Crown Estate, which owns Aintree Shopping Park, said:- "We are really looking forward to the Big Green Leaf event coming to Aintree Shopping Park where there will be fun, interactive and educational activities for the family - all from beneath a giant inflatable leaf canopy. Aintree Shopping Park welcomes other local community groups to come forward to showcase the green work they do in order to be in with a chance of receiving the Big Green Leaf Community Award."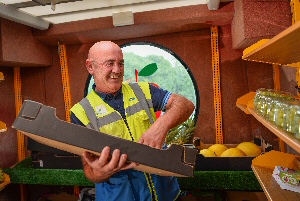 There will also be exclusive retailer offers and discounts for shoppers to enjoy plus a chance to win shopping vouchers and prizes. The Big Green Leaf Community Award will only be eligible to well established registered charities and not for profit community organisations or agencies. Ideally these should be based within a 5 mile radius of Aintree Shopping Park and whom who have put their green project forward to the Aintree Shopping Park Big Green Leaf campaign. Full terms and conditions will be supplied on application from Amy Hodges at amy.hodges@eu.jll.com or call 01132 616 250. For more information about the event go to:- aintreeshoppingpark.co.uk or like the page on Facebook.

Unite Martial Arts held its highly anticipated Grand Opening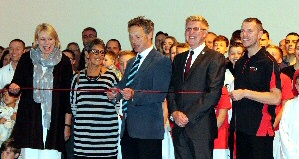 THE event started by Martin Stamper, a member of Team GB and Olympic athlete. Martin conducted a 2 hour development workshop for over 50 students, giving special attention to 7 individuals who are finishing their final preparations for the National Championships in Manchester this weekend (20-21 September 2014).

We welcomed special guests to the ribbon-cutting ceremony, including Master Adrian Tranter (President of British Taekwondo, National governing body), Martin Stamper (Team GB), John Pugh (Southport MP), Sue McGuire (Southport Councillor), Sandra Gee (Chamber of Commerce), Rachel Power (Sefton Children's University).
During the day, raffle tickets were sold to raise money for Queens Court Hospice based in Southport. Various raffle prizes were kindly donated, some of which included a food hamper from Moisters of Southport, (Funeral Directors), 2 full weeks at Unite's popular Half Term Camp and one Laser Party at Unite. A fabulous £156.00 was raised on the day.

The event was concluded by Unite's Display Team who energized spectators with acrobatic somersaults, gravity defying kicks and not forgetting our jaw dropping sword trick. Our Display Team has become very popular in recent years and now, a must have, at any event. MAD Taekwondo kicks have captivated the hearts of many of our younger members, leading to more dynamic and daring kicks.

If you would like to try the exciting Martial Arts of Taekwondo and learn self defence why not join the Unite Team this month and receive a FREE SUIT, We have Programs for every age, Dragons 4+ , Cadets 7+ and Adults 10+. For more information call:- 01704 500 323 or unitemartialarts.com.
Litter louts will pay the penalty
PEOPLE who drop litter on Liverpool's streets or do not clean up after their dogs will now face a much greater chance of being penalised. Police and Community Support Officers (PCSOs) in the City have now been given powers to issue £80 on the spot penalty notices to people who litter, scrawl graffiti or allow their dogs to foul the streets. This means an extra 40 Officers; in addition to the 16 Council Officers who do this work; will be carrying out enforcement. This move follows a summit convened earlier this year by the Mayor of Liverpool, Joe Anderson, to discuss with businesses and other organisations how Liverpool can be made cleaner and greener.
"At the summit I promised we would get tough on the anti-social minority who drop litter, fly tip or let their dogs foul our streets by having zero tolerance on this sort of activity and we would find ways in which we would increase the numbers of enforcement Officers. We have now reached an agreement with the Chief Constable that PCSOs will have the power to hand out penalty notices and I am very grateful for his support. While the City Council and our contractors have a major role in keeping the City clean we cannot do it all by ourselves. I want everybody to show pride in their City and make it cleaner and a more attractive place to live in, work in and visit. But it is not just about making Liverpool look brighter. Every year we clear 14,000 tons of litter off the City's streets at a cost of £6.5million. At a time when we are under enormous budgetary pressure this is funding we can better use to protect other services. Having the PCSOs carrying out enforcement will make people think twice about dropping litter or they will pay the penalty; we are not going to tolerate those who mess up the City any longer." said the Mayor,

Chief Superintendent Rowley Moore, Merseyside Police Head of Community Engagement, said:- "The force works with a range of partners, including Liverpool City Council, to make sure that the City is a safe and enjoyable place for people to both live and work. Police Community Support and Traffic Officers work hard in our communities helping to tackle crime and anti-social behaviour and the new powers they have complement their existing role well. We know that litter, graffiti and dog fouling are all issues which people want to be tackled and the Officers' ability to issue fixed penalty notices should help to achieve this."

Councillor Steve Munby, cabinet member for neighbourhoods and waste services, said:- "The emphasis at the Mayoral summit was working in partnership to make Liverpool cleaner and brighter and the agreement on the PCSOs is a great example of this. I hope that residents support the PCSOs by keeping the City clean and free from litter and graffiti."

In the last 2 years £200,000 in fixed penalty notices have been issued in Liverpool with more than 100 people prosecuted with the courts fining them an average of £175.
The Mayoral summit on the environment was attended by over 80 delegates from more than 60 businesses, community organisations, schools, housing associations, football cubs and other groups.
MSOC Matrix Schools Challenge
MERSEYSIDE Police Officers from the MSOC team are challenging school kids to make the grade in a new initiative aimed at improving leadership skills. MSOC Officers, working with their partners in the NHS and Army, are running the initiative pilot "Matrix Schools Challenge", that includes presentations about the effects of crime, team building exercises and talks about leadership skills, at the Hawthorne Free School, Fernhill Road, Bootle. This Challenge is a 5 day residential course with the army, that lead on to see the school children completing further courses. Chief Inspector Jonathan Davies, said:- "We have run a number of initiatives tackling the issues causing young people to become involved in gangs and crime. The Matrix Schools Challenge is a great way for us to interact with school children and talk to them about the impact crime can have and at the same time challenging them to improve their own leadership and team building skills. We have had some really positive feedback from the school kids so far and hope they get as much out of this course as possible and we are hoping this initiative will be taken up by other schools on Merseyside."