North West workers have high standards regarding what colleagues wear to work
NEW research shows workers in the North West expect their co-workers to dress smartly for work, disapproving of items of clothing including ripped jeans, shorts and dirty shoes.

The research, commissioned by the Business is GREAT campaign, showed that 46% of North West workers think shorts or above the knee skirts are unacceptable compared to 40% nationally.

The data also shows:-
► 72% of workers think ripped jeans should be avoided, compared to 70% nationally
► 9% think a suit jacket is a necessity, compared to 6% nationally
► 27% think shoes should always be polished, compared to 21%nationally

When asked which business leader was best dressed Lord Alan Sugar came top of the list followed by Richard Branson, Kelly Hoppen, and Peter Jones. It seems Britain is a nation of traditionalists with 75% of workers wearing a suit, uniform or smart-casual attire to work with only 10% of us feeling comfortable enough to wear what we feel like to work.

Regional Breakdown of percentage of respondents who judge work colleagues performance by their attire:-
| | | |
| --- | --- | --- |
| Rank | Region | % |
| 1 | Wales | 50% |
| 2 | South East | 48.52% |
| 3 | Yorkshire and the Humber | 46.96% |
| 4 | East Anglia | 46.43% |
| 5 | West Midlands | 45.02% |
| 6 | London | 44.84% |
| 7 | North West | 43.23% |
| 8 | North East | 41.57% |
| 9 | Scotland | 41.42% |
| 10 | Northern Ireland | 38.78% |
| 11 | South West | 38.73% |
| 12 | East Midlands | 37.70% |
Geoff Quinn, Managing Director of TM Lewin, expert Jermyn Street shirtmaker, said:- "The results of this research show we want our work clothes to demonstrate our work ethic. 32% of those surveyed said they 'dressed to impress', choosing their business wardrobe to reflect their professional and hardworking nature. British fashion is coveted across the globe, and this is something which we have experienced first-hand. Thanks to support from UK Trade and Investment, TM Lewin has been able to expand into international markets, opening more than 58 stores worldwide. I encourage any brand looking to expand their business to go:- greatbusiness.gov.uk/ukti and see how they can start their export journey today."

This research comes as London Fashion Week (LFW) is in full swing. One of the highest profile fashion events in the world, it puts British fashion firmly on the global stage; with an estimated revenue of over £100m fashion orders placed during LFW alone. The British fashion industry is estimated to support 797,000 jobs.

The Business is GREAT campaign aims to build confidence in small businesses across the country, and match their potential for success with the services that can help them grow, hire, lead and export.

Local law firm Hodge Halsall donate four figure sum to charity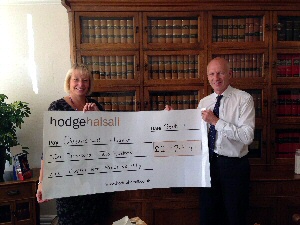 A local law firm have given a helping hand to one of the area's leading charities with a donation of over £2000 to Queenscourt Hospice.

Hodge Halsall presented the cheque for £2289.41 to the hospice this week as part of their Communities program me, and builds on from the work of the 'Make A Will' campaign which previously raised over £3000 for the hospice in April.

Mark Robinson, managing partner at Hodge Halsall, said:- "We are proud to be able to donate to Queenscourt. It is a local charity that is close to our hearts and it means a lot to us all to know that there is support and care there if we need it. After the success of the 'Make a Will' campaign we were keen to support the hospice further and we hope that this donation will help Queenscourt to continue the wonderful work it does."

Carolyn Gorman, from Queenscourt Hospice, added:- "We are absolutely overwhelmed by the generosity shown by donators like Hodge Halsall. With continued help and support like this we are confident that we will be able to ensure that Queenscourt will be open for many more years to come to care for those people in our community who might have need of its special care."

About Queenscourt
Queenscourt is about end-of-life care. Based on Town Lane in Southport, the hospice has ten beds for in-patients, day services and an out-patient service.

They are an independent voluntary and charitable body and the majority of their income comes from charitable donations. With running costs of over £2 million a year and limited NHS funding, all donations make a big difference to the hospice.

Anyone who would like further information about leaving a gift to Queenscourt Hospice can visit their website or contact Mrs Ann Throp on:- 01704 517926.
Public welcome at the next Southport & Ormskirk NHS Trust board meeting
THE Southport and Ormskirk Hospital NHS Trust will hold its next board meeting at West Lancashire College, Hants Lane, Ormskirk, L39 1PX on Wednesday, 24 September 2014, at 9am. Members of the public are welcome to attend and observe the meeting. Anyone with a special requirement should contact the Trust in advance on:- 01704 704783. The agenda will be available on the Trust website in advance of the meeting. Supporting papers will be made available on the day.