Former accountant launches care franchise in Merseyside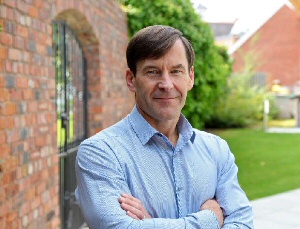 A newly launched care company will provide elderly people and children with a range of services. SureCare Merseyside has been set up by former accountant Keith Hume.
The company, which has its office in Waterloo, will initially provide clients with a comprehensive range of home, companion and childcare services across Liverpool and Sefton. Home services include making beds and changing linen, laundry and ironing, shopping, preparing meals and washing up. Companionship can include assistance attending hospital appointments, collection of pension and benefits, board games and walks. Childcare includes babysitting, nanny and au pair services along with mobile crèche facilities at weddings and other events.

In due course, the business will be able to offer regulated care services including personal care, live in care and wider childcare including nurseries and holiday clubs. These services are regulated by the Care Quality Commission (CQC) and Office for Standards in Education (OFSTED). Keith, 52, decided to launch the SureCare franchise after carrying out research which revealed that there was a gap in Merseyside for a high quality, innovative care provider.
Chartered management accountant Keith was able to make the investment in the franchise after taking redundancy following more than 25 years working in management roles in the manufacturing industry.
Keith is in the process of recruiting a registered care manager, carers, care coordinators, home assistants and childcare practitioners with the aim of having a team of up to 20 full and part-time staff in place by early next year.

Keith said:- "I was impressed by SureCare's approach to developing and delivering care and home services. The company recognises that people's requirements are changing all the time and that there is a need to provide a comprehensive range of services to meet those needs throughout life's journey. While many elderly people will need extensive care in order to maintain independence in their own home, others may simply need help mowing the grass, putting up a curtain rail or doing the ironing. Similarly, our childcare services are intended to meet the needs of parents' employment and social lifestyle choices. Our team will have the experience and flexibility to be able to tailor our services specifically to the needs of the individual client."

SureCare operates 28 franchises and three branches across the UK with its head office in Chester. Managing Director Gary Farrer is an experienced care entrepreneur having previously owned the Lancashire-based integrated care provider Safehands Group which, together with his wife Stephanie, he built into a £5.5million turnover business before selling at the end of 2011.

A UK First – Merseyside's Revolutionary New Learning and Community Hub opens its doors!
THE Bracknell Centre is an innovative, fully accessible, integrated community and education facility for young adults with learning difficulties and the local community based in Kirkby. It is deemed to be the first of its kind in the country incorporating social enterprises, education and community services to ensure sustainability. The aim of the centre is to provide a facility promoting inclusion and integration between disabled and non-disabled individuals and help break down some of the barriers that young people with impairments face in our society.

The centre is home to Activate, a registered Charity delivering ground breaking educational services for children and young people across the North West. Activate moved into the Bracknell Centre in October 2013 and secured funding from the Social Investment Business group in excess of £300,000 and £25,000 from Veolia Environmental Trust to renovate the building and provide opportunities for young people who would otherwise be disadvantaged in terms of developing their learning and employment prospects.

As part of this refurbishment, a specialist high needs area has been developed ensuring young people with complex needs have a facility that they can access in order to continue their education and development after leaving school at 19.

Activate also offers personalised programmes for 16 to 25 year olds with learning difficulties and disabilities who want to further their skills and experience and live independently in their local community. Students are offered a range of opportunities such as vocational skills, volunteering / work experience, life skills and participation in community projects through learning programmes that are tailored to individual needs. As part of this offer, there are a number of vocational areas onsite such as an animal care centre, horticulture base and community café run by students for themselves and the wider community.

The Grand Opening takes place on 9 October 2014 to celebrate all the hard work that has gone into transforming the Bracknell Centre into a state of the art provider working for and with the help of local young adults in Knowsley.

If you are interested in attending the event or would like more information please contact Caitlyn DeHoust on:- 0151 545 1279 or email:- Caitlyn@activatearts.com.
Event Details
Date:- Thursday, 9 October, 2014
Time:- 10am to 12pm
Location:- The Bracknell Centre, Bracknell Avenue, Southdene, Kirkby, L32 9PW
Itinerary
10am to 10:50am Brief speeches by various professionals within the education community.

10:50am to 11:10am Presentation by students.

11:10am to 11:20am Official Opening by the Mayor of Knowsley (ribbon cutting ceremony).

11:20am to 12pm Tour of facility, visit students in sessions, refreshments.