Dates set for library consultation meetings
DATES have now been set for all the public meetings to discuss the future of 11 community libraries in Liverpool. Following the first meeting last Thursday, 4 further sessions will take place, each one looking at a selection of affected libraries:-

► Monday, 6 October 2014, 6pm to 8pm, The Conference Centre at LACE, Croxteth Drive, Sefton Park, L17 1AA; this will be to discuss Sefton Park and Wavertree libraries.

► Wednesday, 8 October 2014, 6pm to 8pm, Alsop High School, Queen's Drive, Walton, L4 6SH; this will be to discuss Spellow, Walton and Fazakerley libraries.

► Monday, 13 October 2014, 6pm to 8pm Broadgreen International School, Queen's Drive, (access via Heliers Road off Broadgreen Road), L13 5UQ; this will be to discuss Old Swan, Dovecot and West Derby libraries.

► Wednesday, 15 October 2014, 6pm to 8pm Kensington Neighbourhood Health Centre, 157 Edge Lane, Kensington, L7 2PF; this will be to discuss Kensington and Breck Road libraries.

In addition to the identified libraries, there will also be opportunities to discuss all venues at every meeting.
These meetings are an opportunity for the libraries team to talk about why certain libraries are at risk and also for people to ask questions and have their say on the proposals for the service as a whole. The initial meeting took place last week in Lee Valley Millennium Centre and was attended by around 40 residents.

The library service needs to reduce its budget overall by £2.5 million as part of the City Council's £156 million of savings needed over the next 3 years due to cuts in Central Government funding.

A report into the proposed library service identified 11 libraries which could be at risk of closure if alternative and viable ways of delivering services from these buildings cannot be found. The libraries identified are Breck Road, Dovecot, Fazakerley, Kensington, Lee Valley, Old Swan, Sefton Park, Spellow, Walton, Wavertree and West Derby libraries.

A number of discussions are already underway with interested parties about taking over the running of some of the venues or providing library services from alternative locations.

Assistant Mayor and Cabinet Member responsible for libraries, Councillor Wendy Simon, said:- "Due to the scale of the cuts we face there will undoubtedly be some impact on certain venues and we want as many people as possible to be able to have their say on the future of our libraries. We understand people will have strong views about libraries, and these meetings give residents the chance to talk about how they feel they will be affected by any service change, and make suggestions for the future of those libraries which are at risk. It's also a forum where we can explain why certain decisions have been made and also importantly meet any individual or group who believe they could take over the running of one of the venues."

Under the proposals, 95% of people will still live within 2 miles of a library and the Home Library Service and the RNIB Talking Book Service will not be affected.

The City Council would continue to run Central Library; which is used by 45% of service users; and 7 community libraries:- Croxteth, Norris Green, Toxteth, Childwall, Allerton, Garston and Parklands.
Liverpool in total has 19 public libraries. 11 are potentially at risk because of a number of factors including below average use, high running costs, their proximity to another library and the potential of the service being provided by another organisation or group.

"Look! It's simple... Use railway crossings safely!" say Police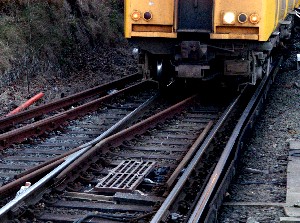 PEOPLE who misuse railway crossings are being targeted by British Transport Police (BTP) as it attempts to reduce the thousands of cases each year. BTP deal with incidents on a daily basis where pedestrians and motorists risk not only their lives, but those of rail passengers and staff by misusing crossings. Operation Look has was strarted on Monday, 29 September 2014 and has seen BTP officers and colleagues from Network Rail carry out extra patrols across the UK in a week of action. Officers have talked to pedestrians and drivers about the dangers of crossing misuse. They have also been visiting schools, youth clubs and local businesses to warn people to use crossings safely. While communicating the importance of proper level crossing use is vital, BTP is also committed to enforcement. Between 1 April 2013 and 31 March 2014, 732 motorists were charged or summonsed for crossing misuse, with a further 740 issued with fixed penalty notices, and 102 cautioned for traffic offences. A further 2,125 drivers were sent on safety awareness courses. The vast majority completed the course, with very few going on to re-offend. BTP is also determined to tackle pedestrian misuse of crossings and its recent campaign to warn against any trespass on the railway, Operation Intruder, involved education and extra patrols at crossings. Inspector Becky Warren said:- "It is important people realise there is a serious penalty to pay for crossing-misuse. However, while we will not hesitate to use the force of the law, we are also acutely aware of the need to promote safety at crossings through education. We need drivers and pedestrians to realise level crossing misuse is a danger, not only to their safety, but the safety of others. We work closely with our partners at Network Rail, as well as colleagues across other police forces, to ensure crossings remain as safe as possible and will spend much of this week of action talking to people who use level crossings on a daily basis."

Darren Furness, head of level crossings for Network Rail said:- "Level crossings were built decades before our roads and railway became as busy as they are today and so we all have to deal with this unwanted legacy. While we've closed hundreds of crossings, road crossings are the most difficult to find an alternative solution for and so, with many, it's about raising awareness of the consequences of taking unnecessary risks and working to keep the crossing operating smoothly and safely for everyone. We know waiting at a level crossing can be frustrating, but motorists who decide to jump the lights or try and weave around a barrier for the sake of a few minutes, risk at worst, their lives and the lives of others. They can also damage their vehicle by striking barriers and risk a hefty fine or points on their license, which for anyone driving for a living can mean losing their job. Surely that isn't a risk worth taking?"

In line with recommendations from the Office of Rail Regulation, Network Rail is committed to closing crossings where possible and replacing them with alternatives, such as footbridges. Some 800 level crossings have been closed in the last 4 years, but there are still more than 6,000 crossings on the rail network, and BTP is committed to ensuring they are as safe as possible.
During Operation Look, officers will carry out extra patrols at crossings. Over the week, BTP officers were also joined by Special Constables, volunteers and Network Rail level crossing managers, to help get the message across.