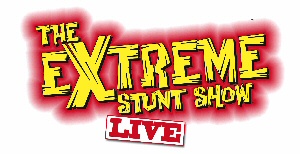 WHETHER you're a fan of monster trucks, motorbikes, BMX or just general mayhem, the Extreme Stunt Show Live Arena is the place to be. This event is heading to Southport Pleasureland's Car Park, on Marine Drive, Southport (PR8 1RX) on Sunday, 26 October, from 3pm! If you attend you will get to see the monster action, with the shows very own trucks Extreme and Lil' Devil, who will both compete to prove they're the best car crushing monsters in Europe! 2013 was a very busy year for these monsters, performing at over 150 shows during the summer meant they were in need of some long overdue TLC. The Extreme workshop was been busy over the winter months to make sure the trucks and in the summer they restarted the gruelling workout once again, putting both the trucks and the drivers to the test. The Extreme Stunt Show have told us that:- "Both still pulling 1500 horsepower and car crushing to the max, these machines are primed and ready for action in Southport!"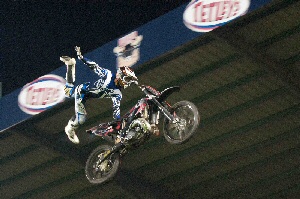 The event also has the Extreme FMX lads who love to tear it up with their death defying stunts including the can can, cliff hanger, lazy boy, kiss of death, nac nac, and superman to name a few. Prepare to be astounded as the shows Extreme BMX team, who will show you just how extreme pedal power can be! Plus you can see them performing bunny hops, barspins, 360s, tailwhips, flairs and of course the back flips on massive ramps! On top of that, the Extreme Team will be showing its audience other 2 wheel and 4 wheel driving stunts, fire stunts and just good old fashioned chaos to take you all the way to the extreme edge.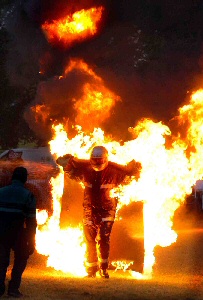 "We can't wait to see you at one of our shows this summer, just make sure you bring plenty of enthusiastic energy and take advantage of the discount when you book in advance to guarantee your place!" said the team...

Advance tickets (no booking fee)
ADULTS £12
CHILD / CONCESSION £6
(CHILD AGE 3 to 15 INCLUSIVE / DISABLED / OAP)

Gate Tickets (on the Day)
ADULTS £14
CHILD / CONCESSION £7
(CHILD AGE 3 to 15 INCLUSIVE / DISABLED / OAP)

Ticket Hotline:- 08444 771000.

Freedom of the City fit for a Royle
ONE of Liverpool's most famous actors and comedians will be granted the Freedom of the City at a special ceremony next week. On Monday, 6 October 2014, Ricky Tomlinson will receive the honour in recognition of his varied work over the years fighting for justice, entertaining millions on TV and raising money and awareness for charity. Liverpool's Lord Mayor, Councillor Erica Kemp, said:- "The Freedom of the City is the highest honour we can bestow, and Ricky Tomlinson is most definitely a worthy recipient. Not only has he spent many years entertaining the nation in many varied roles, he is an advocate for justice, never afraid to speak out on behalf of others. He is incredibly supportive of many local charities and a fantastic ambassador for this City. I am delighted to be granting him the Freedom of the City of Liverpool." Ricky Tomlinson said:- "As someone Liverpool born and bred I am delighted to be awarded this honour. To be given the freedom of the City I love is a highlight of my career, I am incredibly proud to be joining the many great people who have also received this honour." Mayor of Liverpool Joe Anderson said:- "I can't think of many people more deserving than Ricky Tomlinson to receive the Freedom of Liverpool. As well as entertaining the nation as a versatile and talented actor, he has raised and donated millions of pounds to good causes and campaigned to raise the profile of hugely important issues ranging from Hillsborough to human rights. He embodies the very best attributes of the City; hugely passionate, opinionated and willing to speak up for and defend those who don't have a voice. Despite his incredible success over many years, he has remained absolutely true to his roots and works every day to improve the lives of others in the City." Ricky was born in Blackpool, as his mother, Peggy, was evacuated there during the 2nd World War, but returned to the City just 3 days later. Ricky has starred in films and many television shows most memorable as Bobby Grant in 'Brookside' and Jim Royle in 'The Royle Family'. In 1996 Ricky teamed up with writer Jimmy McGovern to give a brilliant and moving performance in 'Hillsborough' as John Glover the father of Ian who died in the disaster. Ricky has supported the fight for justice for the 96 victims and their relatives ever since the tragedy. Ricky supported the 1st national builders strike in 1972 fighting for fair pay and conditions. In1973 he was imprisoned, along with others, after being convicted of being an illegal flying picket. He is still campaigning vigorously to have his, and fellow convicted comrades verdicts quashed, demanding the granting of full pardons.
West Lancashire Light Railway Annual Late Season Gala Update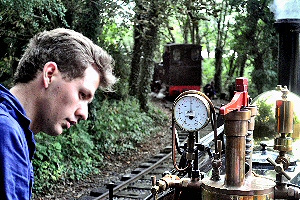 THE West Lancashire Light Railway will be holding its annual late season gala for enthusiasts young and old on Sunday, 5 October 2014, from 11.30am to 4.30pm. The railwat, located on Station Road, Hesketh Bank, Lancashire (PR4 6SP) will see 3 locomotives will be in steam:- Montalban, Utrillas, and Joffre. The event will have all 3 hauling frequent passenger trains. In addition, this event traditionally celebrates the varied industrial background of many of our locomotives, steam and diesel. Diesel locomotives will be in action, and demonstration goods trains will operate at intervals through the afternoon. Plus under cover in the engine sheds you will find model railways and Meccano models, plus outside a chance to see a restored fairground organ, and other attractions. For more information please visit:- westlancs.org.
Admission to site is free....!
Fares (valid for unlimited rides):-
Family £10.50
Adult £4.00
Senior £3.50
Child (2+) £3.00

Lineside passes for photographers also available.