Home Instead steps out at Aintree Memory Walk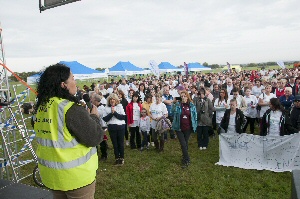 AS the main sponsor of last weekend's Alzheimer's Society Memory Walk at Aintree, Home Instead Senior Care was delighted to welcome staff from across the region who stepped out at the event. Representatives from the at home care company's offices in the Wirral, Southport, Northwich, and Chorley were joined by colleagues from Home Instead's National Office in Warrington to help make the event a great success.

Speaking to the assembled walkers at the start of the Memory Walk, Cath Chalton, owner of Home Instead in the Wirral said:- "The benefits of collaborative work between the Alzheimer's Society and our care organisation which specialises in dementia care, along with physicians and other organisations, is crucial in helping people live more independently at home. Alzheimer's Society's single-minded fight for a better world for people with dementia is to be applauded and it was super to see so many people turn out to take part in the walk in support of this great cause. Around half of our clients are affected by a dementia so we know what a huge impact it has on people's lives. Our support for this event is our way of giving something back and supporting a fantastic charity."

The Alzheimer's Society Memory Walks are a series of fundraising walking events which take place every autumn across England, Wales and Northern Ireland.
The Walks raise money to provide vital support to people living with dementia and help fund research to find a cure. Home Instead is also the main sponsor of Memory Walks in London, Nottingham, and Bristol.
Sony Award winner Chortle to heads to Southport for a show
THE Sony Award winner, Edinburgh Comedy Award nominee, Chortle Award winner and star of Radio 4 and BBC 2, Tom Wrigglesworth, takes to the road this autumn and one of his stops will be the Southport Comedy Festival on 21 October 2014. His show will be set around his sell out 2013 Edinburgh Fringe show called:- 'Utterly at Odds With the Universe.' In turns heart wrenching and hilarious, this exquisite show takes Tom on an emotional journey from childhood to adulthood, exploring the poignant and profound relationship with his granddad. The 2 frequently taped themselves interviewing each other and it is in these early conversations that Tom comes to fully understand the influence this man has had on his own life and explores the fantasy of being able to make 'one final interview.' Expect elegant flourishes of language, twisted logic and whimsical storytelling, courtesy of 1 of the finest and most original comics in the UK. Following the success of his Edinburgh Comedy Award nominated show, Tom Wrigglesworth's Open Return Letter to Richard Branson, Tom has enjoyed 2 successful Radio 4 series (2011 and 2012) and scooped a prestigious Sony Radio Academy Award in recognition of excellence. In 2013 Tom wrote and performed another new series for Radio 4, Tom Wrigglesworth's Hang-ups, which has been commissioned for a second series, along with a one off special of Utterly At Odds with the Universe. Tom is also a regular host of Radio 4`s Comedy Club and has guested on BBC Radio 4's Loose Ends, Newsquiz, The Unbelievable Truth, The Now Show, Act Your Age, It's Your Round, The Infinite Monkey Cage and You and Yours, as well as BBC Radio 2's Out To Lunch and Claudia Winkleman's Arts Show. He has co-presented on Richard Bacon's Radio 5 show and is a regular co-presenter on The Rhod Gilbert Show for BBC Radio Wales. On TV, Tom recently co-presented BBC 2`s Engineering Giants and was one of the presenters on BBC2 series Electric Dreams. In stand-up terms, Tom has performed twice on Edinburgh Comedy Fest Live, Russell Howard`s Good News and The Comedy Gala for BBC Three as well as The World Stand`s Up, two series of The Comedy Store and Edinburgh and Beyond; all for Comedy Central.

St. GEORGE'S HALL welcomes a 'Spooky Skool Of Horrors' for children this Halloween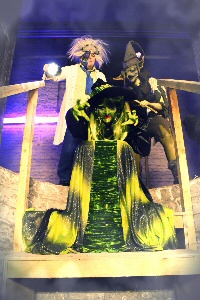 ST. George's Hall are teaming up with Liverpool Shoktober to invite children to attend the scary Skool of Horrors this Halloween.

These new tours, set deep within the spooky surroundings of the St George's Hall Catacombs, invite children to take part in a quest which will see them navigate their way around the tombs to solve a mystery; unlocking the eerie secret of the St George's tombs.

Children must be brave and prepared for lots of surprises along the way. The interactive tours will see the children visit 6 areas where they will meet a variety of characters such as the crypt keeper Mister Grimm and the Wicked Witch of the West. All of these colourful characters will explain their link to the history of St George's Hall and give riddles for the children to answer. Using all of the clues gathered they must crack the mystery, then and only then will their mission be accomplished and they will be released from the tombs.

Skool of Horrors tours will take place from Thursday, 23 October to Saturday, 25 October and then again from Wednesday, 29 October to Friday, 31 October. The sessions are suitable for aged 8 to 12 children and will last for 90 minutes. Tours will be ran at 10.30am, 12pm, 1.30pm and 3pm. Places will be limited to 30 per tour.

James Griffiths, from Liverpool Shocktober, commented:- "For children, the focus is very much on fantasy and fairytales, but with a spooky and ghoulish twist. Youngsters will enjoy it as it will heighten their imaginations as they try to solve the mystery."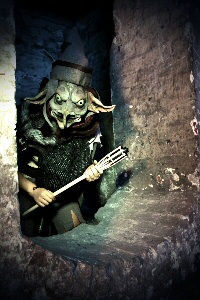 PERFORMANCE DETAILS
► Skool of Horrors takes pace at:- St George's Hall Heritage Centre.
► Places per tour are limited to 30 places each performance.

► Tour is aimed at ages:- 8 to 12 years

► Tour lasts:- 1 hour 30mins/
► Times:- 10.30am / 12pm / 1.30pm / 3pm
► Dates:- Thursday, 23 October / Friday, 24 October / Saturday, 25 October / Wednesday, 29 October / Thursday, 30 October / Friday, 31 October 2014.
► Tickets:- £9 per child, accompanying adults go free (one place per child)
► Book imformation:- Tickets are available from the St George's Hall gift shop, or telephone:- 0151 225 6903/6909 or go online.