British Musical Fireworks Championships 2014
Photographs by Patrick Trollope.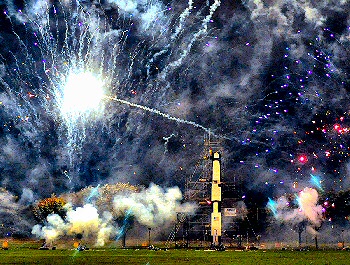 THIS year's British Musical Fireworks Championships took place over 3 October to 5 October 2014, in Victoria Park, in Southport, Merseyside. Each night had Simon Smithies introducing the teams to a massive audience of firework fans, who had travelled from all over the UK and some even further to see the shows. In total, 7 of the UK's best pyrotechnic groups fired over the 3 nights, trying to perfectly synchronise their displays to their chosen music. All the teams did amazing presentations of their skills, but sadly, in the words of the film 'Highlander', "There can only be one" and this year's winner was Smart Pyrotechnics who fired on Saturday night. Coming in a close 2nd was Gala Fireworks and in 3rd place was Allstar Fireworks. But it was not just the teams taking part who entertained one of the largest attendances yet: this despite the weather! A new pre-show was blasted into the sky, in the form of a Daylight fireworks display from Jubilee Fireworks Ltd. Plus entertainment was also given by local bands which played to the masses in-between the Daylight Show and the Competition Displays. Congratulations to all the teams and also to Sefton Council, who organised it. Plus a big thank you to St Jon Ambulance, Willow Catering and Showsec, to name just a few who helped to make this event a success. The other teams who had taken part where:- Classic Fireworks, Distant Thunder Fireworks and Solihull Firework. Please enjoy Part 1 of our photographic coverage of this event by clicking on here, plus we will have more in next week's issue as well... If you attended, we would love to know what you thought of the event, email us to:- news24@southportreporter.com and let us know! We are uploading a few video highlights as well on our Facebook Page.
Ambulance Strike Action Notice
THE North West Ambulance Service on 10 October 2014 have said in a press release that:- "During Ambulance Strike Action on Monday, between the hours of 7am and 11am, on 13 October 2014, our Patient Transport Service will ONLY be available for those with renal, oncology and paediatric appointments. Patients attending other outpatient appointments are advised to contact their clinic to check the appointment is still going ahead as there will be NO patient transport service during that time; even for those who have already booked." This action comes following a an official ballot of 22,000 GMB members in the NHS in England and Northern Ireland. The result was 78% in favour of strike action and 91% in favour of action short of a strike with a turnout of 23%. Further action short of a strike the rest of that week. The GB have called the strike after rejecting 1% unconsolidated offer for 2014, with a further 1% unconsolidated offer in 2015. Brian Strutton, GMB National Secretary for Public Services, said in a public statement:- "Nobody in the NHS wants to go on strike, but the anger and frustration of the workforce with the cavalier treatment by government and employers towards them has spilled over into industrial unrest. The GMB is open to talks with the UK Government and Employers, but unless there is some meaningful change, our members will go on Strike! This will be followed by an overtime ban in the Ambulance Service over 14 October to 17 October, and for the same period a 'work your paid hours' instruction for the rest of the NHS. Should this deadlock continue, we will plan further periods of action through the Autumn and Winter. GMB members have spoken loud and clear, so it is imperative that Jeremy Hunt, the Secretary of State, meets the staff side unions as a matter of urgency." Let us know if this action affects you or if you are taking part in it. Email your views to news24@southportreporter.com.
| | | |
| --- | --- | --- |
| | Click on to read on! | Click on to read on! |

KEEP up-2-d

ate




with our free daily news emails.



Are you subscribed? Si

g

n

u

p

today

to

our daily email news service via... Formb

y

-

Re

p

orter

.com



If you subscribed you can keep in up-to-date with what's going on in and around Merseyside. It is free and we do not send out massive amounts of emails. Your email is kept under the UK's Data Protection Act, so you can be sure that you will not have problems.
B.O.A. 70th Anniversary DVD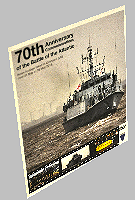 THE video footage we have taken at the 70th BOA events this year in Liverpool has now been fully edited is available to buy, on a DVD, from our Online Shop, on Mersey Reporter very soon. For each DVD sold, £3.00 will go to the Liverpool's Lord Mayor's Charity Appeal. (Registered Charity No. 229539) At this stage we can only do UK postage options, but if you are outside the UK, you can still order copies, but only via emailing our newsroom at:- news24@merseyreporter.com with your FULL address and we will get back to you with a postage cost and a payment link, should you wish to continue.