Young support worker takes top award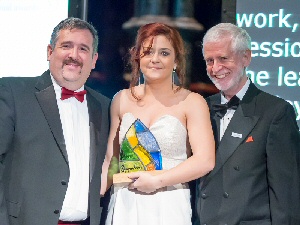 A 21 year old volunteer for Liverpool's Deaf Active Youth Service has won the Learner of the Year award at the 2014 Signature Annual Awards. Ashley Farrelly, from Liverpool, was the winner of the North West Learner of the Year award earlier this year, and beat tough competition from the e8 other regional winners to claim the national accolade. Now in their 6th year, the awards, hosted by UK charity and leading awarding body in deaf communications, Signature, honour individuals, organisations and community groups that are striving to break down the barriers of communication between deaf and hearing people. At a prestigious ceremony held at Durham Cathedral, a mixture of both deaf and hearing people saw their hard work and contributions rewarded. Ashley was nominated for the key role she played in establishing a project and securing funding that allowed 12 of her hearing peers to start a Level 1 course in British Sign Language (BSL). This was inspired by her desire to undertake a formal BSL qualification, having taken part in an innovative youth project that brought deaf and hearing people together. Now employed as a part time communication support worker, Ashley spends a great deal of time volunteering to get a greater understanding of BSL, as well as attending every course available to her. She also uses her skills to support deaf young people in a number of activities, such as kickboxing, yoga and football.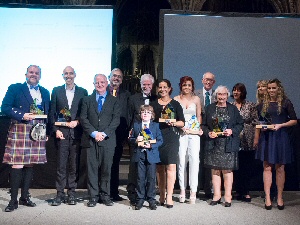 Ashley said:- "I am so proud to be the recipient of the national Learner of the Year award; I was delighted even to win the North West regional award earlier in the year so this came as a huge surprise. I was up against some inspirational nominees, who all deserve credit for their efforts and achievements in learning BSL."

Jim Edwards, Signature chief executive, said:- "Selecting winners across the 7 categories was a very tough decision, as every nominee this year has been outstanding in their own field. We were delighted to present the Learner of the Year award to Ashley this year. We were impressed with everything she has achieved so far, including working within a team that has taught 14,000 primary school aged children basic sign language over the last 3 years. She is a thoroughly deserving winner."

For more information on Signature, please visit:- signature.org.uk.

A deadly descent in to the depths of hell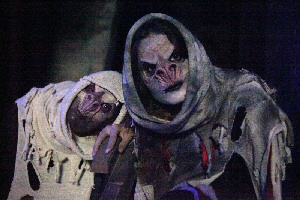 FOR a scare-fest like no other this Halloween, take a journey of unimaginable terror as Liverpool Shocktober present Journey in to Hell at St George's Hall between Thursday, 23 October to Saturday, 25 October and then again Wednesday, 29 October to Friday, 31 October 2014. Based around the idea of Dante's poem Inferno, Journey in to Hell is a terrifying interactive horror tour through the tombs of St George's Hall. Those brave individuals that dare to attend will have their sanity tested and pushed to its limit, as they embark on a blazing psychological journey through the levels of hell; discovering which circle of hell their soul will reside at for all eternity. Participants will have their nerves shaken to the core as they prepare to meet their maker, waiting to greet them is the Grim Reaper himself; sent by Lucifer to collect the souls of the sinners. Not for the faint hearted there will be plenty of gruesome scenes to scare the life out of all. Featuring a plethora of terror, imagery and scenery will be created around the themes explored in Dante's poem with extracts playing in the background, as all the willing victims come face to face with their despicable and debauched destiny. Get ready to be crippled with fear as nightmares and darkest fears from childhood will be resurrected and become a horrifying reality.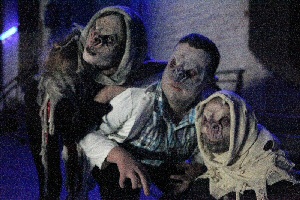 An experience like no other, is anyone brave enough to challenge Lucifer and escape with their soul? Only the pure will be set free. The rest will be devoured by the fallen angel Lucifer and tormented for all eternity. James Griffiths from Liverpool Shocktober said:- "We are really excited to bring this event to Liverpool, and the Catacombs of St Georges Hall are the perfect setting for this terrifying visual nightmare. It is a really unique event that offers participants an interactive horror tour of the catacombs, with Death, Minions and other agents of the underworld taking you on your final descent in to Hell; including truly terrifying imagery and creatures that will leave guests begging for mercy. The experience is most definitely not for the faint hearted and will be unforgettable; you have been warned!"
Due to that nature of the event PLEASE remember that this is an Adult only event! 'Journey into Hell' will held at the St George's Hall Heritage Centre and as a result places each performance will be limited to 30 adults only. The tour lasts 1 hour approximately and the take place on:- Thursday, 23 October to Saturday, 25 October and Wednesday, 29 October to Friday, 31 October 2014. Times for tours on these dates are as follows:- 6pm / 7pm / 8pm / 9pm. Tickets will cost:- £20 per adult. Tickets are available from the St George's Hall Gift Shop, or telephone:- 0151 225 6903/6909 tickets can also be booked online. We strongly suggest you book to avoided disappointment.