Memories of city's biggest ever event
LIVERPOOL has reaped the benefits of what is being hailed as the biggest event in its history. An independent report into the impact of the Giants-led Memories of August 1914 has revealed it is one of Liverpool's most successful events to date. It shows that the spectacular swelled the number of visitors to the city by 1 million people across the 5 days (23 July to 27 July). This figure has resulted in an unprecedented economic impact of £46 million into the local economy.

The report also found:-

Around 300,000 of the visitors were from outside the city region, with the event proving popular with people from Yorkshire, Lincolnshire and Wales. Australia, France and Hong Kong were some of the most common places people outside of the UK had travelled from.
► The average spend per person for someone from Liverpool was £19.
► The average spend per person for someone outside the city region was £107.
► Around 160,000 visitors had never been to Liverpool before.
► Memories was hugely popular with groups, with 41% visiting as groups which included young and old members of the family.

When asked to score the event out of 10 (with 10 being the highest), the average score of the hundreds of people interviewed showed that the overall quality of the event scored very highly with 9.2, with the event organisation also receiving positive feedback.

Mayor of Liverpool, Joe Anderson, said:- "We anticipated that the return of the Giants would have a massive impact, but this report shows it has surpassed our expectations. To have 1 million people specifically come to the city to experience a free cultural event is really rewarding, and the economic boost is one of the biggest this city has ever experienced. Memories of August 1914 was an incredibly special event – the creative brilliance of Royal de Luxe brought to life part of this city's history which many had forgotten, and once again we really took those three special visitors to our hearts as they played out this emotional story before our very eyes. But it's not just about the economic benefits – this was the UK's flagship cultural commemoration marking an incredibly important moment in our history. This event connected hundreds of thousands of people with the story of the First World War and inspired many to reflect on the impact this momentous time had on their families and the city as a whole. I'd like to take this opportunity to thank the huge team involved in making Memories such a success; partners across the city, from the police and transport networks right though to volunteers and sponsors, worked together tirelessly to make sure our city shone during this Giant extravaganza. I'm proud to be Mayor of a city which is renowned for having the ambition and commitment to stage events of this scale; it cements our reputation as one of the most creative cities in the world."

The report was produced by The Murray Consultancy Ltd.

Following the event, figures also revealed other Liverpool attractions felt the benefit of the giants over the 3 day period of 25-27 July:

Liverpool One – Footfall was up 16.9% in comparison to the same weekend in 2013, and up 5.7% in comparison to the Sea Odyssey weekend in 2012 which was Liverpool's first Giant experience. They also saw an increase in sales of 49.8% compared to the 2012 event.

National Museums Liverpool – Its venues (World Museum, Walker Art Gallery, Merseyside Maritime Museum, International Slavery Museum, Museum of Liverpool and Piermaster's House) welcomed 55,319 visitors. Retail sales were up 72% and catering up 154% on the same time period as last year.

Albert Dock Liverpool – The area was bustling with thousands of families with many of the Dock's bars, restaurants and shops reported an increase in takings and footfall. The Pump House was 20% up on the same time last year and had a record breaking week - the best the pub has ever had. Likewise, Revolution Albert Dock broke all records for food sales, becoming the busiest venue of their chain for the week. While the Nauticalia shop said they were "massively" up on both footfall and on spend.

Liverpool Bid Company – Wetherspoons on Whitechapel saw a 50% increase in sales and La Tasca recorded their busiest ever trading week, a pattern which many of the restaurants in Queen Square followed.

Chris Bliss, Liverpool ONE Estate Director:- "Liverpool ONE was at the heart of the Giant Spectacular and we welcomed hundreds of thousands of visitors during the event. Sales across Liverpool ONE increased by almost 50% compared to the Giant's last visit in 2012 with cafes, bars and restaurants doing particularly well with sales up 30%, clearly demonstrating the positive economic impact for the city."

Peter Cronin, Director of Development and Marketing for Albert Dock Liverpool, said:- "Albert Dock is the natural heart for waterfront animation like Giant Spectacular. We are committed to working in partnership with the city council, Culture Liverpool and the wider Waterfront Partnership to create incredible events which generate huge economic impact on the city and create lasting memories for our visitors."

Using the rail network was one of the most popular ways for people to travel in and out of the city:-
► Merseyrail found that around 500,000 passengers travelled on the local network.
► Northern Rail's figures show more than 330,000 passengers passed through stations they managed.
► First Group saw a 71% increase in passengers on the Saturday (around 3,320 more people than usual).
► Virgin Trains logged 22,500 journeys to Liverpool – an increase of 24%.
► London Midland saw 29,690 passengers – an increase of 7,663 on the week before.
► East Midland figures show an additional 2,200 journeys on their network were made.

Maarten Spaargaren, Managing Director of Merseyrail, said:- "The Merseyrail network was one of the main ways for local residents to get into town and see the Giants this summer. We put on extra services, made trains longer and pulled out all the stops to ensure that as many of our customers as possible could take part in this global spectacle. We're thrilled to be part of something that is enjoyed, not just by people from the city region, but way beyond, and we look forward to working with city partners on any major events in the future."

The event delivered fantastic local, national and international coverage including America Online, USA Today, NBC News as well as coverage in publications from Slovakia, Italy, Denmark and Canada. More than 200 items appearing in the media.

Over the 5 days the official website giantspectacular.com had 1.2million visits, the majority of which were 1st time visitors. #giants trended nationally on Twitter, and messages on the @giantspectacle account were retweeted by people across the world including South America, India, Japan, South Africa and Australia. And the story was extremely popular on other media websites. The dedicated BBC Giants website received 2.2million views and their specially commissioned programme Liverpool's Giant War generated viewing figures of 1.1million – this is an impressive 21% share of the viewing audience.

The full report is available at:- giantspectacular.com.
Friends of St George's Hall Events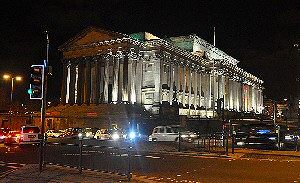 ST George's Hall in Liverpool is to hold another Tea Dance, with the local band 'the Elderberries', within the Great Hall on Wednesday, 5 November 2014. The event will run from 1.30 pm to 4 pm. An entrance fee of £6 can be paid at door. For more information about the event please call:- 0151 225 6909 or visit:- StGeorgesLiverpool.co.UK.
Also to celebrate Christmas, the Friends of St George's Hall are holding a buffet lunch and dance on Sunday, 30 November 2014, from 12.30pm to 4pm. Tickets will cost £18, but you must send your request for tickets with payment, stamped addressed envelope and your tel. no. to:- May Robinson, 52 The Vineries, Woolton L25 6EX. For more information on the Christmas event please call:- 0151 428 2631. Requests to attend must arrive by 17 November 2014. When sending the cheque, please make it playable to:- 'Friends of St George's Hall'. Also tables for up to 10 can be reserved. please enclose list of those who wish to sit together.

Save a life with the extra hour this November
WHEN the clocks go back at the end of October, many people will be using the extra hour to spend some time catching up – on sleep, on chores or on exercise. NHS Blood and Transplant would like to remind people in Merseyside that blood donation also takes around an hour, so why not use it to help save a life this autumn instead.

Although overall blood use within the NHS has reduced thanks to improvements in clinical and surgical practices, hospitals and patients still rely on more than 7,000 people attending a donation session every day across England and North Wales.

It is important that vital blood stocks are maintained at all times, as red blood cells have a shelf life of just 35 days and platelets a shelf life of only seven days. NHS Blood and Transplant needs to collect blood of each blood group in the right quantities to meet patient needs and regular donors are crucial in enabling us to do so.

Barbara Blanche, Lead Donor Relations Manager for NHS Blood and Transplant, said:- "We would love to see people in Merseyside using their extra hour to donate blood. As the weather gets colder there is an increase in people who can't donate due to colds and flu so we really do need every one who can donate to make the effort to do so. By spending your hour with us you are helping to ensure that patients are able to get the blood they need. So if you are thinking about donating for the first time or you are an existing donor who hasn't been for a while then please book an appointment to give blood."

Blood is required to treat patients for a whole range of reasons. It is used in accidents and emergency situations, during surgery and in maternity and neonatal care when either mum or baby need blood. It is also used as a treatment for cancer and for blood disorders, such as sickle cell anaemia.

You can register as a donor, find out whether we've got a session coming up in your area and book an appointment to donate whenever and wherever you are through blood.co.uk or by using our app on your Android, Windows or Apple device. To download an app for your device, search 'NHSGiveBlood' in the app store.
BLOOD DONOR SESSIONS TO BE
HELD DURING 2014


Liverpool Donor Centre
Unit 6, 2 Moorfields
(Entrance on Dale Street)
Liverpool
Monday/Thursday/Friday/Alternate Saturdays:- 8.20am until 3.30pm - Tuesday/Wednesday:- 12.20pm until 7.30pm

Monday, 3 November
Recreation Hall
406 Pensby Road
PENSBY
2.00pm - 4.00pm & 5.30pm - 7.30pm
Tuesday, 4 November
The Venue at Town Hall
Hall Lane
MAGHULL
2.00pm - 4.00pm & 5.30pm - 7.30pm
Wednesday, 5 November
Crosby Lakeside Adventure Centre
Cambridge Road
WATERLOO
2.00pm - 4.00pm & 5.30pm - 7.30pm
Friday, 7 November
Westbourne Hall
Westbourne Road
WEST KIRBY
2.00pm - 4.00pm & 5.30pm - 7.30pm
Saturday, 8 November
Civic Centre
Civic Way
BEBINGTON
10.00am-12.30pm & 2.00pm - 3.30pm
Monday, 10 November
St Helens RFC
Langtree Park
McManus Drive
ST HELENS
2.00pm - 4.00pm & 5.30pm - 7.30pm
Tuesday, 11 November
Aintree Racecourse
Ormskirk Road
AINTREE
2.00pm - 4.00pm & 5.30pm - 7.30pm

Wednesday, 12 November
The Venue
Civic Way
HUYTON
2.00pm - 4.00pm & 5.30pm - 7.30pm
Thursday, 13 November
Christ the King Parochial Club
Score Lane
CHILDWALL
2.00pm - 4.00pm & 5.30pm - 7.30pm
Friday, 14 November
Our Lady's Parish Hall
152 Hesketh Lane
HESKETH BANK
2.00pm - 4.00pm & 5.30pm - 7.30pm
Monday, 17 November
Royal British Legion Club
Lord Street
BURSCOUGH
2.00pm - 4.00pm & 5.30pm - 7.30pm
Wednesday, 19 November
The Foundry
65 Lugsdale Road
WIDNES
1.30pm - 3.30pm & 5.00pm - 7.00pm
Thursday, 20 November
Fleetwood Hesketh Social Club
Fylde Road
CHURCHTOWN
2.00pm - 4.00pm & 5.30pm - 7.30pm
Friday, 21 November
Ecumenical Centre
Northway
SKELMERSDALE
2.00pm - 4.00pm & 5.30pm - 7.30pm
Saturday, 22 November
Holy Trinity Parochial Centre
Hoghton Street
SOUTHPORT
10.00am-12.30pm & 2.00pm - 3.30pm
Monday, 24 November
Bootle Leisure Centre
Washington Parade
BOOTLE
2.00pm - 4.00pm & 5.30pm - 7.30pm

Tuesday, 25 November
Arncliffe Community Centre
Arncliffe Road
HALEWOOD
1.30pm - 3.30pm & 5.00pm - 7.00pm
Wednesday, 26 November
Everton football Club
Goodison Road
WALTON
2.00pm - 4.00pm & 5.30pm - 7.30pm
Thursday, 27 November
Heswall Hall
Telegraph Road
HESWALL
2.00pm - 4.00pm & 5.30pm - 7.30pm
Friday, 28 November
TA Centre
Wexford Road
PRENTON
2.00pm - 4.00pm & 5.30pm - 7.30pm
In general, as long as you are fit and healthy, weigh over 7 stone 12 lbs (50kg) and are aged between 17 and 66 (up to 70 if you have given blood before) you should be able to give blood. If you are over 70, you need to have given blood in the last two years to continue donating.