Gang Culture at Runshaw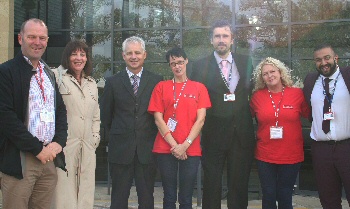 RUNSHAW College students were given a rare insight into gang culture and Policing strategies in a conference held at the College on Wednesday, 15 October 2014, titled 'Gang Culture.'

The School of Public Services invited several high profile guest speakers to the event including senior members from Lancashire Constabulary and a top Manchester barrister, as well as those personally effected by gangs including an ex-gang member and two mothers whose sons are currently serving jail sentences under the much debated Joint Enterprise Law.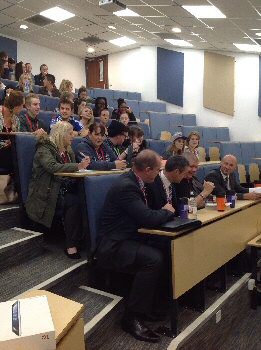 Guest Speakers and topics included:-

DCI Steve Dowson and DI Kev McLean talked about gang crime in the Skelmersdale and Preston areas and police reduction strategies.

Inspector Evans talked about football hooliganism and the culture surrounding it.

An ex-offender and Manchester gang member gave a very personal account of why he joined a gang and how his life is turning around with rehabilitation.

The Governor of HMP Kennet, Mr Valentine, gave the students an insight into prison life and the problems surrounding gangs in prison.

Barrister Barry Grennan from Kenworthys Chambers, Manchester, explained the legislation surrounding Joint Enterprise and the problems surrounding this particular law.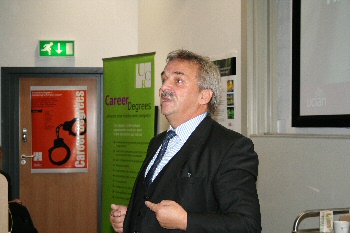 Janet Cunliffe and Amanda McCracken told their son's stories, who are both currently serving long sentences in jail, and believe their sons were wrongly convicted due to Joint Enterprise legislation.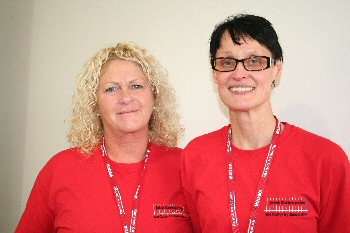 The students and staff found the conference to be extremely interesting. It was a fantastic opportunity to hear from some great speakers and for many of them it proved to be a real eye opener. It is planned that the conference will become an annual College event.

Student comments:- "I learnt a lot about what some people have had to go through in their lives and how they've turned their lives around. I really enjoyed the whole thing and listening to different point of view."

3rd of women concerned with ability to cope with life due to menopause related symptoms
WOMEN in the North West get little support, advice or treatment for symptoms relating to menopause and hormonal changes, according to new research out on Friday, 17 October 2014, resulting in 20% saying they are struggling to cope with aspects of life due to their symptoms.

46% of women with symptoms said they feel depressed, while 30% said they suffer from anxiety. Despite this, 65% of women in the region questioned say there is a general lack of support or advice for those going through the menopause.

Women in the workplace fare even worse in the region; a massive 73% of female workers suffering symptoms said they feel unsupported at work, even though 18% say their symptoms have a detrimental effect on their work. 11% women said they have even considered quitting their job.

The findings are from research carried out by not-for-profit healthcare provider, Nuffield Health, who questioned 164 women in the North West aged between 40 and 65. The figures formed part of wider research which studied over 3200 women across the UK.

Dr Julie Ayres, Specialist in Menopause and PMS at Nuffield Health, said:- "Menopause is a condition which is often dismissed as part of life, and not something to be taken seriously, but for many women the symptoms are significant and can have an extreme impact on their life. Many feel anxious, confused, depressed and exhausted to the point where they are struggling to cope with daily routine. The menopause is not something that just happens to women in their 50s, it can affect those in their late 30s through to late 60s. These women can suffer in silence for years when they could have been benefitting from personalised advice or support to help them understand what is going on."

The survey also flags up a number of barriers that menopause experts say may be causing thousands of women across the UK to miss out on advice, management strategies or treatment which could significantly improve their quality of life.

Despite reporting symptoms like joint and muscle ache, hot flushes, irregular periods, night sweats, mood swings and poor memory, 46% of women in the region questioned failed to recognise they could be experiencing symptoms linked to the menopause, with almost the same number (44%) mistakenly believing they are too young or too old for symptoms. A quarter simply put it down to stress.

Four in ten women sought help from a GP. However, 40% of those who did so said the possibility of the symptoms being menopause related failed to come up.

Despite recent evidence that hormone replacement therapy (HRT) can significantly improve quality of life for many women, as well as protecting younger women from long term diseases including osteoporosis, 36% of women who visited a GP were not made aware of hormone replacement therapy. In total, 25% who visited a GP were prescribed HRT. 20% were told HRT was unsuitable for them, while 14% said they turned it down due to the belief that it is dangerous.

Dr Julie Ayres said:- "Increasingly evidence shows appropriate hormone replacement therapy (HRT) to be suitable for many women, with far less risks than previously thought. The options should be carefully explained to each individual woman, in light of her own risks, future goals and the quality of life she is experiencing. It is absolutely shocking that large numbers of women are getting no help at all."

The research suggests that despite the sheer numbers of women dealing with symptoms of hormone change and menopause, the subject remains taboo in the workplace. A staggering 93% said they felt unable to talk to a manager or colleague at work. However, 20% said they have needed to take time off work.

Dr Julie Ayres said:- "The issue needs to be dragged into the 21stcentury. Increasingly employers are beginning to take employee health and wellbeing seriously, with numerous initiatives to help improve health and fitness, yet clearly the menopause remains a taboo subject. Until we highlight the subject and try to tackle some of the difficulties that women are facing at work, we stand to lose experienced and talented women who should be at the peak of their career rather than facing forced retirement or feeling alienated. I have many patients who couldn't cope with work without hormone replacement therapy and wouldn't even contemplate stopping until they retire. Any woman struggling in the workplace should seek help and look at the numerous options available."