The Blues are back......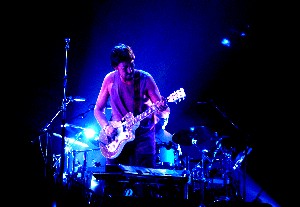 Chris Rea Live at the Empire Theatre, Liverpool
Report by Dominic Bonner and photographs by Patrick Trollope.
HARD times may be the bread and butter lyrics of troubadours or blues guitarists. But the return of Chris Rea to the live circuit after an absence of four years, with only one album during that period. Sees a comeback tale of greatness to misery to success which always a paints an inspiring picture in other's minds.

Recent illness and personal problems saw Rea's return almost a shadow of his former self, as the weight he had lost was plainly visible. But this was almost certainly worth the wait as he launched the Empire's audience off - in his famed rugged gravel voice, with tracks from his 2002 album (Dancing down) the stoney road.

This may have been a low-key affair similar to Jools Holland's Late Show – especially with the appearance of an accordion player amongst this five-piece set. But the consistency of which the old blues Geordie troubadour showed paramount dominance with his style of slide guitar. Leaving a mesmerized front row on his performance with the track Burning Feet.

As the pace heated up, demands from the audience for the renowned Shell petrol-canned guitar and the song 'Catfish girl', became impossible to avoid as hecklers made their insistence known. Indeed such demands grew to such a strong voice that Rea was forced to use foul language and humour to assuage passionate members of the audience.

This was to be a turning point in this concert where the guitar maestro was to
draw upon old favourites such as an eclectic version of Road to Hell and On the Beach, whereby Rea could master audience participation by the arrival of the song Josephine.
The Empire concert was one that literally inspired hundreds of people to travel the width and breadth of England to see this guitar maestro pull off yet another wonderful performance of the blues that sees him gain momentum in his tour. In which the final song of this 120 minute set 'The Hustler', saw the all round entertainer finish his encore with a deserved standing ovation.