Hoverlink service across North West wins Westminster support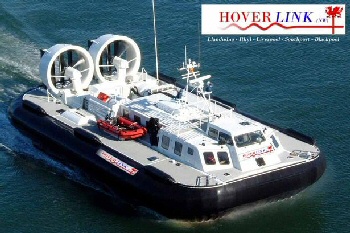 PLANS to launch a fast hovercraft service linking North West destinations including:- North Wales, Wirral, Blackpool, Southport and Liverpool have won support from the Department of Transport.
The business and tourism service will be operated by Hoverlink, with a proposed schedule from 2015, featuring a route to Liverpool John Lennon Airport; the world's only airport hovercraft shuttle.

Hoverlink representatives presented their proposals to Under Secretary for Transport Robert Goodwill MP at Westminster on Wednesday, 22 October 2014.

Other MPs attending the briefing included Louise Ellman (Liverpool Riverside), who is also Chair of the Transport Select Committee, Esther McVey (Wirral West), Chris Ruane (Vale of Clwyd) and Paul Maynard (Blackpool North & Cleveleys).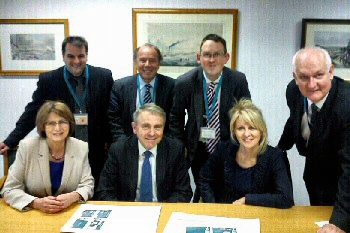 Hoverlink CEO Simon Clitheroe said:- "Momentum behind the Hoverlink project is building fast. The meeting outlined our exciting plans to provide a fast hovercraft linking the North West and North Wales. With the closure of commercial flights out of Blackpool, the hovercraft provides an integral transport link with Liverpool Airport. The unique service will be phased in over 2 years and could create 100 permanent jobs. With support of the Department of Transport and other Government departments, further meetings will now be held within the 24 Enterprise Zones across England, set up by the Government in 2012 to stimulate business growth. We have already secured a proportion of the costs from private investors, but opportunities are still available by emailing:- investment@hoverlink.net"

Hoverlink chairman David Kirwan, senior partner of North West law firm Kirwans, said:- "We were greatly encouraged by the support by MPs from all parties and also the Government itself. The service makes perfect sense and offers a genuine opportunity to boost the North West economy by potentially billions of pounds over the next few decades."
So what are your views on this idea? Do you think it will take off? Will it sink or swim? Let us know your views about this service by emailing us to:- news24@southportreporter.com.

CHARITY FIREWORKS & FAMILY BONFIRE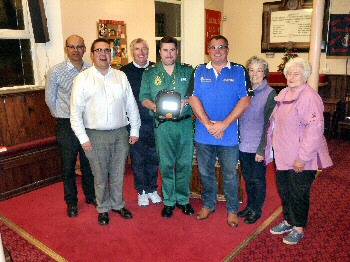 THE annual Bonfire and Firework Display on Victoria Park, Southport, will take place on Saturday, 1 November 2014 and it promises to be the best Bonfire and Firework Display in the area! It will not only be Fireworks and the Bonfire to enjoy, but also on offer are other family fun attractions and entertainment. The Massive Bonfire will be lit at 6:30pm (weather permitting), the Firework display at 8pm (weather permitting). On site will be Silcocks' Fairground and Willow catering... Plus many charity stands and side shows. Family tickets for 2 adults and 2 kids (under 11) is just £10! - Under 11's are free if with paying adult. Over 11's are just £5! So you can also have fun and support your local community with Advance Tickets being available this year from local schools so you can avoid the queues on the night. All proceeds of the ticket sale in the school go directly to that school! See website for more details:- shrt.org.uk. Come along, enjoy an action packed evening for the family, with ALL proceeds from this event going to local charities including providing Defibrillators to local community groups.
Shelter launches new appeal to help families at risk of losing their home in Merseyside
SHELTER has launched a new appeal calling for urgent support of its Merseyside Service, as new analysis reveals 19 households in the area are at risk of losing their home every day. The latest government figures show that, in the last 12 months, 6,858 homes were put at risk of eviction or repossession in Merseyside, a rise of 4% in a year. The housing and homelessness charity is warning that sky high housing costs are pushing many families in Merseyside to the brink. With finances stretched to bursting point, just one thing, such as an illness or job loss, can be all it takes to tip a family into a spiral towards homelessness. Shelter's Merseyside Service already helps 600 families every year, providing vital support to those at risk of losing their home. The new appeal is aiming to raise up to £35,000 in vital funds so that Shelter's frontline staff can help even more families to stay in their homes. As well as helping families at risk of homelessness, Shelter's Merseyside Service has free expert housing advice available for local people in the area with a housing issue. Anyone with a housing problem; from high housing costs to bad conditions; can get help by meeting with specialist housing or debt advisers, legal advisers or by using the free computers to access online advice. Laura came to Shelter for help after her landlord threatened to evict her. The property was already infested with rats and mould but Laura and her family couldn't afford to move. Laura contacted Shelter and they helped stop the family from becoming homeless and find them a new home that was decent, safe and secure. Andy Griffiths, team leader at Shelter's Merseyside Service, said:- "We hear from families like Laura's every day who are terrified they're going to lose their home, but it's even worse to know that at any given time there could be others waiting desperately for our help who we just can't be there for. For many people; from a family being evicted by their landlord, to a parent struggling to pay the mortgage after a job loss – we are the only people they can turn to for help. Expert support and advice early on can make the difference between a family losing their home and keeping it. That's why we're looking for people in Merseyside to help us give more local families the lifeline they need to keep their homes." Anyone who is in need of housing advice should call Shelter's Merseyside Service on:- 0344 515 1900 or drop in to:- 3rd Floor Colonial Chambers, 3 to 11 Temple Street, Liverpool. To donate to Shelter's Merseyside Service visit:- projects.shelter.org.uk.