Merseyside Rock Choir members join Clare Balding to show the healing power of music!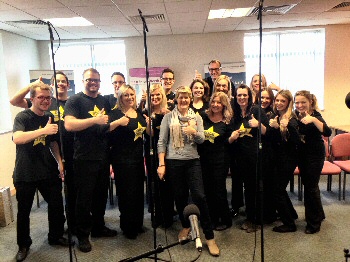 ROCK Choir members from across Merseyside came together to sing the praises of the healing effect of music in their lives, as part of Clare Balding's Radio 2 programme, 'Good Morning Sunday' last weekend.

The show, which attracts a weekly audience of 2 million listeners, was broadcast live from Arrowe Park Hospital in Wirral, and focused on the various ways in which music can have a therapeutic effect, both in medicinal practice and in our everyday lives.

Local Rock Choir leader Anthony Seaman was delighted to support the broadcast, and Rock Choir also performed several tracks live on air, including 'Mr Blue Sky' and a specially arranged version of 'Let it Be'.

The choir really set an uplifting tone for the show, but it was the stories from local members which really struck a chord with the British public. Southport choir member Janet Wolfenden, described how singing had helped her overcome a painful divorce, with her rehearsal offering her the opportunity to quieten her mind.

Sarah Quinn, from the Birkenhead choir also eloquently described how Rock Choir had allowed her to reconnect with herself and given her the confidence to take up the piano again, 20 years after brain surgery had stopped her playing.

After hearing from Liverpool member Terry Hendrickse about her previous struggles with mental health issues, Rock Choir closed the show with a stirring performance of the song which played a huge part in helping her overcome her battles, the Labi Siffre anthem:- 'Something Inside So Strong'.

Anthony, summed up his feelings about the show:- "Singing in a group is such a cathartic, uplifting activity and as a Rock Choir leader, I see people coming along to my sessions, building confidence, releasing stress and leaving feeling better about themselves. But to hear our members speak so confidently and passionately to millions of people about how joining Rock Choir had transformed their lives, was a truly humbling experience."

You can listen to the whole show in a number of ways through the BBC iPlayer service.

Rock Choir is the UK's largest contemporary choir, with more than 16,000 members in over 300 local communities. There are no auditions and no requirements to read music or have any previous singing experience.
Rock Choir members get together each week to attend fun, friendly rehearsals where they are taught specially arranged pop and rock songs. There are lots of exciting performances throughout the year and many of them help raise money for charity.

For a free taster session or more information about times go to:- RockChoir.com or call:- 01252 714 276.

Victims to get their say through Community Remedy
VICTIMS are set to be given a say in how offenders are dealt with after Lancashire's Police and Crime Commissioner unveiled final plans for the county's Community Remedy. The move means offenders who commit certain types of low level crime or anti-social behaviour could be asked to apologise to their victim, undertake a course to address their behaviour or repair the damage they've caused; giving them an opportunity to understand the full impact of their actions.

Clive Grunshaw said:- "One of my key commitments is to empower victims. I don't want them to feel isolated from the process of dealing with offenders - I want them to have the opportunity to be part of it, and that is what the Community Remedy will give them. I also want to reduce re-offending levels, and in order to do that we need to rehabilitate offenders and ensure they understand the effect their actions have had. It is an approach I hope will have a positive impact both on the victim and the offender. I want crimes and anti-social behaviour incidents that are dealt with out-of-court to be handled efficiently and effectively in a way which is satisfactory to the victim and has a lasting impact on the offender. I hope the launch of Community Remedy is an important step toward achieving that."

The Commissioner launched an online consultation to gather residents' views on what they thought the Community Remedy options should be for the county, and also spoke to residents who attended Lancashire Constabulary's recent Open Days at police headquarters.

Now, the following 6 options have been agreed with the county's Chief Constable for use in Lancashire:-

► Offender to apologise to the victim either face to face or through a letter.

► Offender to meet the victim face to face through a Restorative Justice process, which gives the victim the opportunity to explain the impact the crime has had on them.

► Offender participates in a structured activity or course to address offending behaviour, issues such as substance abuse and to reduce the likelihood of re-offending. Where the offender is a young person, parental involvement may also be an option.

► Compensation to be paid to victim by offender.

► Offender to undertake reparation work directly to the victim to repair any damage caused.

► Offender to carry out reparation work in the community, which could include a community project suggested by the victim.

Tim Ewen, Head of Criminal Justice for Lancashire Constabulary, said:- "We are fully supportive of this approach as a means for putting victims at the heart of the process and also seeking to reduce reoffending."

The remedies will be delivered in partnership with other partners and agencies, and will only be used when the offender accepts they are responsible for the offence and both the victim and offender agree a Community Remedy is the appropriate way forward. A Community Remedy will only be used when the offence can be dealt with out of court, and the attending officer will have the final decision on whether the proposed remedy is appropriate and proportionate to both the offender and the offence. For more information on the Community Remedy log onto:- lancashire-pcc.gov.uk.