New artwork proposed for the new Royal unveiled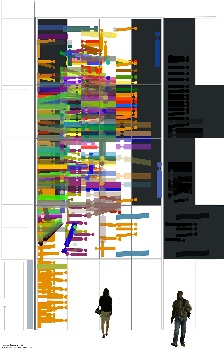 STUNNING glass artwork proposed for the main entrances of the new Royal Liverpool University Hospital are being revealed to the public for the first time as part of celebrations counting down 1,000 days until the hospital opens. The artwork, a modern interpretation of a very large stained glass window has been designed by renowned, award-winning glass artist Alexander Beleschenko. The proposed designs will greet people to the building with this uplifting and colourful glass work at entrances facing Prescot Street and West Derby Street. The glass work in both entrances will cover an area of 217 square metres in total

Alexander said:- "Music is the inspiration behind the two entrance artworks. This is a direct response to the huge musical tradition associated with Liverpool. But one of the great things about using glass is that people will find their own readings and interpretations as light on the glass constantly changes. The artistic intention is that these artworks signify arrival and generate a positive feeling to those coming into the hospital. The colours are very contrasting and basically prime and bright."

The proposed artwork, along with images of how the interiors of the hospital will look, were revealed as the Trust counts down 1,000 days until the new Royal opens in 2017. As part of the celebrations the Trust has commissioned (funded from external sponsorship) renowned light artist Andy McKeown to produce a short light show illustrating the transformation of healthcare in the City that will be projected onto the current construction. This was shown on Wednesday, 29 October 2014.

Helen Jackson, director of strategy and transformation said:- "It is amazing to think that we are only 1,000 days away from opening the new Royal. We wanted to mark this moment by illustrating more of how the hospital will look and feel. Key to this is the wonderful artwork of Alexander Beleschenko. This will have a huge aesthetic impact on the new Royal and there is considerable evidence to show that artwork can have a positive impact on people's physiological and psychological health. We're holding events for our staff and others who have supported the new Royal and we'll be hosting special events for others every 100 days, until the new Royal opens."

Construction of the state of the art new Royal is progressing rapidly, with three lift shafts completed and dominating the skyline at the end of Edge Lane. By early November there will be a total of 5 tower cranes on site. Work on the foundations and underground drainage is progressing well. By the end of October 2014 the foundations for the main hospital are expected to be complete. Work has also started on the concrete flooring and superstructure. In addition to the activity on site, Carillion have so far recruited 20 local apprentice plumbers and 20 local apprentice electricians to work on the new Royal. This follows 2 events Carillion held to highlight the construction apprenticeship opportunities available on the project. Carillion have also allocated over £30,500 to 19 Liverpool based community organisations and charities to support the work they do for local people, from a fund of £100,000 that will be distributed over the next 3 years. New videos showing the construction site and progress up to now have been released:-

► Aerial video of construction site

► Timelapse video of progress on the construction site

Teens push poverty to centre stage
A hard hitting play about the impact of poverty; influenced by young people from across Merseyside; is to be performed in Liverpool next month. 'Brass Razoo' is based on the stories of 140 young people, who have contributed their thoughts and ideas about what it is like growing up in deprivation as part of a national project called Poverty Ends Now (Pen). It has been turned into a play by youth theatre company Season's playhouse and performed at the Black-E on Thursday 6 November, during Living Wage week.
Season's playhouse writer, Harry McMullen, aged 18, said:- "Brass Razoo is the culmination of these 140 voices calling to action against the very real problems facing them in Liverpool today."

Season's playhouse founder, Ellis Howard, aged 17, began working on the project when he was 15. He said:- "I am so excited for this opportunity to combine my two greatest passions, theatre and politics and I am happy that Brass Razoo has already made a conscious contribution to my community."

The first night will feature a youth led, community discussion about what could be done to help people on low incomes across the region, with Liverpool West Derby MP Stephen Twigg, Liverpool City Council's Cabinet member for children's services Councillor Jane Corbett and Whitechapel Homelessness Centre Chief Executive Dave Carter taking part.

Dave Carter of Whitechapel Homelessness Service, said:- "Over the last three years we have seen a 38% increase in the number of people using our services. Of the 2,485 people who came through our door last year, we were able to support 1,103 into accommodation, and prevented a further 921 from becoming homeless. The number of people coming to us because of debt and poverty has increased too. Last year we distributed a shocking 553 food vouchers, an increase of 73 per cent on the previous year. It's great to see young people highlighting these sorts of issues."

Imran Hussain, of Child Poverty Action Group, says:- "Child Poverty Action Group's report, the Cost of a Child, reveals parents who are on low pay are unable to meet the basic costs to provide an adequate standard of living for their child. A couple on minimum wage are short by 18 per cent and for a lone parent this figure is 13 per cent. This shortfall is drastically higher for the children of parents who are unemployed because social security payments fall far short of meeting basic needs. The benefit cap essentially means a cut to the amount help the families and children in greatest need receive. As a Living Wage advocate, CPAG recognises the correlation between low wages, underemployment and poverty and the need for this to be rectified in order to prevent the spread of poverty. Areas where there are higher levels of part time employment and unemployment see families that are struggling. It's a testament to the young people of this project that they recognise these issues are having an impact on their community and have a direct relationship to poverty. It's important that this narrative is understood and awareness raised in order to improve outcomes for those who continue to struggle by on a low income."

Rys Farthing from Oxford University, who has worked with the young people on the project, said:- "It's brilliant to see so many young people from around the Liverpool region come together to tackle this important community issue. They're really leading the way."

Young people from Liverpool, along with others from Manchester, the North East and London, also contributed to a 6 point manifesto presented to more than 100 MPs and Peers at the Houses of Parliament earlier this month which called for:-

► Every family to meet a minimum standard of living

► An equal school experience for all

► Affordable, decent homes for everyone

► Daily access to three healthy, affordable meals

► All to feel and be safe within their homes and communities

► Access to affordable transport, everywhere

You can RSVP for the event on Thursday, 6 November 2014 at:- brassrazoo.eventbrite.com.