Gold awards for revamped loos at Church Square Shopping Centre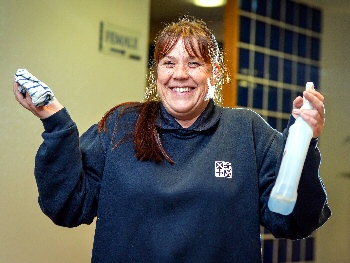 BOSSES at Church Square Shopping Centre are flushed with success after winning double gold for the precinct's toilets. Now they're hoping to pick up a national title at the industry's "Oscars" – Loo of the Year 2014. It follows a £60,000 investment to ensure shoppers can spend a penny in style at the busy St Helens Shopping Centre. Judges from the British Toilet Association decided to hand the gold medals to Church Square Shopping Centre for both of its facilities; in St Mary's Arcade and Lagrange Arcade.

The BTA inspectors made unannounced visits to check everything from how clean the facilities were, through to spare loo rolls and enough soap. Other criteria included plenty of signs to point the way for shoppers, enough cubicles, at least two types of hand driers, disabled facilities and baby changing areas plus cubicles suitable for children.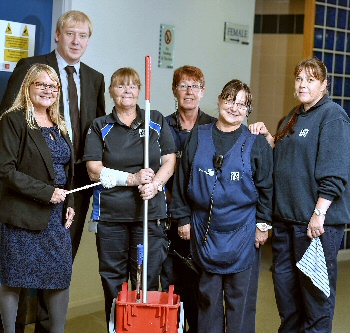 Church Square Shopping Centre manager Steve Brogan said:- "This is a real vote of confidence for our staff, who work hard every day to make sure that the loos are kept clean and tidy, just like the rest of the precinct. We know that our shoppers value having excellent, safe toilet facilities and baby changing areas that are easy to reach from both the centre and the car park. Whether you are parent with young children, a worker grabbing some shopping in their lunch break or a pensioner, there's nothing worse than trying to plan your day around where you can use a loo. That's why we made the investment to ensure the facilities in both parts of the centre were the best possible, and designed so they could be kept clean easily. We are proud of our green credentials here, so they are also environmentally friendly; from the hand driers to the lighting."

The Centre is now up for the national title at the BTA's Loo Of The Year Awards, in December 2013, it was won by Brighton and Hove Council. Shopping Centres have only taken the top title twice in the Awards' 28 year history; the last time was back in 2007.

Britain's Got Talent comedian Kev Orkian, who has performed for both Prince Charles and Prince Philip, will be handing out the prizes at the ceremony, on December 5 in Solihull.

A BTA spokesman said:- "Since its introduction in 1987, the annual Loo of the Year Awards competition has helped focus the spotlight on 'away from home' toilets throughout the UK. The Awards have a simple objective; to encourage the highest possible standards in all types of 'away from home' or public toilets. Everyone has a shared responsibility to make this happen; toilet providers, managers, washroom suppliers, contractors, staff, visitors and customers, all toilet users."

The criteria for the awards includes:-

► Adequate directions to the toilets for both foot and car users.

► Proper signage, both outside and inside the toilets, including name of location, facilities available, person/authority responsible and how to contact if require.

► Adequate facilities for both men and women.

► Hot and cold running water to wash basins in all facilities provided, with adequate provisions for soap.

► Adequate provision for hand drying, preferably choice of 2 types:- Lockable toilet tissue dispensers, preferably with spare rolls/tissue.

► Sanitary towel disposal units inside all ladies cubicles.

► Properly designed and equipped accessible toilets.

► Dedicated and properly equipped babychange facilities in both male and female toilets; or as a unisex facility, to include adult toilet facilities and room for double pushchairs.

► Child/family friendly cubicles and/or family toilets, properly equipped.

► Older child/adult fixed or height adjustable changing bench

► Effective cleaning regime and management, to ensure proper standards of cleanliness at all times.

Did you know? Church Square Shopping Centre was built in 1973? It is open daily and home to a range of big name stores; such as BHS, Boots, Roman and Superdrug; along with independent retailers, plus the busy St Mary's Market. There are 550 parking spaces across St Mary's and Tontine car parks. More details can be found online as well as opening times, along with many offers at:- churchsquaresthelens.co.uk.

Support scheme praised by Citizens Advice
LIVERPOOL City Council's scheme to help people hit by welfare reforms has been praised by the Citizens Advice Bureau. Liverpool Citizens Support Scheme; which replaced DWP Crisis Loans and Community Care Grants in 2013; helped almost 9,000 people in its 1st year. The scheme is focused around Urgent Needs; mainly food, fuel and clothing, and Home Needs such as furniture, white goods and household items which are supplied by Liverpool Furniture Resource Centre.

Citizens Advice have highlighted Liverpool's scheme in a new report on their website titled:- "Making Welfare Work Locally". They say the city's approach stood out because it was:- "designed to be flexible and appropriate changes were made during the year as lessons were learned". The city council increased promotion of the scheme and used an underspend to introduce a freephone number and to support related initiatives such as benefits maximization and topping up the discretionary housing payments budget to help people affected by the so called:- 'Bedroom Tax.'

Citizens Advice Chief Executive Gillian Guy said:- "When we spoke to staff at Liverpool City Council, we were particularly impressed by how officers were keen that the scheme was able to respond quickly to provide help to people in urgent need as well as help with furniture and household goods. It was good to see how they had been able to amend the scheme during the year to respond to feedback from user groups to make it more accessible to a wider range of people in crisis."

They were also impressed with the way the scheme is integrated into the Benefits Service so that the team can assess the application for any other entitlements and support.

Urgent needs awards are processed in 2 days, while Home Needs claims are dealt with in 10 days.

Mayor Joe Anderson said:- "These are really tough times for many of our residents who are battling a rising cost of living with a reduction in their benefits and this leaves them extremely vulnerable at times of crisis. The help our scheme gives with basic living costs and the essentials of setting up home can make a huge difference. We have worked hard to ensure the service is quick, flexible to meet a range of needs and helps people access a range of other support where needed. This is part of the council's commitment to helping those who are most in need, which has also included setting up the Tackling Poverty Action Group, chaired by Councillor Frank Hont, which looks to coordinate activity across the city with all those agencies working to support our most vulnerable citizens. The council also supports food banks through the Mayor's Hope Fund, uses our reserves to mitigate the impact of the cut in council tax support and gives £1 million to credit unions to try and stop people turning to loan sharks."

An example highlighted in the report is a man who found himself caring for his younger siblings when his mum died. He received financial support to tide him over while a child benefit application was processed and also had help with his housing benefit.

More recently, the Liverpool Citizens Support Scheme been extended to help with the cost of moving home as a result of benefit reductions such as the under occupation penalty (the so called bedroom tax), which affects 11,000 tenants in Liverpool.

Support is also now provided where people are being threatened with eviction due to debt, and to help with the cost of starting work.

The council has also extended the use of freephone 0800 numbers to all Benefits Service calls including housing benefit, council tax support, free school meals and benefits maximisation advice. Plus, additional staff are being employed by the benefits maximisation team to help people affected by welfare reforms.

Read the Citizens Advice Liverpool case study at the CA's website. More information about the Liverpool Citizens Support Scheme, and details of how to apply, can be found online.
Digital highway is a road to nowhere for many rural retirees
FOLLOWING a recent report by The Royal Voluntary Service (RVS), predicting that half a million elderly UK residents could spend Christmas Day alone, NFU Mutual, the UK's leading rural insurer, is concerned that the problem of isolation is much greater for elderly people living in rural areas due to a lack of access to reliable broadband. While the Government is keen to encourage elderly people to use social media and video calling to contact distant relatives, such systems are reliant on access to reliable and affordable internet access, something which can be a postcode lottery in rural areas. Earlier this year, NFU Mutual undertook a study of rural internet users which showed that more than a third (37%) of those who do have internet access in the countryside say that it's too slow for their needs. Commenting on the problem, Nicki Whittaker, a Rural Affairs Specialist at NFU Mutual said:- "The Environment, Food and Rural Affairs Select Committee has just launched an inquiry looking at the current broadband coverage in rural areas, which suggests that sufficient progress has not been made and that rural residents and businesses are still disadvantaged by a lack of access to a reliable and quick broadband service." Not only are rural households less likely to have superfast broadband (22% uptake vs. 32% in urban areas), but they are also half as likely to be able to use mobile broadband through 3G and 4G devices. Nicki continued:- "The Government has just announced a 2 tier approach to tackling this issue, the 1st part of which is a commitment to spend £150 million to finance hundreds of new mobile phone masts for the most isolated rural areas and, whilst this is certainly a step in the right direction, many rural home and business owners remain frustrated by the amount of time it is taking to secure fast and reliable broadband in their areas. The issue with rural broadband isn't always that there is a lack of ways to get online, but that many of them are inadequate. People should speak to their provider or local MP to discuss improvements or solutions. Community services, such a local libraries often provide online access; however, as many libraries in rural areas have closed, getting access to the internet is not always straightforward." What are your views on this? Please email us to:- news24@southportreporter.com and let us know.