Appleby Bridge family paid tribute to her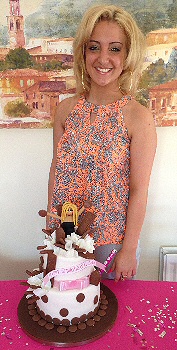 THE family of a student who was found dead at her Halls of Residence in south Liverpool at the weekend have paid tribute to her. Alisha Bartolini, aged 18, from Appleby Bridge in Wigan was found dead at Hope Place Campus, in Taggart Avenue, Childwall at 5.30pm, on Saturday, 1 November 2014. A post mortem examination was carried out, but a cause of death cannot be determined by the pathologist until the results of further tests are known. Detectives from Admiral Street CID are treating Alisha's death as unexplained until the cause of her death is known. A family liaison officer is providing support and information about the police investigation to her family at this difficult time. Alisha's family released the following statement about Alisha and have asked that they are left alone to grieve in peace. Michaela and Sean, her parents, said:- "We are absolutely devastated by the death of our daughter Alisha and are struggling to come to terms with what has happened. Alisha was an intelligent, bubbly, popular girl who was much loved by everyone in her family and all her friends. She had enjoyed her time at Abraham Guest High School and Saint John Rigby College and had just started at Liverpool Hope University where she was studying Marketing and Media which she hoped would lead to a career in that field. No one can ever expect or prepare for losing a child at such a young age. It is every parent's worst nightmare and we are utterly devastated. We are proud to have spent the time with her. We are however comforted by all the love and messages of support we have received from family, friends and neighbours; they are truly appreciated and show just what a beloved and treasured person Alisha was to so many people."
10 things you need to know about tax avoidance
HM Revenue and Customs (HMRC) this week have issued a list of:- "10 things a tax avoidance scheme promoter won't always tell you." The list sets out the risks that people face when they sign up to a tax avoidance scheme. These include not only the possible monetary costs and reputational damage of tax avoidance, but also a potential criminal conviction. This list is being published as HMRC writes to the first promoters who will be caught by new High Risk Promoters rules. If they don't change their behaviour, HMRC could name them publically and fines might be imposed of up to £1 million.
Speaking at an HMRC stakeholder conference, the Financial Secretary to the Treasury, David Gauke, said:- "The government has taken unprecedented steps to clamp down on the selfish minority who practise tax avoidance, because we are firmly on the side of the vast majority of taxpayers who play by the rules. As a result, tax avoidance is now very high risk. On top of a substantial fee to join a scheme that will almost certainly fail a challenge by HMRC, tax avoiders will also have to pay the tax they dodged, plus interest and penalties. To help protect taxpayers from unscrupulous promoters we have put in place new High Risk Promoters rules, but people need to be aware of the dangers. So I would strongly advise anyone thinking of signing up to a scheme which they have been told will legally reduce their tax bill to carefully consider today's list of things a promoter may not tell you."

The 10 things a promoter won't always tell you:-

1. Most schemes don't work. You may be told that avoidance is legal, but if the scheme doesn't work you'll have made an incorrect tax return, which is not in accordance with the law. You are legally obliged to pay tax that is due and you may be charged penalties if you try to avoid it.

2. It could cost you more than you bargained for. Avoidance schemes are complex. They can give rise to unintended additional tax consequences, and the fees you pay the promoter do not count as tax paid. So you could end up paying much more than just the tax you're trying to avoid.

3. You may have significant legal fees to pay. If the scheme is taken to litigation, you're likely to have hefty legal fees to pay. Your promoter may ask you to pay into a 'fighting fund' up front.

4. You could face criminal conviction. If you deliberately mislead or conceal information from HMRC you could be prosecuted and convicted.

5. You could face publiCity as a tax avoider. If you are named in court papers when the case is litigated, or in public registers, you could be reported in the media as a tax dodger.

6. Your scheme is never HMRC approved. Getting an avoidance Scheme Reference Number from HMRC doesn't mean the department has cleared the scheme. HMRC issues these numbers when a scheme has signs of being designed to avoid tax.

7. You could be marked out as a high risk taxpayer. Use of a scheme could mark you out as a high risk taxpayer, which means that all of your tax affairs will be closely scrutinised in future, not just your claim for relief.

8. HMRC is likely to beat your scheme in court. HMRC wins eight out of ten cases where taxpayers and promoters take avoidance schemes to court.

9. The risk is normally all your own. It's unlikely that a promoter will give you a guarantee that a scheme will work. And they probably won't be around to support you once HMRC starts investigating your tax affairs. Some promoters set up simply to sell the scheme, and then disband.

10. You'll have to pay the tax up front anyway. You won't get a cash flow advantage while HMRC investigates a scheme. New legislation means you'll have to pay the disputed tax up front.
Do you know these men who are on CCTV footage at JD Sports in Aintree?


MERSEYSIDE Police have released CCTV images of 2 men who officers believe may have vital information about a robbery at a JD Sports branch, in Aintree, on Thursday, 2 October 2014. Officers were called to the branch on Aintree Retail Park, at around 7.55pm, the 2 October, following a report that a group of men had walked into the shop and 1 had threatened a member of staff with a spanner. The offenders are believed to have taken a large quantity of Armani hooded tops and some black North Face jackets before escaping from the shop on foot. Patrols attended and immediately carried out enquiries in the area. An investigation into the full circumstances surrounding the incident is continuing. Officers believe the 2 men shown in the CCTV stills could have important information which may help them with their investigation into the incident. Either of the men, or anyone who recognises them, is asked to call detectives in Sefton CID on:- 0151 777 3833, or via the:- 101 number, or Crimestoppers, anonymously, on:- 0800 555 111.

Warning to Sefton Residents be vigilant after a series of distraction burglaries
RESIDENTS in Sefton are being advised to be vigilant after a series of distraction burglaries targeting the elderly. Detectives at Sefton CID are investigating all the incidents, which have generally involved a bogus repair man tricking people into handing over cash after falsely claiming roof tiles were loose or damaged. Officers are now reminding all residents across the borough to take basic, simple steps to ensure that they don't fall victim to this kind of burglary. The latest incident happened in Litherland, on 29 October 2014. A 90 year old woman was at home when a man knocked at her door at around 7.30pm, that night. When she answered he claimed he had carried out some repairs to her roof and needed paying. He is then reported to have tricked his way inside the house and then distracted the lady by asking for a glass of water before stealing her purse. Just 2 days earlier a 78 year old woman was at home watching TV, at around lunchtime, when a man knocked at her door claiming to be from a social housing provider. The man told the woman that he was there to repair several loose slates on her roof and needed paying. When she went back inside to get her purse he followed her and pressured her into handing over all her cash before leaving in a hurry. A week before that, on 17 October 2014, Merseyside Police say that a 77 year old woman was at home, in Formby, when a man claiming to be from the Council called to advise some roof tiles were loose and needed repairing. He then talked his way into the woman's house and managed to steal her purse containing cash and a diamond eternity ring. Detectives believe that either same offender or a small number of different offenders are responsible for these crimes and others and are carrying out extensive enquiries to try and catch them. Detective Constable Sue Demomme from Sefton CID's burglary unit, said residents should always err on the side of caution and keep people who call unannounced waiting outside until they can be checked out. She said that:- "The offender or offenders target mainly elderly people who live alone and keep cash in their house. By posing as an official from the Council or social landlord they are trying to gain the resident's trust or dissuade them from asking too many searching questions. However in these cases it has clearly been a con and the caller is not a genuine Council repairman at all and there has not been any work necessary on the victim's property. These criminals are extremely callous individuals who will think nothing of stealing someone's weekly pension, someone's life savings, or treasured family jewellery, leaving their victim heartbroken at both the intrusion into their home and the loss of their belongings. I would urge everyone in Sefton to be mindful of this issue and to not only be vigilant when answering their own doors to cold callers but also to look out for their neighbours, particularly if they are elderly or vulnerable in some other way. People should never feel uncomfortable or awkward about using their door chain first and then asking the caller to wait outside while they ether call the company they say they are from or verify their identity in some other way. Our advice will always be that if you have any doubts at all that someone is not who they say they are, do not open the door to them, ask them to wait outside or even leave and call a friend or relative or the Police for advice." The offender in the 3 incidents above is described as a white man, aged in his 40s or 50s, with greying hair and an unshaven face. He was wearing a dark coloured jacket and dark coloured trousers. Anyone with information that could help detectives trace the offender is asked to call Sefton CID on:- 0151 777 3014 or Crimestoppers on:- 0800 555 111. To report a crime in progress always call:- 999. In a non-emergency call:- 101.
Devastated mum appeals to thieves to return jewellery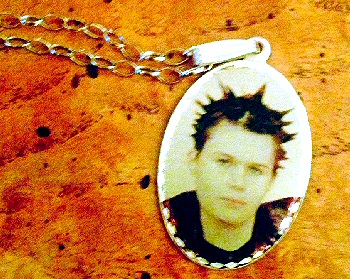 A devastated mum is appealing to thieves who burgled her Wirral home last weekend to return precious items of jewellery given to her by her dead son. Adele Hardman arrived at her home on Fieldway in Wallasey, on Saturday, 1 November 2014, to find that she had been burgled. The worst devastation was in her bedroom, where thieves had emptied the whole dressing table of jewellery boxes. Among the items taken were 2 of her most precious pieces of jewellery; a 9ct custom made gold necklace with a pendant depicting 4 playing cards.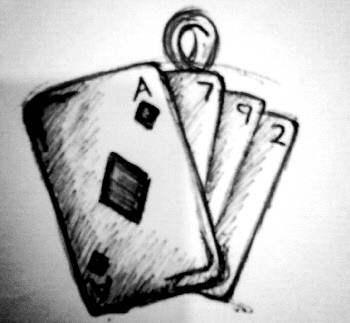 On the back it reads:- "To Chris, you are my shining star, Love Forever, Kayl x", and was given to Adele's son, Christopher, by his girlfriend. The 2nd is a pendant that contains a picture of Christopher. Christopher died, aged 15, on 25 October 2004, after suffering Oseteosarcoma, which is a form of bone cancer. Adele said:- "It makes me feel sick that someone has been in my house and gone through all my things. But if that's not bad enough, they've taken such precious items that give me such fond memories of my son, and on the 10th anniversary of his death and his birthday this Sunday. It brings it all back to me. As well as the items of jewellery there are other personal items from my son, such as letters and notes. Whoever took these things will know exactly what they are, and I just want them all back. I used to get them out and read them to remember Christopher and I can't now because they're gone." Detective Paul Parry from Wirral CID said:- "The thieves will probably not have been aware of what they stole as they took all the jewellery boxes. But they will now have had time to go through everything and realise that they've taken some items of huge sentimentality. I'd like to appeal to their conscience and put themselves in Adele's position and think about how they'd feel if this happened to them. All we're asking is for them to do the right thing and find a way to get them back to their rightful owner." Police believe the burglary occurred sometime during the evening of Friday, 31 October 2014, and into the early hours of Saturday morning. A laptop computer and cash were taken along with the jewellery. Anyone who has any information is asked to call:- 0151 777 2262 or Crimestoppers, anonymously, on:- 0800 555 111.