Merseyside running community awards 2014 winners announced
THE votes are in and the winners of the very first Merseyside Running Community Awards have been announced. Over 140 guests came together for the inaugural awards dinner at The Richmond Hotel Liverpool, Hatton Garden. The awards were staged to recognise and celebrate the thriving running community of Merseyside.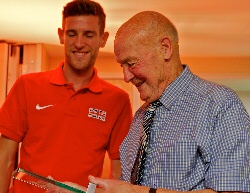 Liverpool athlete Jonny Mellor took time out of his training schedule to attend the event and officially present the awards. This year Jonny has represented England in the Commonwealth Games, and Great Britain in the European Cup and World Indoor Championships, as well as medalling in the British Championships over 3,000 metres 5,000 metres and 10,000 metres. Jonny's long term goal is to compete in the Rio 2016 Olympic Games over marathon distance. Just days after presenting the awards, Jonny travelled to Kenya for a 4 week high altitude training programme with British Athletics and to meet local runners.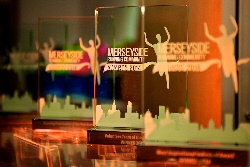 Amongst the award winners was 91 year old runner Eddy Mountford from Wirral, who still takes part in race events, he was awarded the Lifetime Achievement accolade. Eddy only began running aged 58, and has since completed 30 marathons and countless 10Ks and half marathons. The Merseyside Running Community Awards are the brainchild of RUN (Running Unites Network), a group of like-minded keen volunteer runners from across Merseyside who meet on a monthly basis to discuss all things running with RUN hosts, race organisers BTR Liverpool.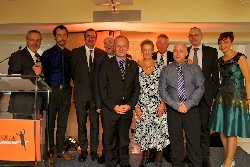 BTR Liverpool is the leading independent organisation for race events and delivery in Liverpool City Region. Its portfolio of annual events includes the BTR Liverpool Half Marathon; BTR Wirral Half Marathon/10K; Mersey Tunnel 10K; and BTR Liverpool Santa Dash. Collectively, RUN and BTR Liverpool created the Merseyside Running Community Awards to showcase and celebrate all that is positive and inspiring about the local sport locally. The awards were open to the public to make their nominations, and from this a shortlist of 3 finalists for 6 categories were announced. A seventh category to capture the best running image had 12 finalists. Voting was open to the public and 2,200 votes were registered.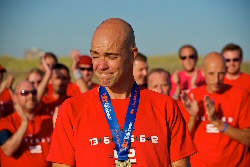 The winners of the Merseyside Running Community Awards 2014 are:-

► Overcoming Adversity Award
Keith Peacock (Wigan)

► Running Community Service Award
Rachel Griffiths (Wirral)

► Most Inspirational Individual Award
David Marsh (Southport)

► Volunteer Team of The Year Award
Parkrun Princes Park (Liverpool)

► Running Personality of The Year Award
Eamonn Brady (Liverpool)

► Running Image of The Year Award
Paul Cooper (Liverpool)

► Lifetime Achievement Award
Eddy Mountford (Wirral)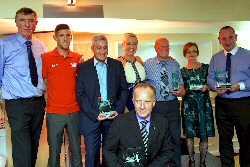 The Merseyside Running Community Awards 2014 were sponsored by Northern Running Guide, Running Imp, Salming, Liverpool-based sports promotion company Wild Thang, and headline sponsor BTR Liverpool. During the evening a prize draw was held, which raised £765.40 for the BTR Footsteps Fundraisers. This new charity initiative is a 12 month campaign to raise funds for five Merseyside charities through BTR race events. The beneficiary charities are Cash For Kids, Claire House Children's Hospice, Everton in the Community, Jospice, and Roy Castle Lung Cancer Foundation. BTR Race Director Alan Rothwell commented:- "The RUN volunteer group and BTR Liverpool are absolutely overwhelmed with how the running community has supported the inaugural Merseyside Running Community Awards. We were delighted with the diverse range and quality of the nominations in the first instance, but then to receive 2,200 public votes for the final shortlist was simply fantastic. The Merseyside running community is full of very special, inspirational people, and our finalists and winners truly represent all that is great about running on Merseyside. The awards give the sport another platform locally to encourage and inspire people to join the sport. We're delighted with the first year; and it was a very special awards ceremony with each winner given a standing ovation as they were announced. Our expectations have been completely exceeded and we're now looking at how we can build on this for next year."
WLLR's Steam Trains for Children in Need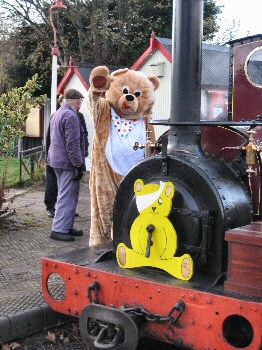 THE West Lancashire Light Railway (WLLR), will once again we will be opening especially to support the BBC Children in Need appeal. The 2' gauge line situated approximately midway between Preston and Southport, on Station Road, Hesketh Bank (PR4 6SP) and runs above a former clay pit, which served a brickworks, that was adjacent to the old West Lancashire Railway. The event will see 2 locomotives in steam. A steam hauled passenger train will depart approximately every 20 minutes. The WLLR will be offering unlimited free rides on the day, but visitors will be invited to make a donation to Children in Need. The location has free car parking, on site. Hot and cold drinks will available to buy on site. We also recommend Booths in-store café, close by. Also, there is an hourly bus service on Sundays, so if travelling from Southport or Preston by bus, the No. 2 bus stops just outside Booths, near the entrance to the Railway. The event takes place on Sunday, 16 November 2014, from 11.30am to 4.30pm. After this, the Railway will be closed until the Santa Specials on 13 December, 14 December, 20 December and 21 December 2014. Booking forms can be found on the WLLR website or by calling them on:- 01772 815 881.

Karen Potter Craven Minor JFL
Results Week Ending 2 November 2014
Under 11 Trisconi Cup
Formby JSC Black 0-9 Redgate White
Crosby Stuart 2-1 Birkdale United
Burscough 0-6 Trinity White
Southport FC Juniors 5-1 Formby JSC White
Under 12 John Disley Cup
Birkdale United 1-5 Town Green
Formby Rangers 2-0 Altown United
Trinity White 0-5 Mitch Green
Formby JSC White 9-0 Phoenix
S&B Rangers Red 2-3 Formby Athletic
Under 13 Tom Galvin Cup
Birkdale S 2-7 Southport FC Juniors
Under 14 Anita Shaw Memorial Cup
Birkdale Black 3-4 North Sefton
Formby JSC 3-8 Redgate Rovers
Southport FC Juniors 4-0 Hesketh Colts
Under 15 Tom Owens Cup
Churchtown Athletic 0-2 Formby JSC
Under 16
Jaguars White 1-2 Jaguars Red
Southport FC Juniors 3-1 Formby JSC
Under 17/18 Geoff White Memorial Cup
Hudson Rangers 0-1 Burscough Green
Birkdale Black 3-1 Redgate Yellow
Myers 3-1 Dynamo Rangers

Fixtures Week Ending 9 November 2014
Under 11 Premiership
Burscough v Birkdale United
Southport FC Juniors v Formby JSC White
Trinity White v Redgate White
Maghull Youth v S&A Red
Under 11 Championship
Redgate Yellow v S&A Blue
Hesketh Colts v Formby JSC Black
Crosby Stuart v Trinity Blue
Formby Athletic v Phoenix
Under 12 Premiership
Hesketh Colts v Trinity Blue
Trinity White v Birkdale United
Altown United v Formby Athletic
Under 12 Championship
S&B Red v Mitch Green
S&B Tyellow v S&A Amateurs
Formby JSC Black v Ormskirk
Redgate Rovers v Phoenix
Under 13 Tom Galvin Cup
Birkdale Black v Southport Trinity
Formby JSC v Redgate Rovers
Under 13
Birkdale S v Hesketh Colts
Southport FC Juniors v S&A Amateurs
Under 14
Hesketh Colts v North Sefton
Southport FC Juniors v Birkdale Black
Formby JSC v Birkdale United
S&A Amateurs v Redgate Rovers
Under 15
Churchtown Athletic v Birkdale United
The Hares v Southport Trinity
Southport FC Juniors v Formby JSC
Under 16 Adam Bell Cup
Churchtown Athletic v Redgate Green
Hesketh Colts v Redgate Yellow
Under 16
Jaguars White v Jaguars Red
S&A Amateurs v Southport FC Juniors
Under 17/18 Geoff White Memorial Cup
Birkdale United v Hudson Celtic
Under 17/18 Premiership
Lydiate v Hudson Rangers
AFC Liverpool v S&A Red
Town Green v Redgate Rovers
Under 17/18 Championship
Formby JSC Black v Dynamo Rangers
Southport Trinity v Birkdale Black
Event shows how to survive the winter
A FREE event offering help and advice about keeping warm and staying healthy during the winter is being held at St George's Hall. The Winter Survival Community Event takes place on Wednesday, 12 November 2014, (10am to 2.30pm). It is part of a campaign aimed at reducing excess deaths during the winter months. The event will have 50 exhibitors, from a wide range of organisations, providing information and advice on a number of issues including:-
► Fuel Poverty

► Debt

► Energy efficiency

► Financial assistance

► Healthy living

► Keeping Active

► Social inclusion
There will be entertainment and demonstrations throughout the day including a guest appearance from radio celebrity Pete Price who will be to demonstrate some chair based keep fit activities. Live music will be provided by the NW Charity singers and Reiki healing sessions by Ursui System. There will also be a free prize draw and a hot drink on arrival. Free bags of vegetables to make soup will also be handed out while stocks last. The event will be opened by the Lord Mayor of Liverpool, Councillor Erica Kemp. She said:- "This event is very important in providing information and advice to help people keep warm and safe. Hundreds of people have attended in previous years and have found it extremely helpful. It is a key part of the Winter Survival campaign which is aimed at cutting excessive winter deaths. Although we have seen the number of excess deaths in the coldest months reduced significantly in recent years there have still been more than 200 in recent years, So the chance to meet experts on a whole range of subjects to help you survive winter is one not to be missed."
1 in 4 workers in the North West earns less than living wage
THE annual living wage research report by KPMG, estimates that over 600,000 workers receive less than the living wage in the North West region, which is just under 1 in 4 workers (24%). This is an increase from the same time last year when the figure was 1 in 5 or 21%. The new Living Wage rate will be announced, with an in-crease expected from the current rate of £7.65. Commenting on the report, TUC Regional Secretary for the North West, Lynn Collins said:- "People go to work and expect to earn enough to live on. For those paid below the living wage, they are not getting a fair day's pay for an honest day's work. Low pay is blighting the lives of hundreds of thousands of families across the region. And the consequence is we have to spend on tax credits to subsidise low paying employers and we bring in less in tax. The fact is there are employers out there across the North West who can afford to pay living wages, but aren't. It is now time for all responsible employers to commit to adopting this standard, which enables workers to earn just enough to be able to live a decent life. We have the wrong kind of recovery with the wrong kind of jobs; we need to create far more living wage jobs, with decent hours and permanent contracts, something that we will continue to campaign for." There are two events taking place next week that we are involved with to mark Living Wage Week, which run until 8 November 2014, following North West launch of the Living Wage rate, that took place on Monday, 3 November 2014, at the Chapman Building, University of Salford.