13,000 employers in Merseyside get National Insurance discount
AROUND 13,000 employers in Merseyside are benefiting from the government's new Employment Allowance, according to the latest statistics. Eligible businesses and charities can now claim a discount of up to £2,000 on the National Insurance Contributions they pay for their employees.
Within the 1st 6 months since its launch, over 850,000 employers across the UK and nearly 87,000 in the North West had benefitted from the Employment Allowance. This number is expected to increase throughout the remainder of the tax year.
Announced at Budget 2013, the allowance is simple to claim and easy to administer. Businesses simply confirm their eligibility for the allowance through their regular payroll processes. The new data coincides with a recent survey by the Federation of Small Businesses which found that many firms have used it to invest in staff, with 18% increasing wages, 17% hiring additional staff and 12% providing additional training.
Around 1 in 5 has also invested in their businesses through equipment, machinery or premises, and 1 in 10 has provided extra hours for staff.

Chancellor George Osborne said:- "Today's figures show that half way through its first year, over 850,000 businesses in Britain have already benefited from a cashback on jobs. Businesses across the country can claim a cut in their National Insurance bill, worth up to £2,000, thanks to the Employment Allowance and, if they haven't already, then I urge them to do so. This tax cut is part of our long term economic plan to back businesses investing in jobs. That is how you deliver greater economic security for hardworking people."

John Allan, National Chairman of the Federation of Small Businesses (FSB) said:- "We're really pleased to see so many businesses already taking advantage of the Employment Allowance. We called on Government to help small employers invest in staff, and now we see how this additional support has been spent. Our members have used the Allowance by paying workers more, hiring new people and increasing training. It's also good to see a quarter of those that used the allowance to hire new staff took on an apprentice. We will work with government to raise the profile of the Employment Allowance so all the firms eligible, claim it."

A breakdown of the figures is available online.
Lord Mayor puts her 'Liverpool Heart' into Big City Soul
LIVERPOOL'S Lord Mayor is hoping she can get everyone 'rockin around the Christmas tree' this year by releasing a record to help a local charity.
The single 'Liverpool Heart' has been specially written for the City of Liverpool, will feature lead vocals from the Lord Mayor, Councillor Erica Kemp and can be downloaded now.
Written under the banner of the Big City Soul Collective, in a bid to showcase Liverpool's creative talent, the single is available via iTunes as well as CDs being sold in local shops and venues across the City.
All monies raised from the record, will go to the charity Liverpool Heartbeat to help fund projects designed to help young people reach their creative potential. Lord Mayor Cllr Erica Kemp said:- "This is an exciting initiative and I am really delighted to be involved. Liverpool Heart is a catchy, Christmas song that is a great tribute to the city and I think it will capture the imagination of the people."
Songwriter Ian Hewitt said:- "People really love the song and we have been overwhelmed by the support we've received for the Big City Soul Collective. I was so proud to write the song as a gift to the City of Liverpool and see it brought to life by such gifted vocalists and musicians. We're so pleased to have the support of the Lord Mayor of Liverpool. We now really need the people of the city to support the project by downloading the song. This is Liverpool's Christmas Song and we are urging everybody to wear their Liverpool heart on their sleeve and make this song a huge success."
The song was 1st performed at a 'mass busking event' organised by the City Central Bid Team in Williamson Square on Friday, 17 October 2014, and received a fantastic reception from shoppers and passers by. The official single was recorded in Parr Street studios in October 2014 with more than 200 local performers featuring on the track, including up and coming young artists such as Joe Maddocks, Sophie-Ellen Evans, Hayli Kincade, Sophie Clarke, Harmonee and Michael Owens alongside the Liverpool Community Choir, the Choir With No Name, AFMIM Gospel Choir and Whitefield School Choir as well as bands including Ukebox and The Occasionals.

Noel Fielding Review
Written by Jo Forrest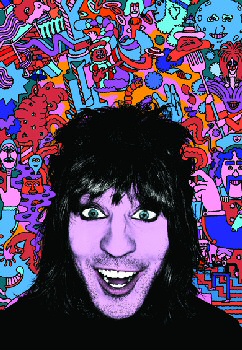 I have to admit I approached Friday, 7 November 2014, nights performance with Noel Fielding with an open mind. The star of The Mighty Boosh, Never Mind the Buzzcocks and more recently Noel Fielding's Luxury Comedy TV series did not disappoint.

The evening started with The Moon, a character from The Mighty Boosh, introducing Noel, the Peter Pan of comedy who swept onto the stage in a full length sparkling silver cape. The quirky comedian talked about getting older and his pervious jobs of which there were only 2 and the longest one he had lasted 90mins.

The 1st part of the show is mainly stand up and here Noel did not disappoint, very funny man with lots of audience interaction. He talked about a dream he had in which he was a teabag and encounter in Costa Rica with a monkey, his fictitious wife who had an affair with a triangle, he then finally moves into a crazy routine about Chicken Man, which sees him clucking and strutting around the stage like a rather bizarre Mick Jagger. The audience was very amused by it, even if I was left a little baffled by the whole routine.

The 2nd half of the evening focuses on the kidnapping of Noel and the quest to find him and ultimately rescue him from a 2D plasticine world. In this part of the show, Noel plays a character called Raymond Boombox and wanders around the audience, looking for suspects to question about the disappearance, they were filmed, but Noels brother Michael Fielding who played Hawkman. It was great to see the characters entering and leaving the 2D plasticine world, which starred Joey Ramone, a minator and a bald David Bowie, was brilliant they way they.

As well as his brother we had Tom Meeten to aid and abet the mad comedy antics though out the evening. There were also regular appearances from 'The Moon' and his alter ego 'The Dark Side of the Moon.' It was never going to be your normal run of the mill stand up routine that you get with other comedians, for almost 2 hours you are sucked into Noels crazy,
weird world. There was a lot of audience interaction and involvement, some of whom had made the effort to dress up as some of Noels more well known characters. And whilst it would be easy to point to individual moments here that don't quite work, the childishly playful spirit conquers all. And every so often the disparate, odd elements combine to the perfect storm of brilliant hilarity.
Appeal for witnesses after an assault and attempted robbery in Kirby
MERSEYSIDE Police Detectives in Knowsley are appealing for witnesses following an assault and attempted robbery on a man
in Kirby on Thursday, 6 November 2014. Officers were called around 10.15 pm by the North West Regional Ambulance Service reporting that a man had been assaulted. The 45 year old man was on his way home, walking down a path in Valley Park towards James Holt Avenue, when he passed 3 men. He continued to walk down the path when he was pushed by one of the men and then punched and kicked in the head. They went through his pockets, but found nothing and walked off leaving the
victim on the ground. The victim managed to call an ambulance and walk to James Holt Avenue, where the ambulance picked him up and took him to hospital for treatment for his injuries. He sustained cuts to his face and bruised ribs and was released from hospital later that evening. Anyone who witnessed what happened or has any information is asked to contact the Police on:- 101 or call Crimestoppers, anonymously, on:- 0800 555 111.